The most important Sitechecker product updates for January and February 2021.
1. Site Audit issues design update
In the new version of the Issues page in Site Audit, we moved the visual focus to page URLs and reduced it for error tags. We also added the ability to copy the list of URLs for a specific error to the clipboard – this way you can optimize your workflow to be much faster than going through CSV export.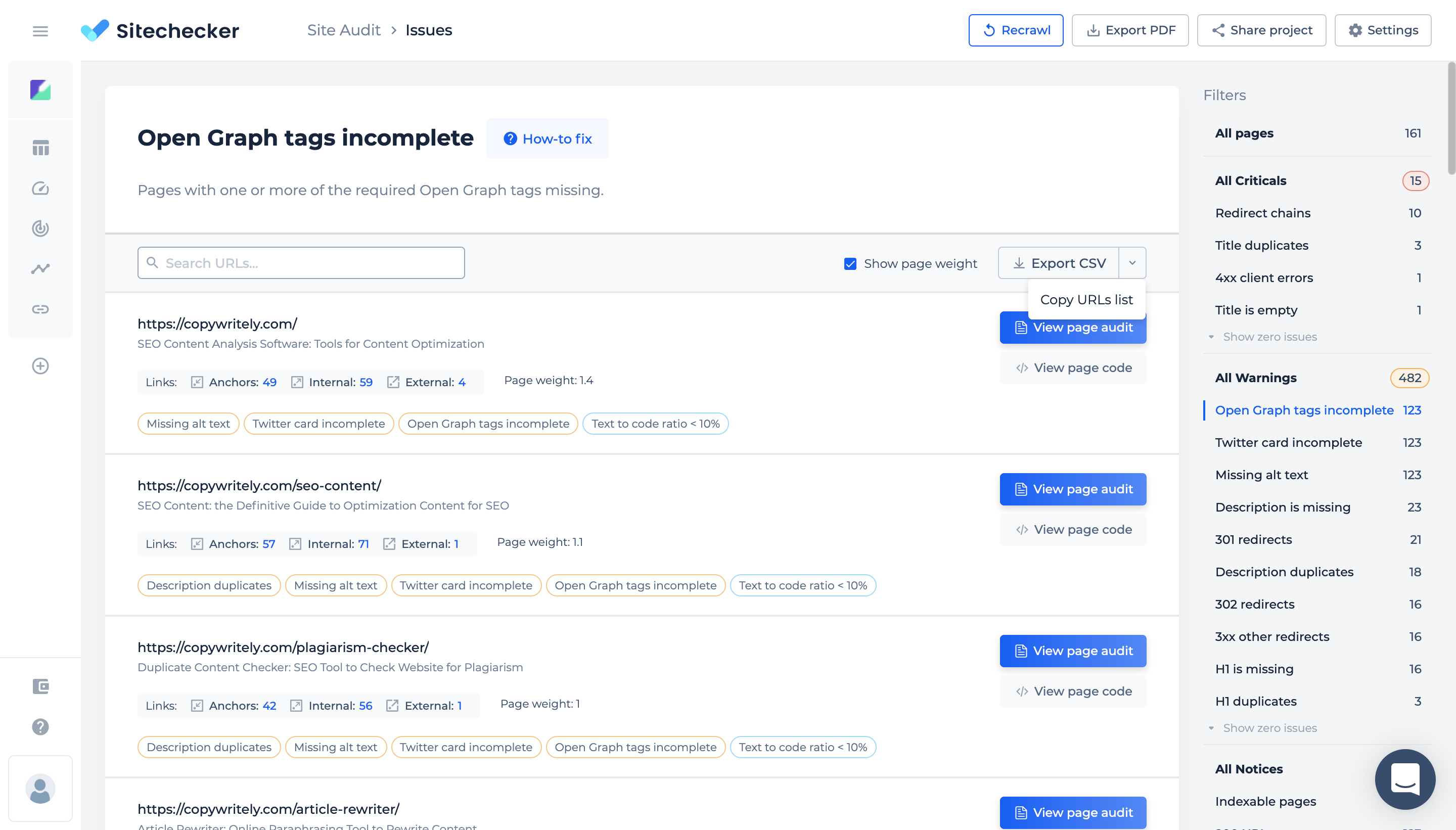 2.  Page Audit and On-Page Checker design update
In addition to updating the design, we removed all unnecessary elements in the report, fixed the sidebar, and updated error descriptions.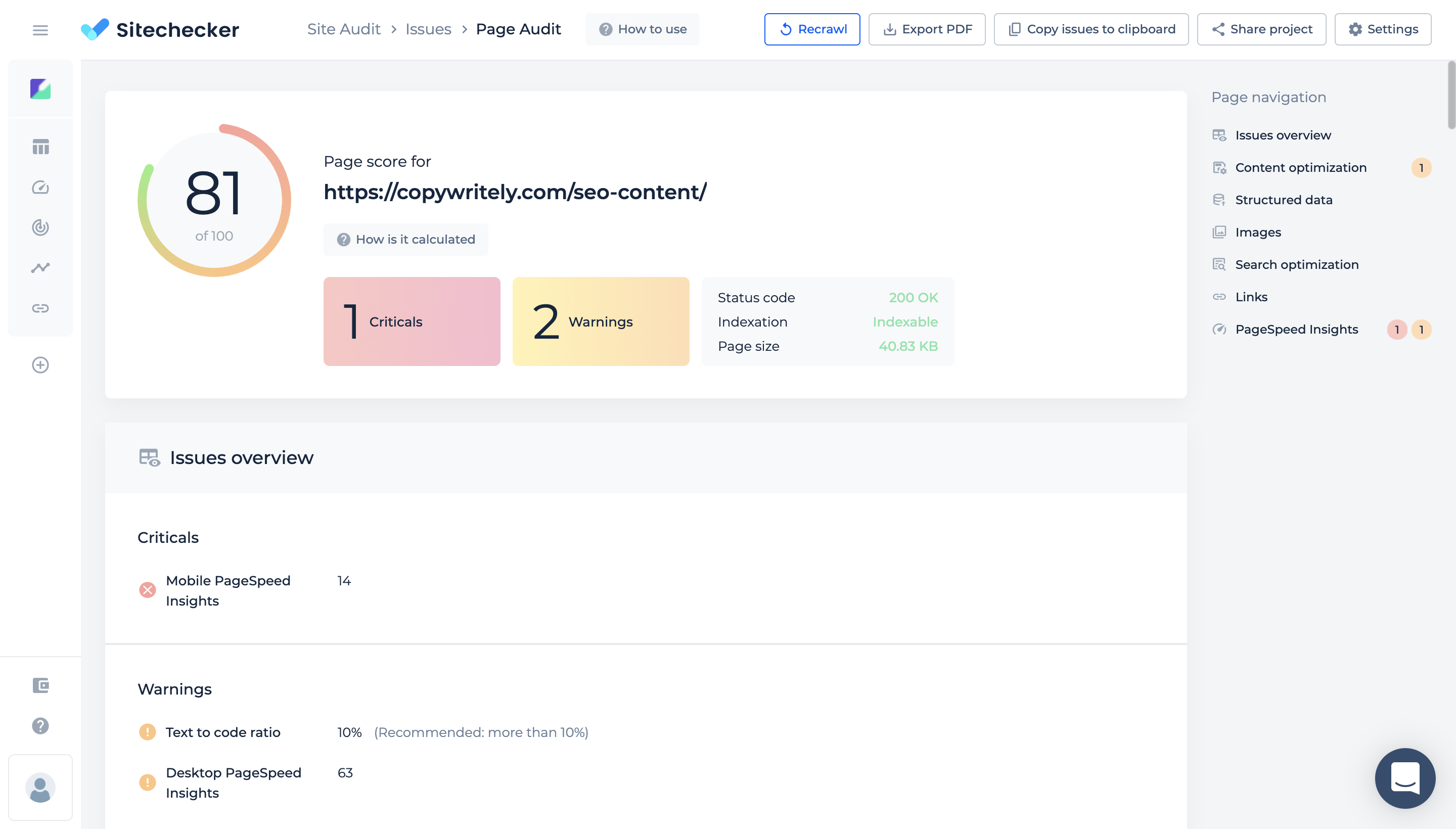 3. Ability to view page HTML code and HTTP header in Site Audit
When you work with pages in Site Audit, you often need to look at the code and HTTP header of the page to find the real confirmation of the error or figure out what changes need to be made in the code to fix the error. Now you do not need to open the page in a new tab and constantly switch to the view of the page source code.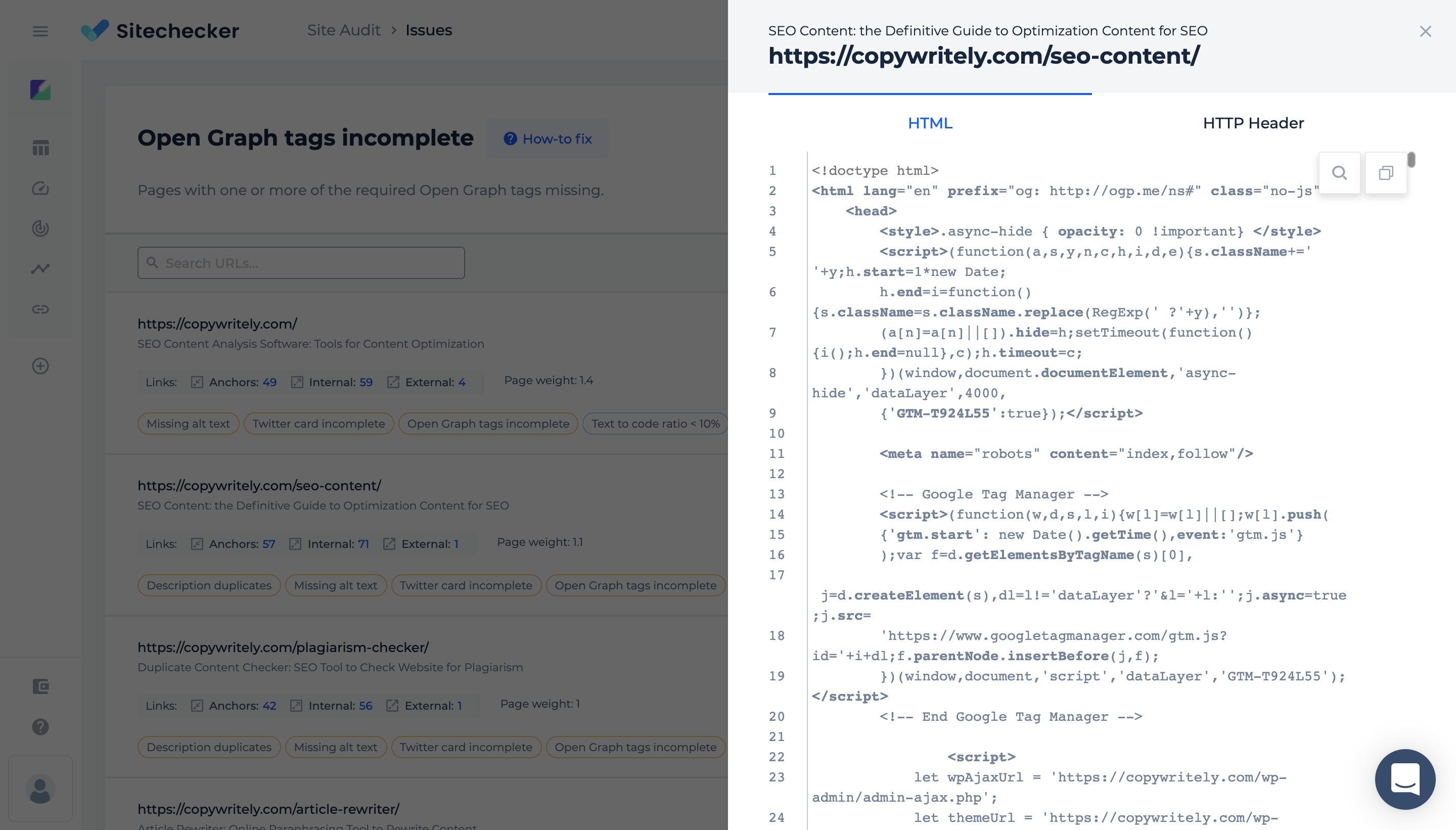 4. Ability to view redirect path and duplicates in Site Audit
On the redirect pages, you can click on the "See redirects" button. By clicking on this button, you will see where a particular redirect leads, and if this is a chain of redirects, you can also view all the links in it.
On the duplicate content pages (Title duplicates, Description duplicates, and so on) you will see the "See duplicates" button. By clicking on this button, you can see a list of pages that have the same content as the page you are viewing.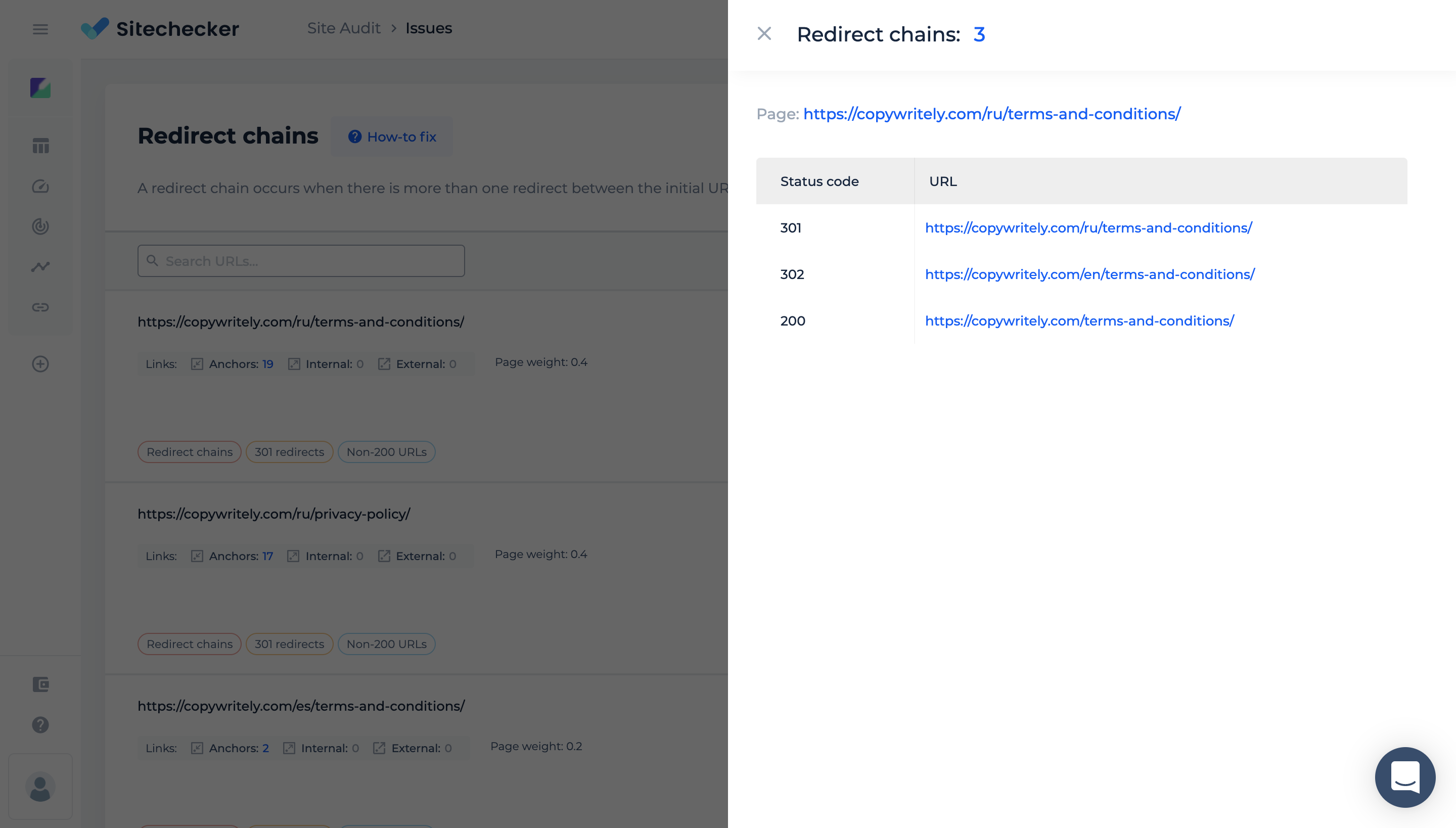 5. Notifications about the causes of problems with Site Audit
Now, if you come across a problem that your website crawl won't start or going too slow, you will see the reason for this and what needs to be done to fix the problem. The most common problem right now is that the site response is too slow, which makes the site crawl slower than it could. To avoid problems like this, improve your hosting capabilities.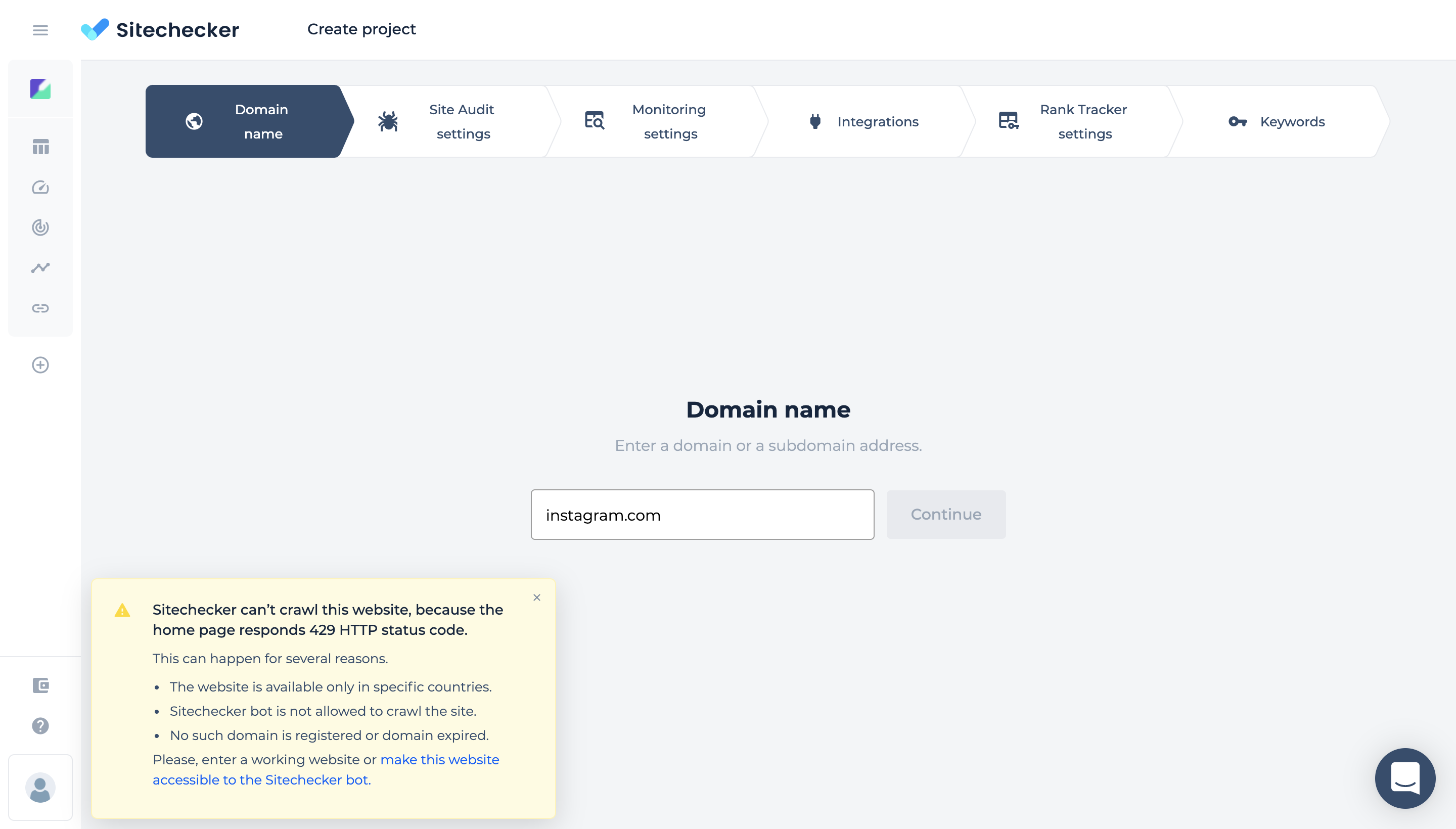 6. PDF reports in Site Audit and On-Page Checker got an updated look
In the new PDF reports, we also got rid of all unnecessary details and brought them in line with the new design. Now, if you upload your logo for branded reports, no elements in the report will give a clue to the client that the report was generated by the Sitechecker service.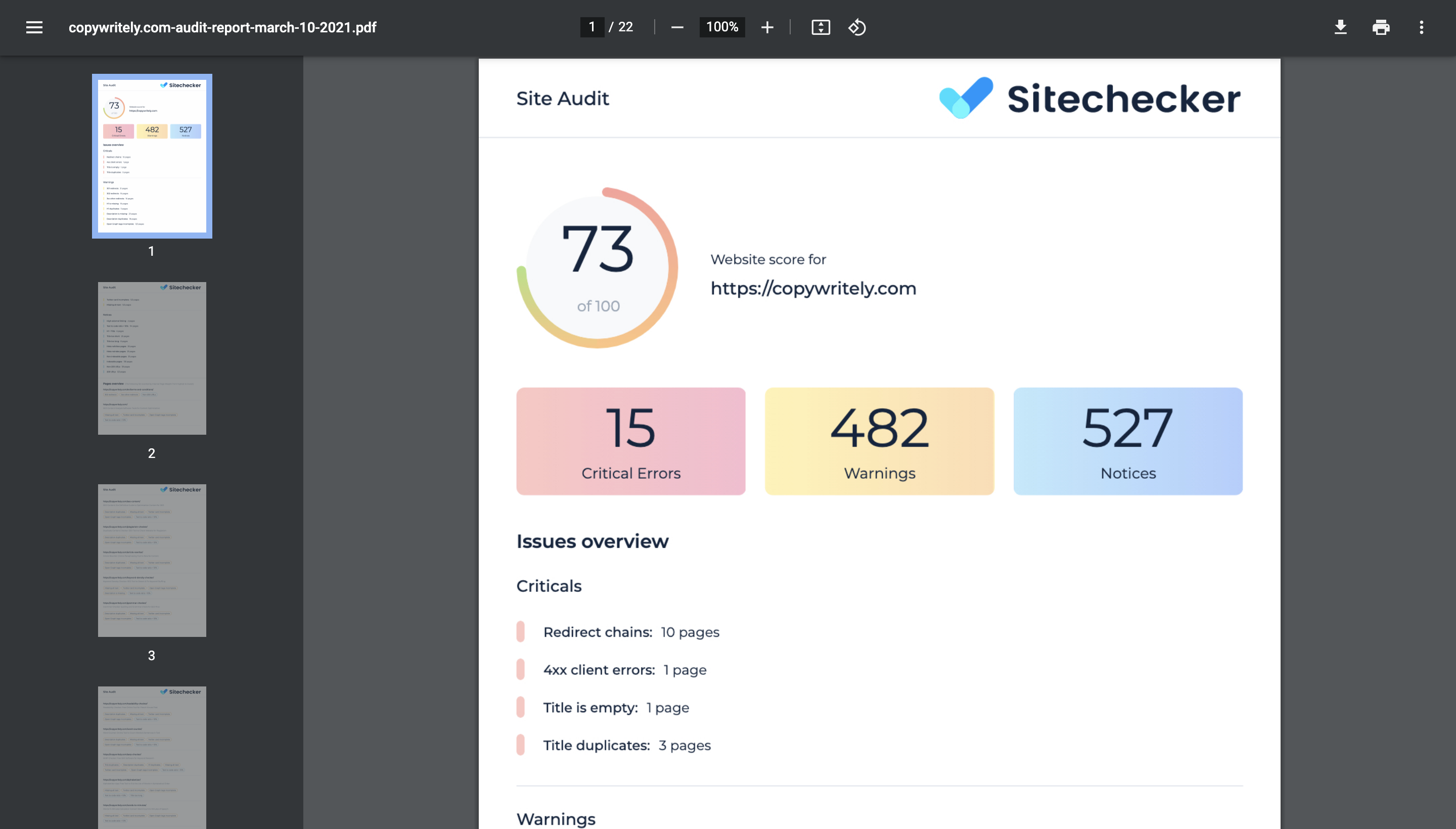 Sample PDF report for a whole website >>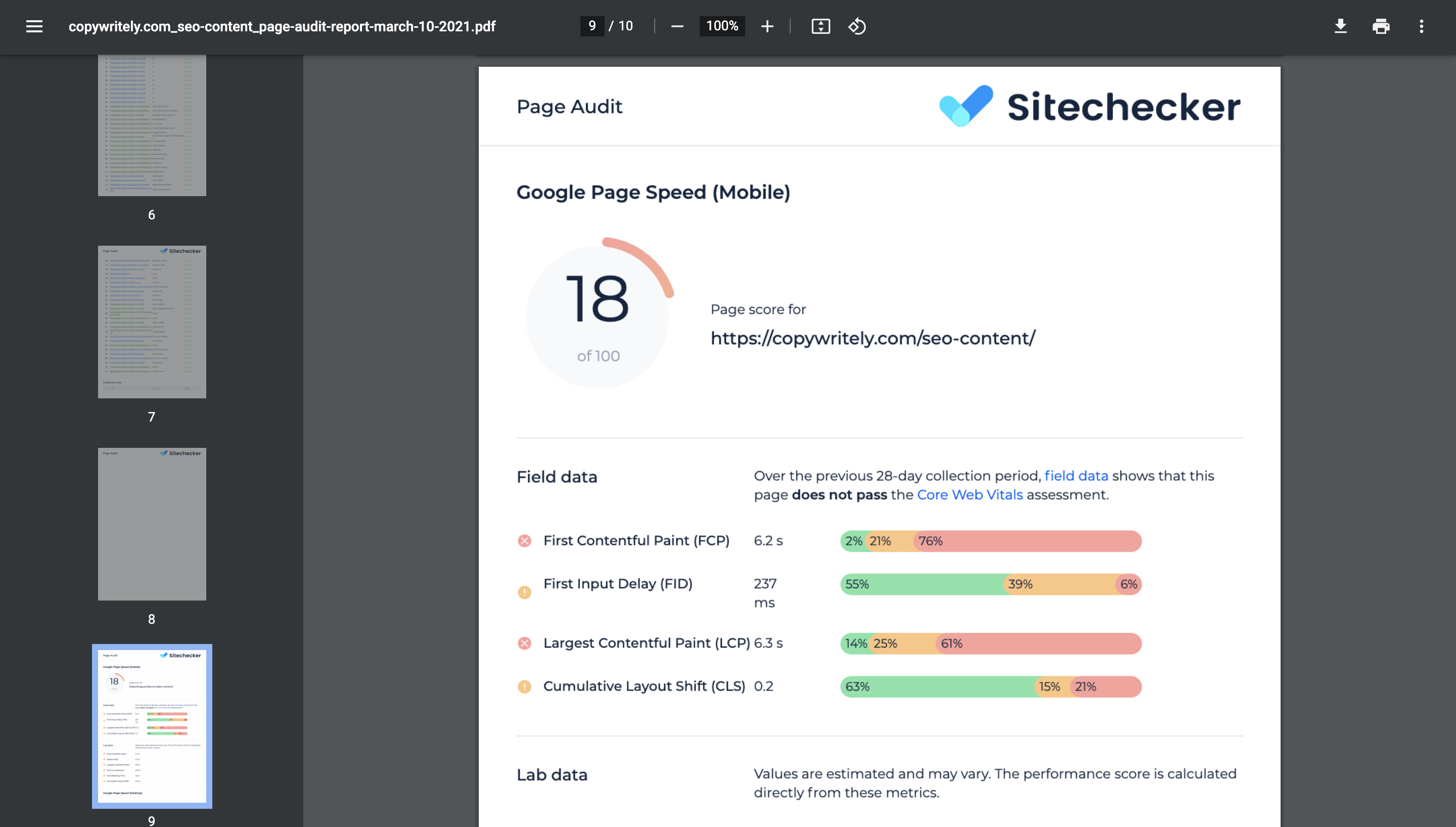 Sample PDF report for a single page >>
7. Manage project notifications and reports
Previously, notifications for all projects could be managed on the account page. Now each project has a tab with notifications in the Project's settings.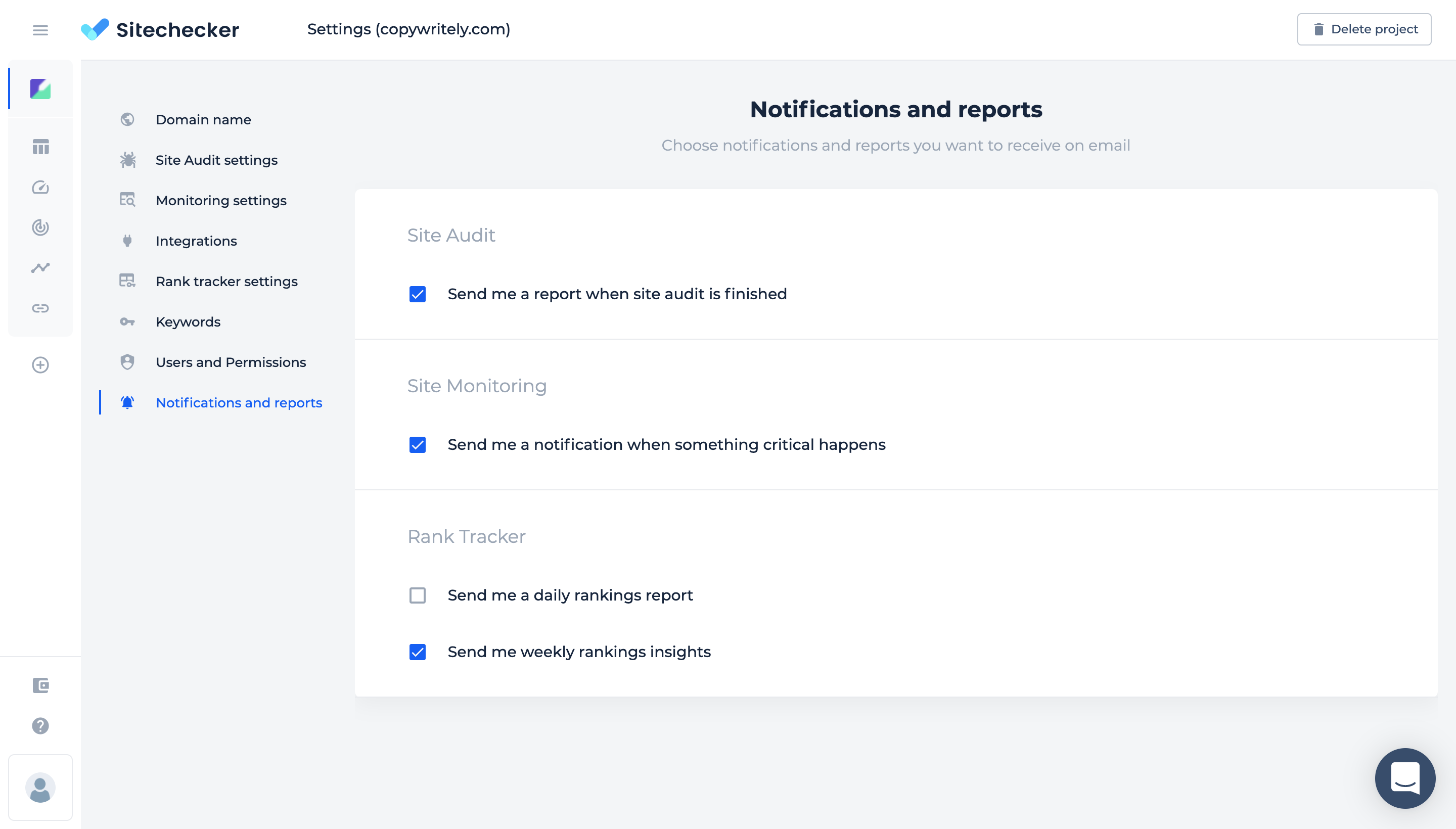 8. Google PageSpeed checking in Sitechecker Chrome Extension
We have added only the output of the Google PageSpeed ​​Insights module assessment, without the output of specific recommendations, to speed up the duration of the check. But this is already enough to quickly estimate whether everything is good with page speed. For a detailed view of recommendations on improving speed, click on the "View full report" button.
Join 45,000 users of Sitechecker Google Chrome Extension >>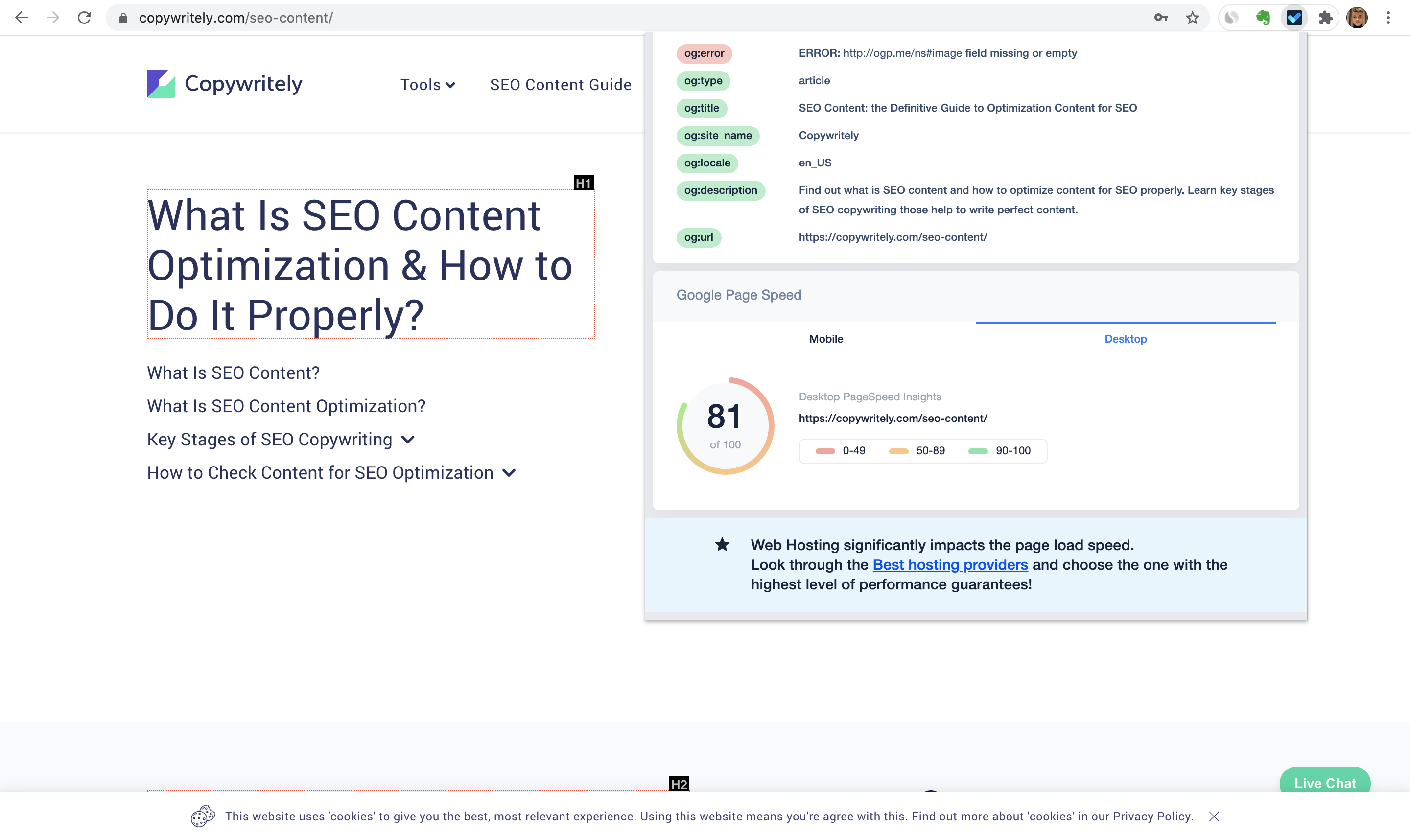 9. Answers to the most frequently asked questions about Site Audit
This document will help you quickly find answers to some of the most frequently asked questions about using Site Audit.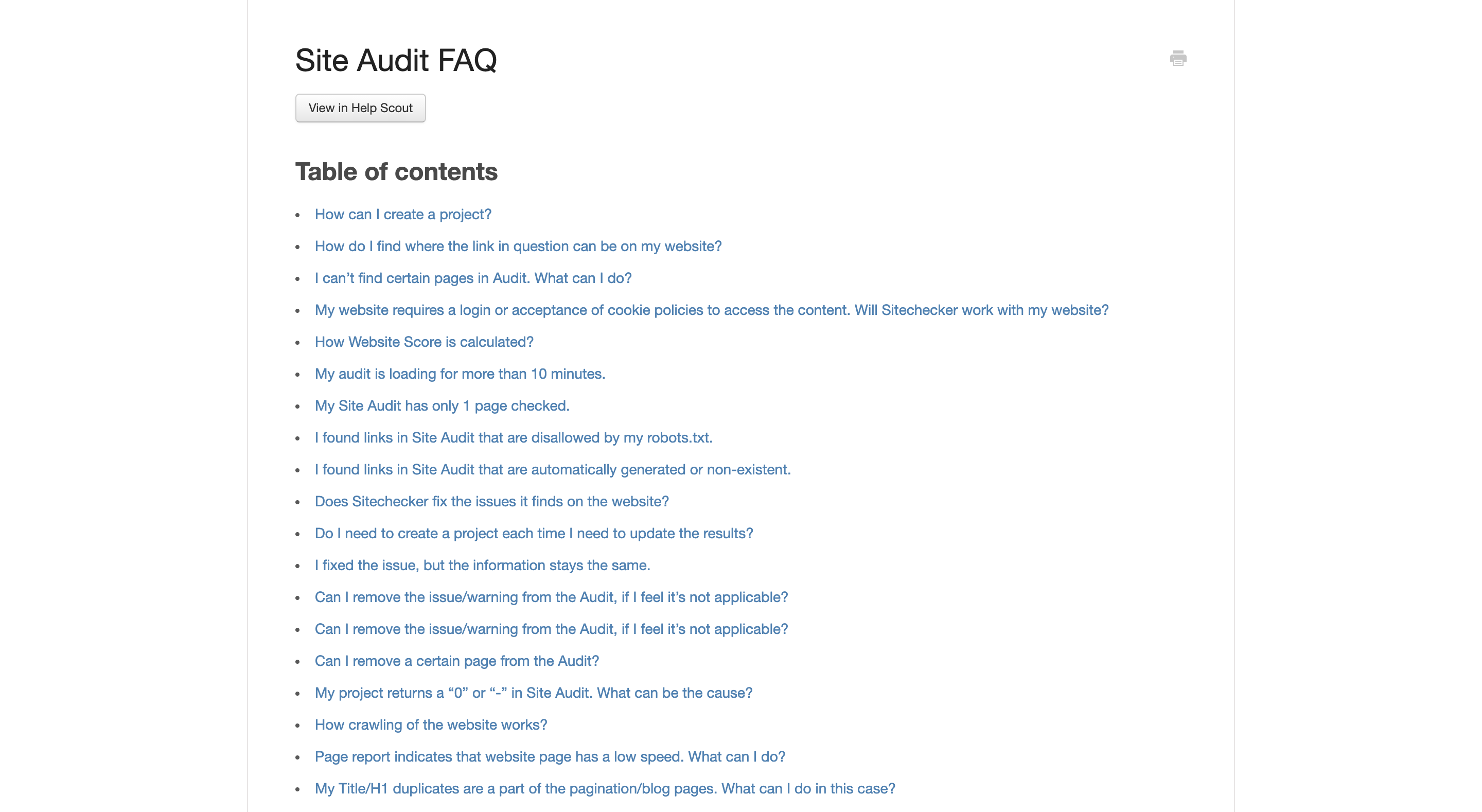 10. Education partnership program launch
We have launched a program of cooperation with online and offline schools, institutes, universities. We are ready to provide students of SEO and digital marketing courses with free access to Sitechecker premium accounts during their studies.
Right now, 6 schools already participate in our program. If you are also interested in this offer, read the terms of cooperation and fill out the form.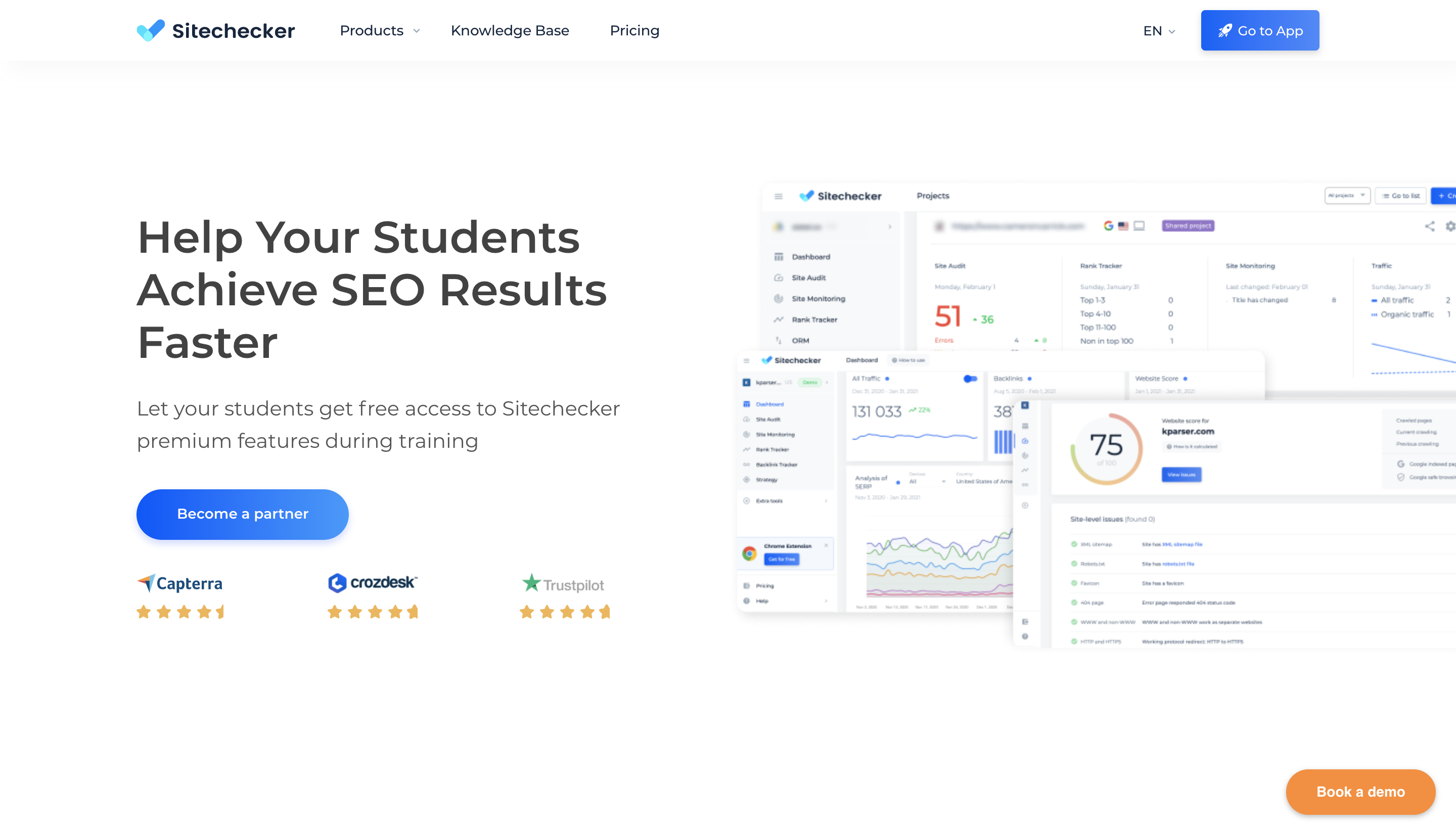 We've added new product development suggestions to our public backlog. Vote on the features you like and add your ideas.
Follow us on Twitter, LinkedIn, Facebook and YouTube to stay informed about product updates and our new research.