The most important product updates for May 2023.
1. New white label options
We're excited to share improvements to our White Label features that offer a more tailored experience for our users. Now you can customize not only your logo that you see at the PDF reports, but also much more!
Custom logo
Before the update, our users were able to add their logo onto the PDF report. However, this feature was pretty limited. So, we have decided to improve it. From the new Logo tab you can customize not only your preferred logo of the reports, but also logo of the interface and even favicon.

Custom URL
This feature is a true game-changer for agencies! From now you can host the entire application with your logo on your domain or our subdomain.
Sitechecker subdomain allows you to create your custom URL. If you decide to go with our subdomain, there is only a need to pick a name that is not used yet and we will make sure to generate it for you.
Own domain setup will take slightly more time to configure your own domain, but it totally worth it! It will provide you with a chance to utilize our platform to work with your customers and share the projects with only your branding in the app.
Both Sitechecker subdomain and Own domain options will have your custom logos, favicon and URL. In addition, the SSL certificate will be provided to your custom domain automatically


Here is an example of how your branding will look inside the app: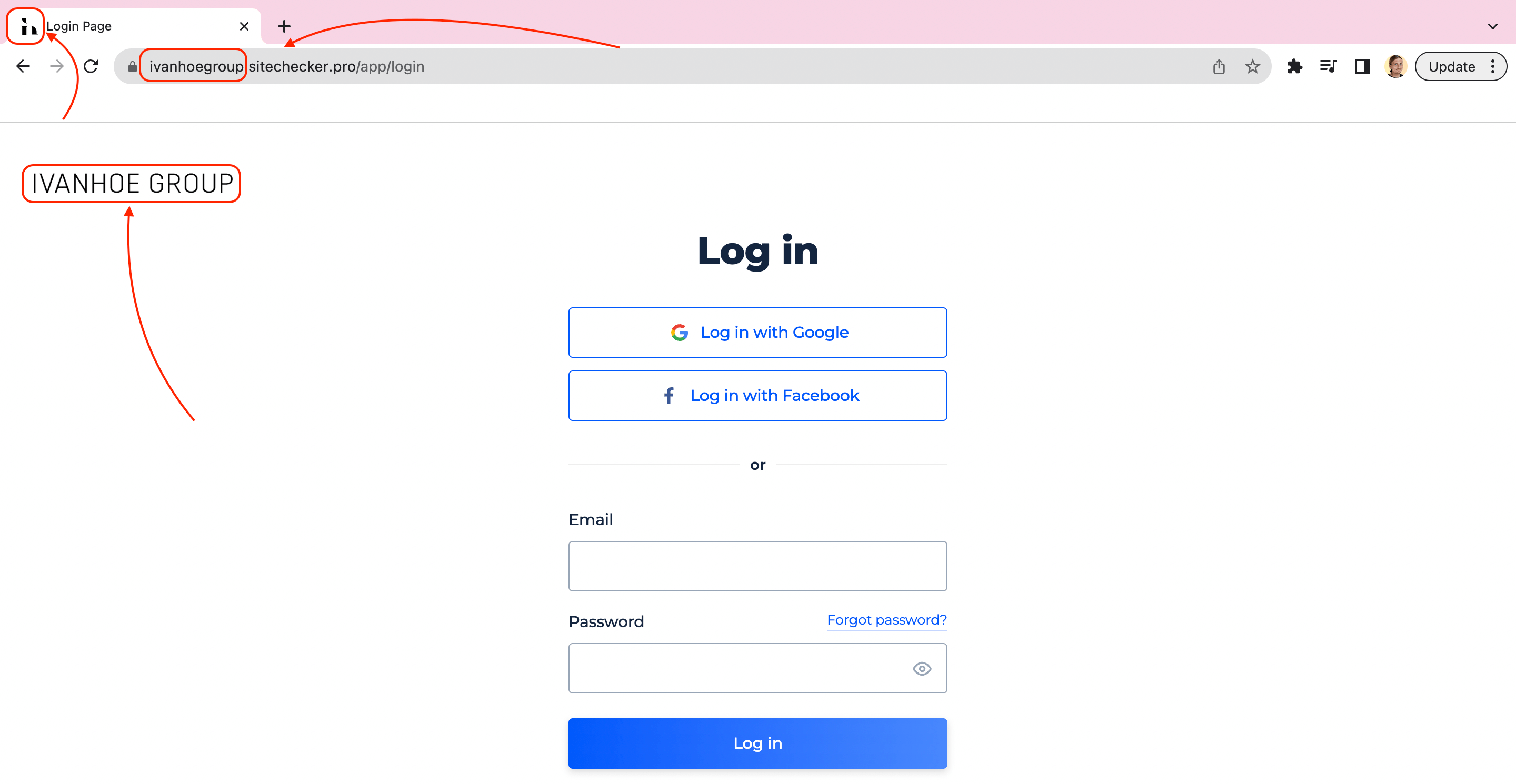 Note: This feature is only available for users with Premium and Enterprise subscription plans.
2. PDF export of the Dashboard
This was, most likely, the most popular feature request we've ever had and it is live! From now you can export all the information from your Dashboard tool into a fancy-looking PDF report. There is an option to export both only visible and all the widgets. Isn't it a real game-changing experience in your everyday reporting routine?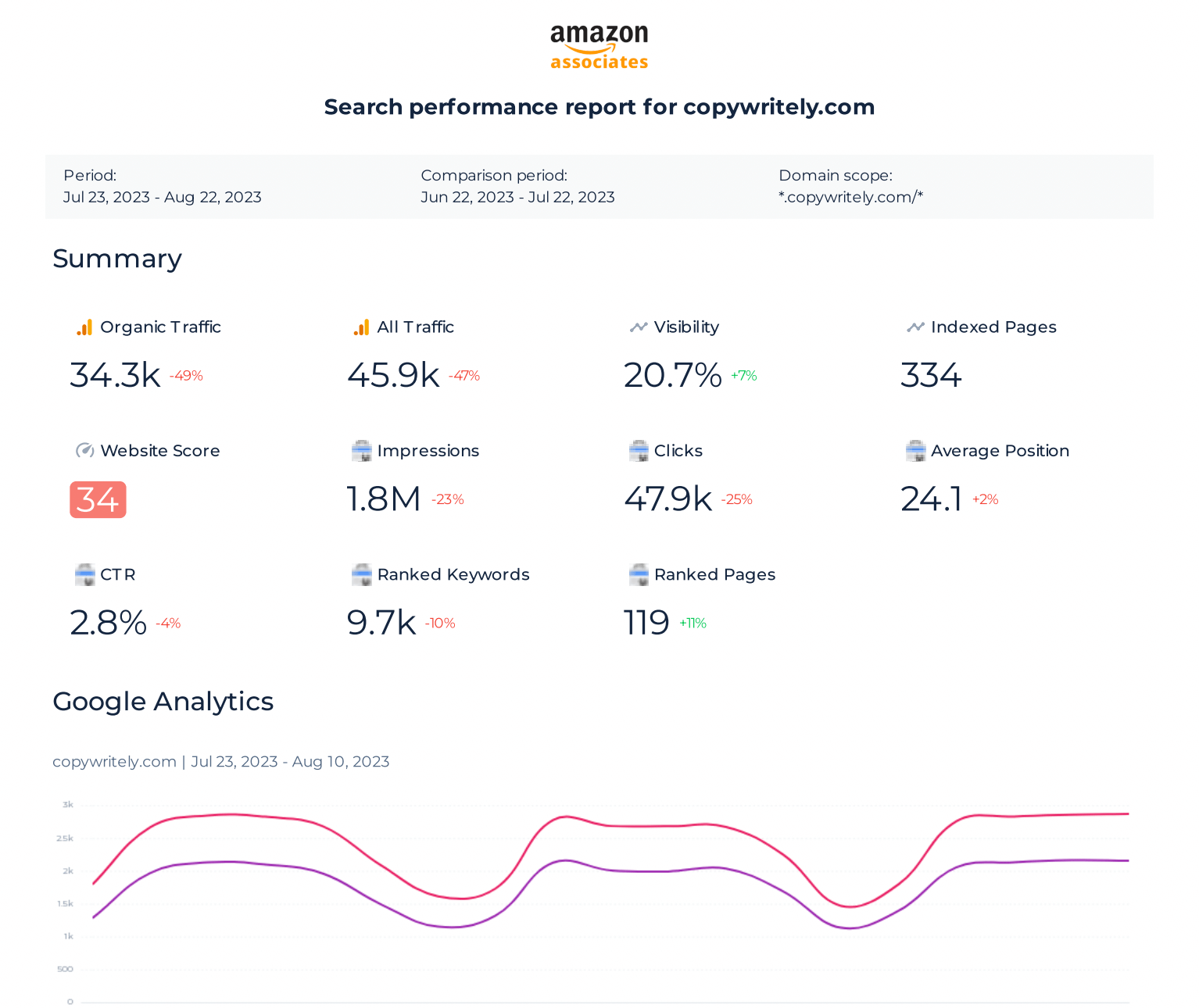 This report can be also customized with your own logo that you set up in the settings of your account.
3. New design of Insights tool
After the latest updates Insights tool was rebuilt and now provides you with even more valuable data. With this tool you can now use specific data templates to generate insights for your SEO strategy. The list of the templates will continue to be updated and will contain more and more templates to choose from.

You can bookmark all your favorite templates and they will be added to the "Saved Templates" folder.
4. Rank Tracker updates
We're thrilled to introduce new Rank Tracker enhancements that will elevate your experience with our platform.
Color Gradients for Insight
Experience data in a new light with color gradients. The closer to the top, the deeper the hue, allowing quick trend identification.

Enhanced Graphs
Graphs now possess a single axis while aggregating values for improved clarity.
Imagine a scenario where Top 1 previously held 20 keywords, and Top 2-3 held 20 keywords each. Previously, their points on the graph aligned horizontally. Now, Top 1 remains at 20, while Top 2-3 reaches 40, creating a clearer hierarchy of data points.
5. Site Audit updates
Customized columns
Sometimes there is a need to quickly view the main information about the pages you are working with in a list (for example title, word count, CTR and much more). From now you can easily tailor your table view in 'All HTML pages' and 'folders' filters. Just click on "Manage columns" button and decide which columns you want to see, making your data view even more relevant.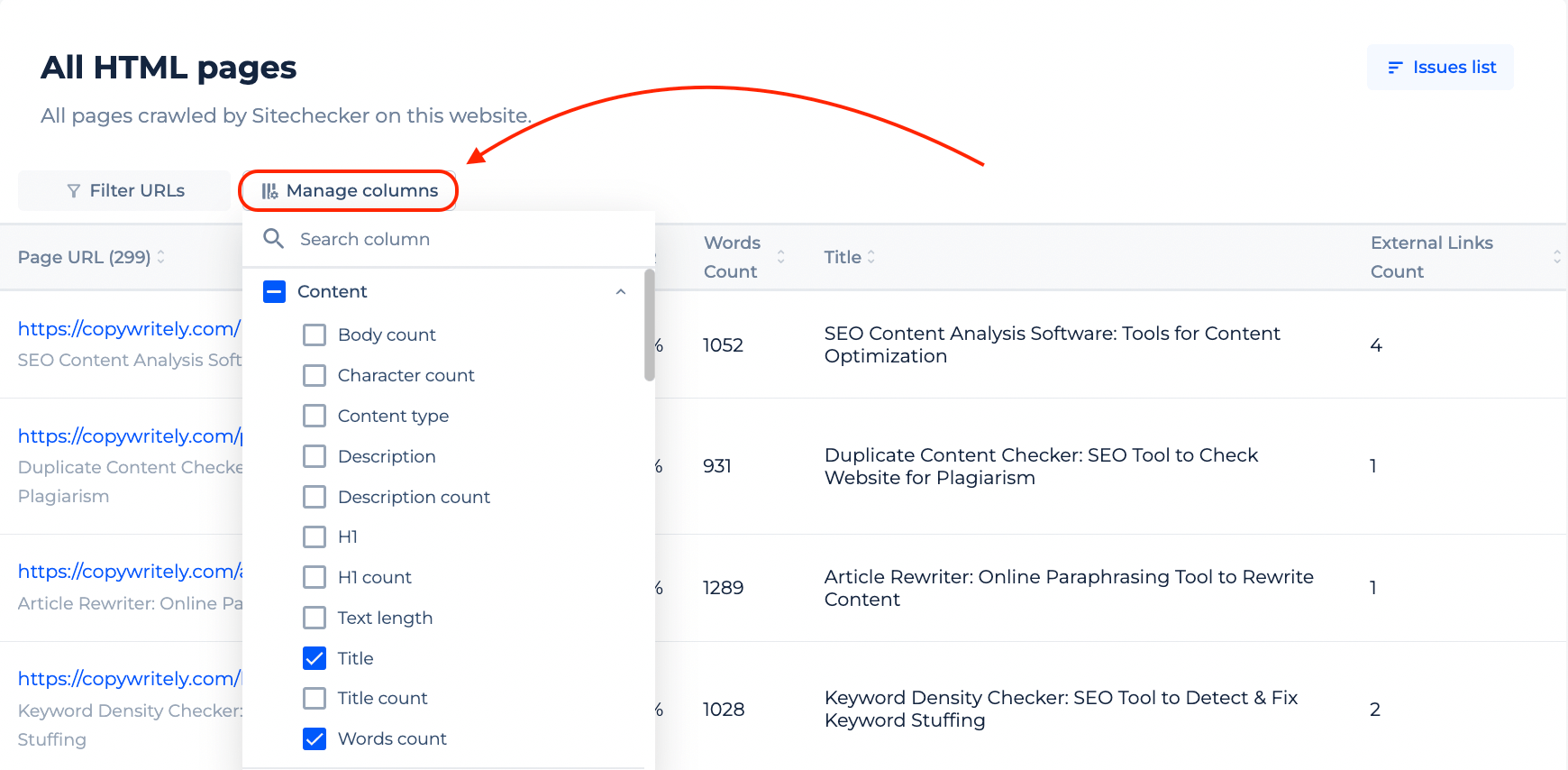 Also, all columns can now be dragged and reordered.
Some columns, related to GSC and GA, will be enabled only when these accounts are linked. If not, a tooltip will guide you to connect them.
We do understand how important it is to be able not only view all this information, but also to export and further work with it. Thus, the feature to export the filtered pages and managed columns is now in the development and soon will be available to our users
6. Site Monitoring updates
Custom notes
It is essential to analyze how changes in your website affected your performance and act accordingly, especially while working in team. Thus, we have added the feature to add your custom notes to all the graphs in Sitechecker, including Site Monitoring tool. You can now add your notes (Ex. design updates, migrations, new pages, etc) for a specific date or next to each crawl performed by our bot.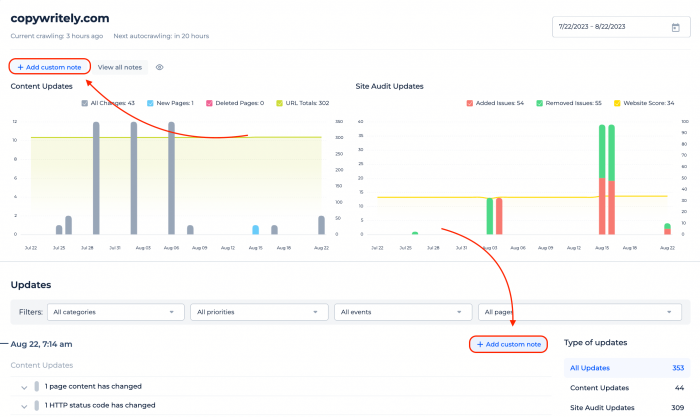 New events
We always update the tool and add more events for you to have a full up-to-date picture of your website. Here are some new events we've released:
Domain name expires in less than 24 hours / 7 days / 30 days / 90 days.
SSL certificate became invalid.
7. Extra Tools center
Before, accessing Extra Tools was limited to the sidebar, which could sometimes lead to confusion due to a lack of tools descriptions. Users might found difficult to understand the purpose of each tool just from the titles alone.
We've created a dedicated Extra Tools page where all our tools are now neatly organized with intuitive icons and clear titles. This eliminates the need to rely solely on the sidebar and ensures you can quickly identify the purpose of each tool.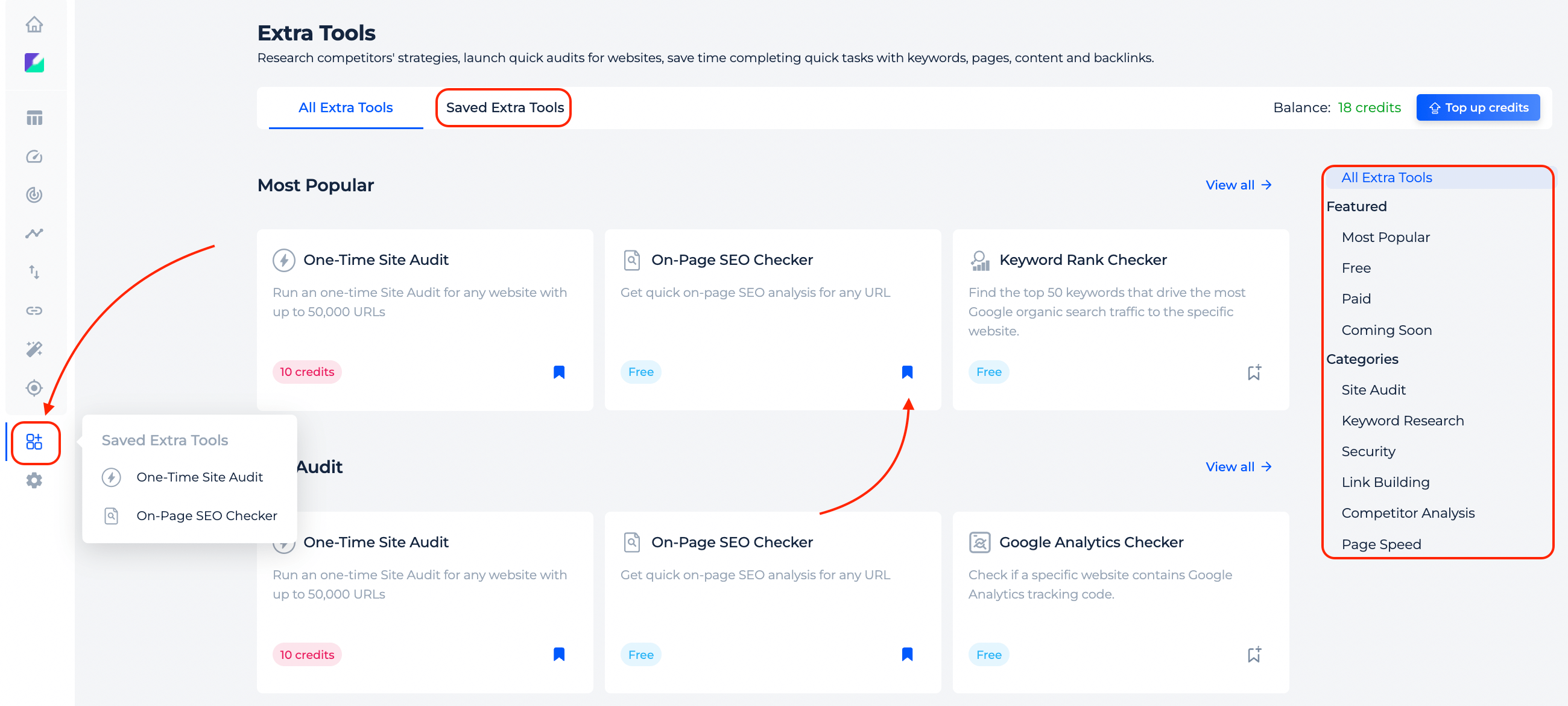 Also, if you use some tools more frequently than others, you can save them to ease your navigation. The saved tools will be instantly reflected in the sidebar.
8. Updated One-Time Site Audit
Whether it's checking broken external links or extracting URLs and titles within a specific subfolder, this tool has already saved tons of time for our customers. We're excited to introduce an enhancement that will make your workflow with one-time Site Audit even more efficient.
Domain Input Field Update
We're modifying the domain input field in One-time Site Audit to match the ready-made solution used in project creation. This change streamlines the process and ensures consistency across your interactions.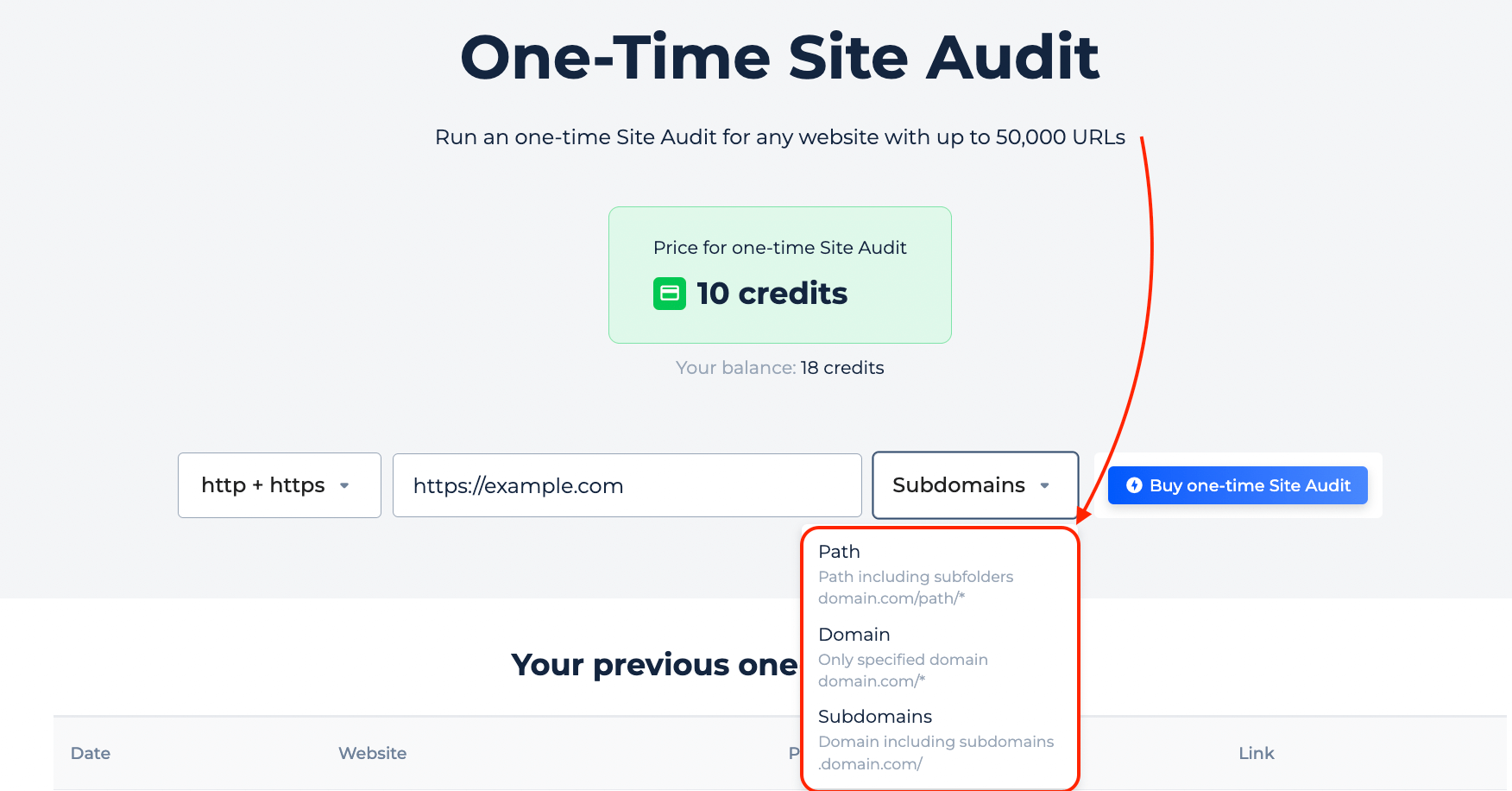 Scanning Customization
From now on, similarly to the Site Audit settings, in One-Time mode you can also customize the settings for the crawling. This will allow you to save even more time by crawling only the important links and resources on your website.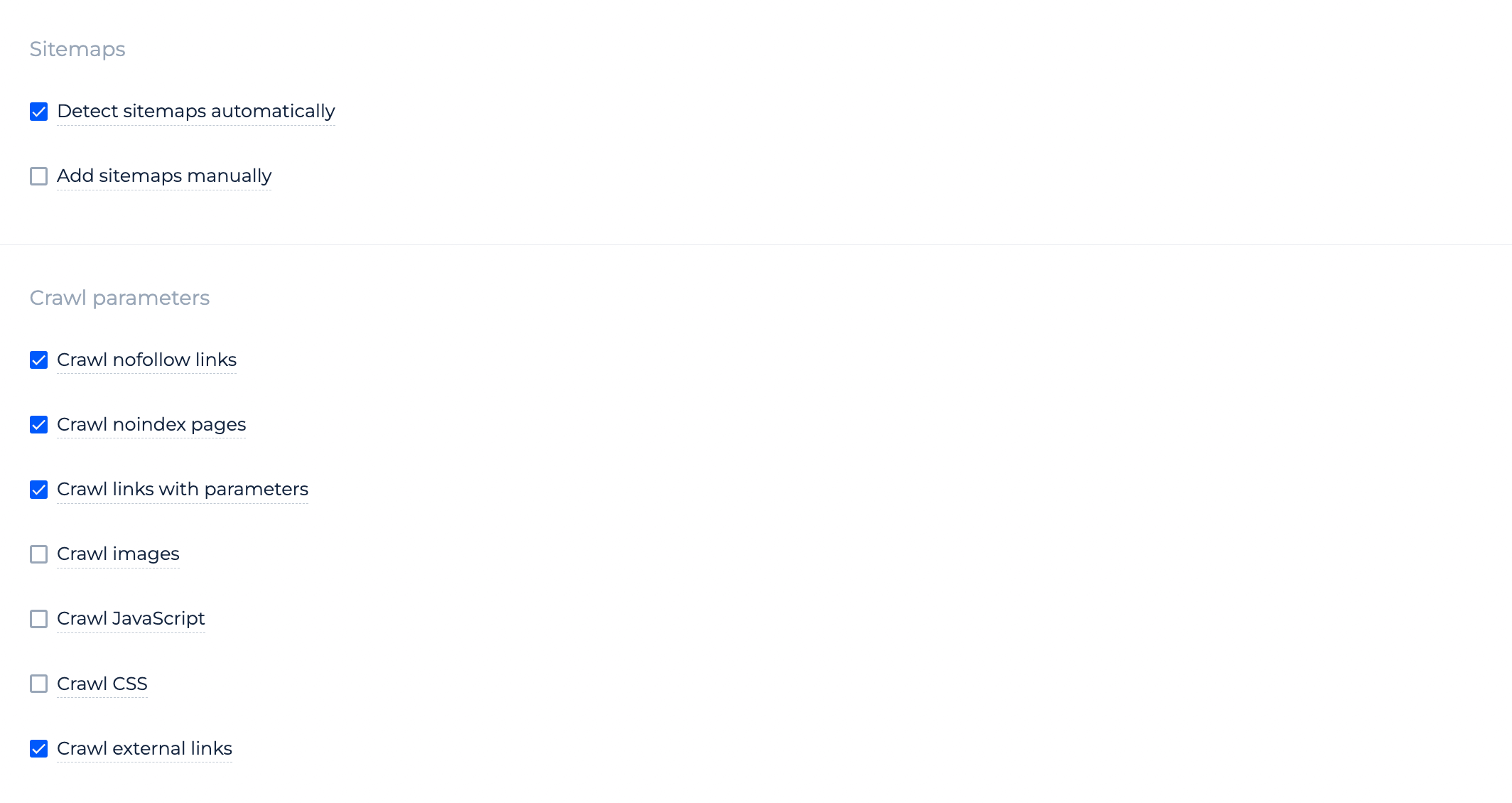 In addition, you can now select One-Time Site Audit while adding a new project to the tool and save some time searching for the tool in Extra tools section.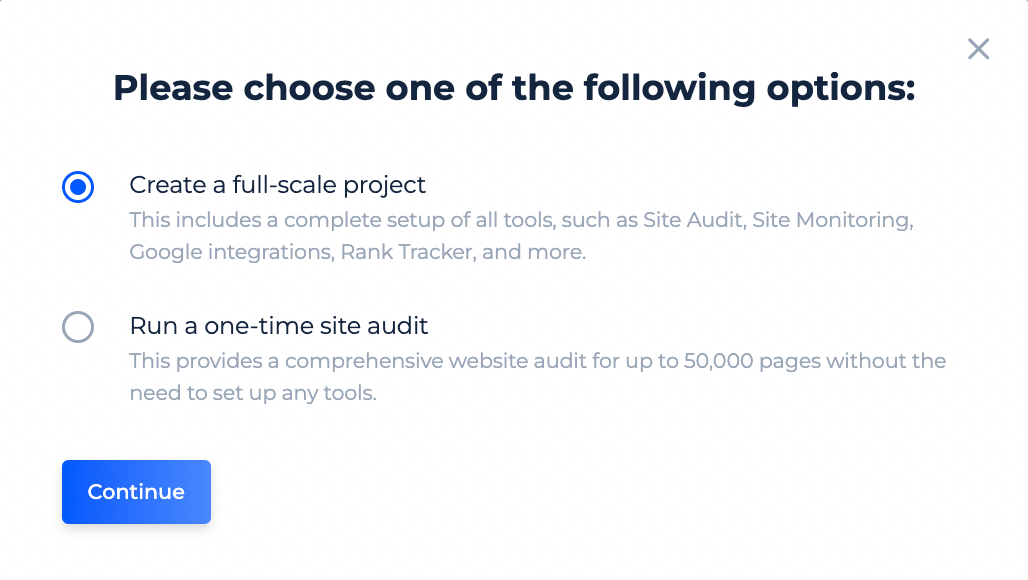 9. New videos on our YouTube channel
We do not stop producing our educational videos on how to fix issues and understand SEO, thus, here are some of the new episodes.