What Is Web Crawling?
Web crawling is a process of browsing websites aiming to perform web indexing or spidering on the Internet. Web crawling software is used to update the content of websites, clients' websites, or indices. Crawlers like google spider copy pages (urls) and then they are processed by search engines. Basically, this is a tool for performing a more effective web search. A web spider consumes the resources of the systems it visits. When spidering, many websites and pages are visited. Spidering of some websites raises ethical issues. Therefore, the owners of public websites hire crawling agents. Also, indexing websites isn't an easy task because of the large number of internet pages.
Meaning of Website Crawling
So, what does crawl mean? The principles of work are similar to those of google search engine: you can reach the content of multiple websites quickly. For example, you can download the content of millions of pages overnight.  
What is the meaning of google web crawling? Crawling can be used to explore competitors' data like prices, products, or services. Collecting this data manually is difficult, but you can easily automatize the process with the help of web crawling. You can also recrawl data to verify the results. This data is used to make business decisions in real estate, e-commerce, travel, or recruitment to name a few.
What Is a Crawler and How Does It Work?
It is a search engine bot that travels across URLs and downloads content from the pages visited. This is a very powerful tool as it can find URLs and access many pages to download content. There are two steps of web crawling:
A search bot visits web pages and downloads content.

Then it finds links (URLs) on the pages visited and performs step 1 again.
For example, a bot visits the first web page having five links. In this way, you visited six websites instead of one. If each of those pages contains the links to other pages, you will visit them as well. Hence, the number of visited websites grows in geometric progression. You can download content from multiple pages during a short period.
Why Do You Need It?
The main purpose of crawling is to get the necessary data in a short time frame. Web Spiders can be used for research purposes, the purposes of analyzing businesses or marketing. For example, you can analyze customer behavior using this tool. Also, you can collect marketing information or collect data for an academic study. In addition, you can analyze developing industry trends as well as monitor real-time changes in competitors' behavior. Hence, crawlers are multi-purpose tools that can be employed in different areas. Students, businesspeople, specialists in marketing can use this tool to collect information and predict customer behavior.
Moreover, Sitechecker website crawler can help you:
Find technical errors (404 pages, redirects, broken links, redirect chains)

Launch SEO analysis (check web and meta tags pages for duplicates, missing titles, h1, description tags, canonical tags, image alts)

Build website structure (improve website hierarchy and distribute page weight correctly)

Prevent your website from traffic loss (non-200 URLs, explore orphan links, non-indexed pages, pages disallowed by robots.txt file)

Put in order all the external and internal website links (check anchors and quantity)
How to Crawl a Website with Sitechecker?
First of all, Sitechecker is professional SEO analyzer. It provides detailed information about h"ow well is your website optimized for search engines". Spidering websites with Sitechecker.pro is easy:
Step 1. Go to the web crawler online landing. Enter your domain in "add domain field" and press "start" button.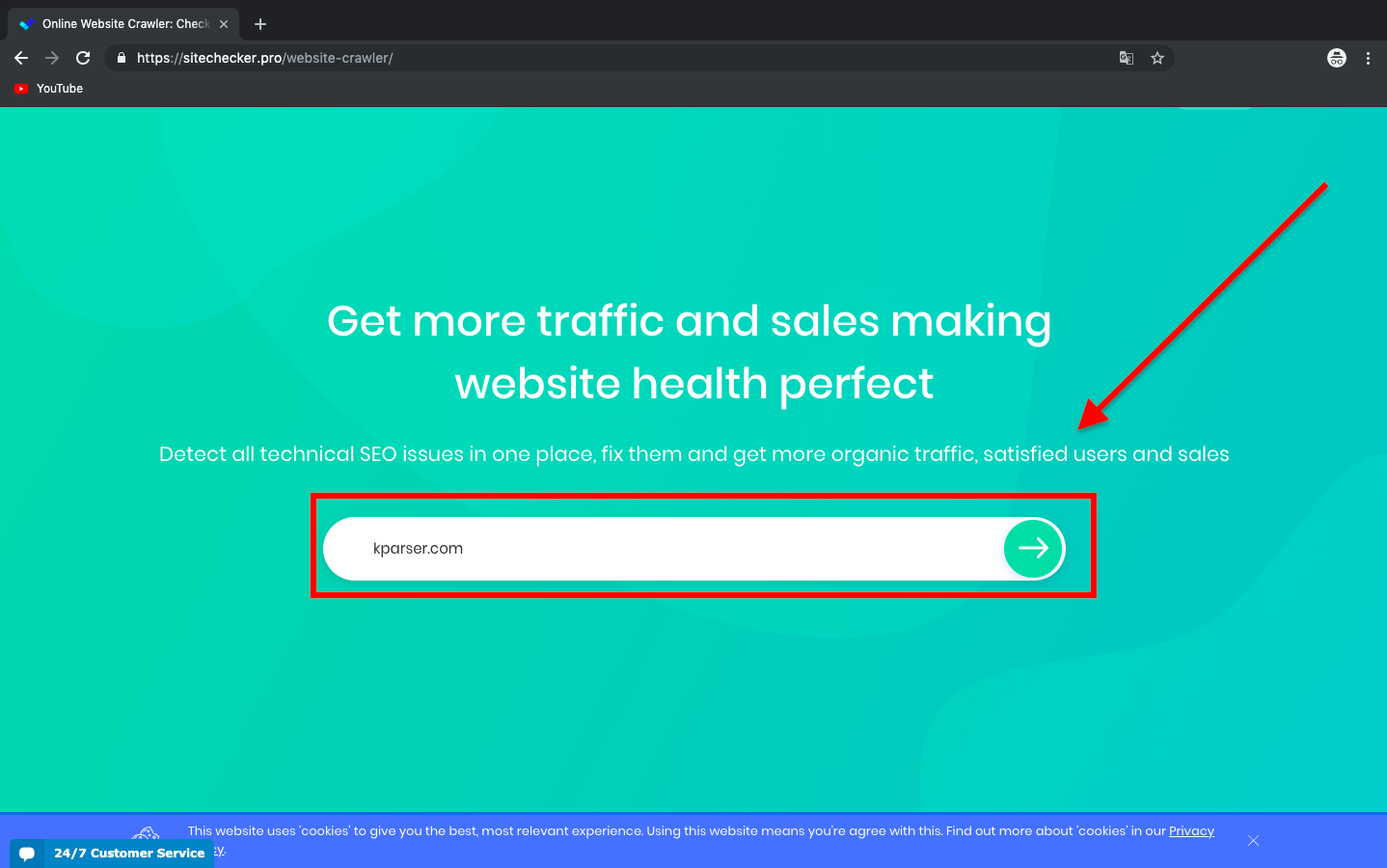 Step 2. Give the crawler a few minutes to do its job. While waiting you can check out our Product Tour.

Step 3. Now you see a comprehensive website analysis report. Website score is generator based on quantity of critical errors, warnings and notices. By improving these mistakes, it is rising to the top 100 points. It means your website technical health is perfect! Then you can analyze graphics and diagrams created on data received.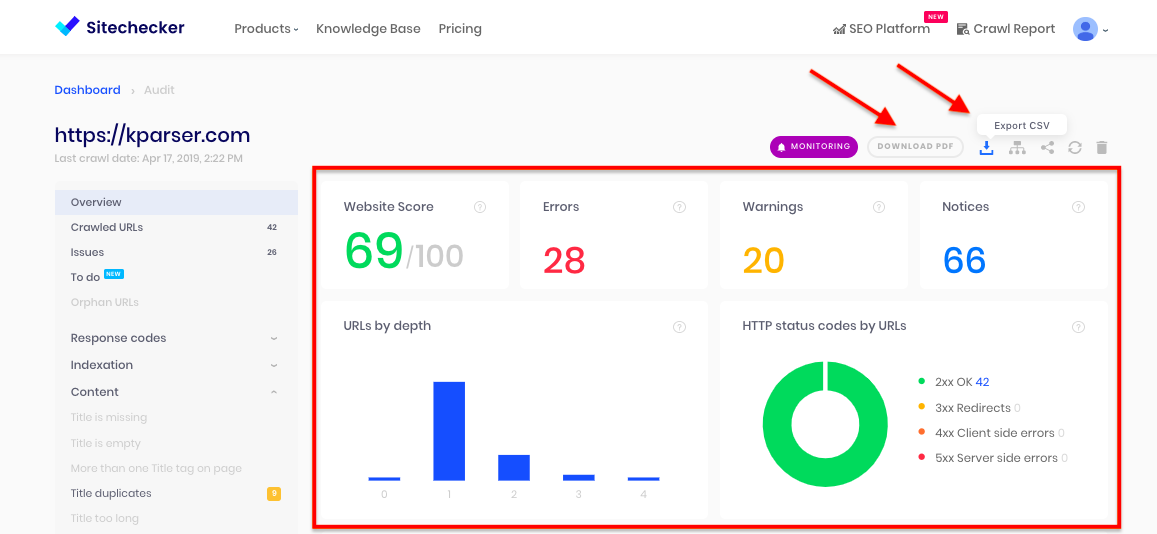 To save this report click on "Download PDF" or "Export CSV" button (the choice is yours).
Step 4. Coming back to crawled URLs bar, it includes all the URL distributed according to page weight. Field "Errors" will show mistakes have been found.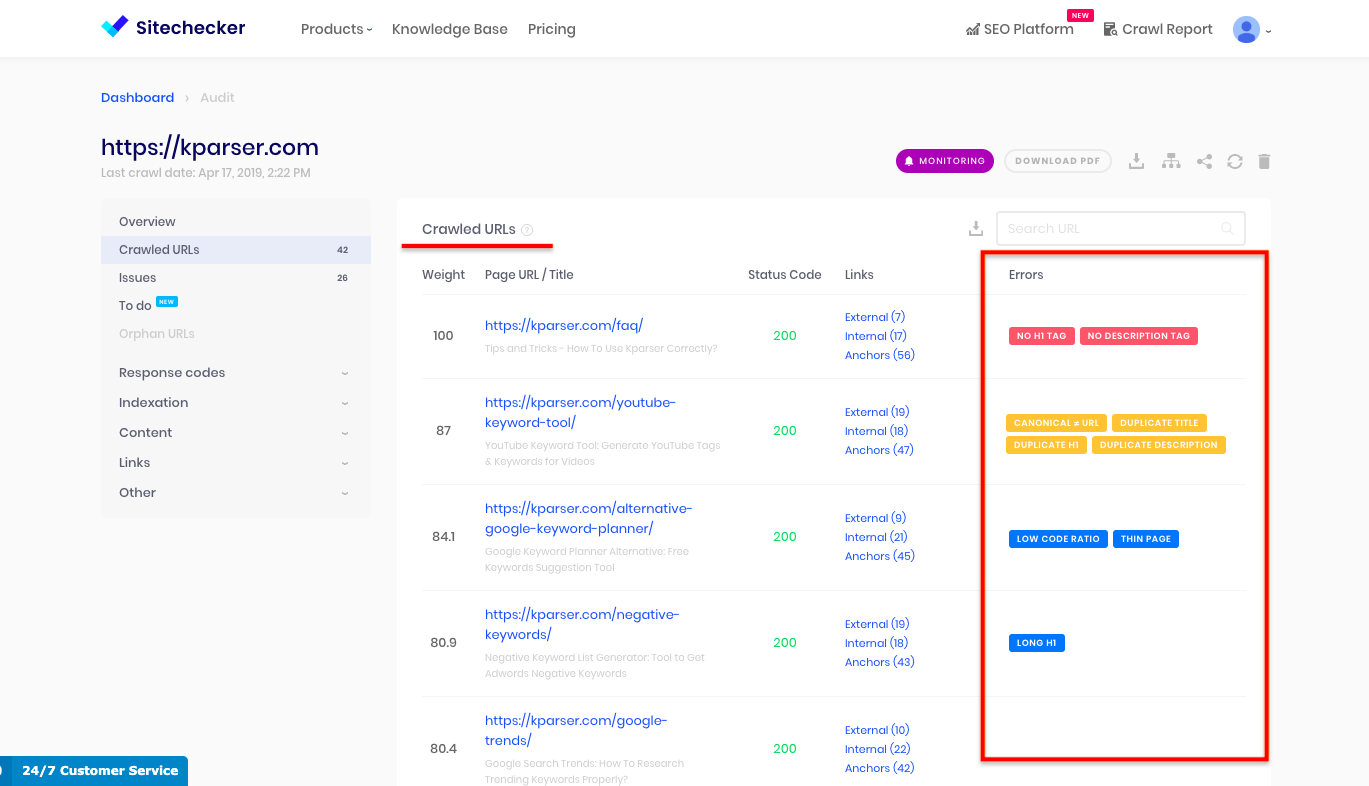 Step 5. Fields "Issues" and "To Do" are your personal task managers in the report you get. You can easily filter all the mistakes from critical to less important ones. As a result you will get a customized report including mistakes you added to the list. By clicking on any of this issue, you will get a small report and "how to fix guide".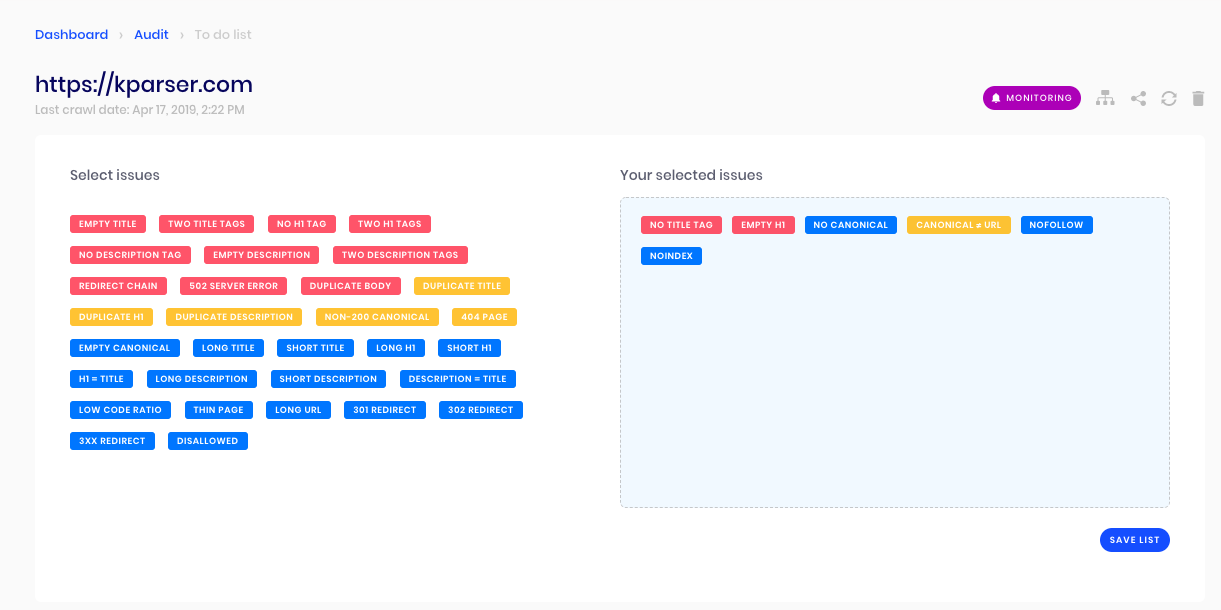 Such customized reports are used to create a technical task for webmasters, web programmers or SEO specialists according to the type of errors included.
Here how can "To Do" task might look like for SEO specialist: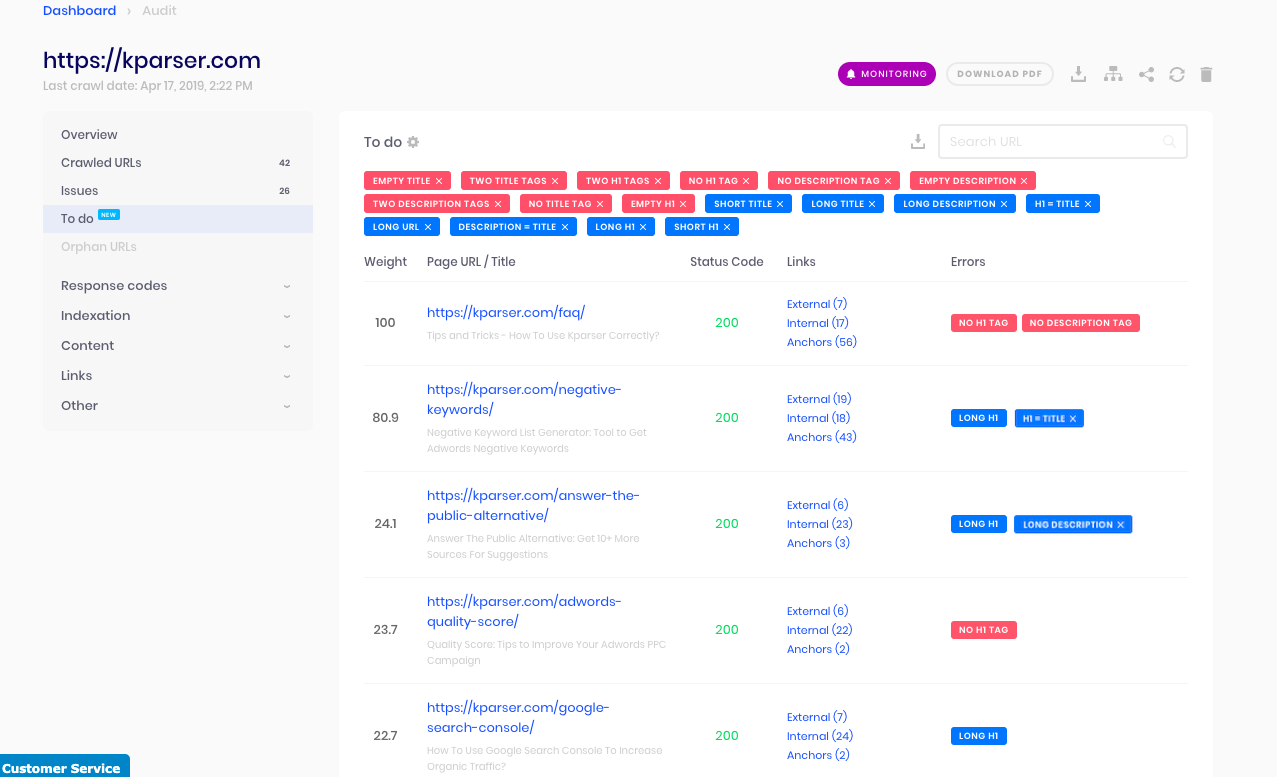 Now download the report and send it for the proper corrections. You can also create white label reports for businesses' needs. 
Step 6. Response codes block will help you to review URLs that were not included in the top-200:
check 3xx redirects

what web pages have 404 error code

what web pages have redirect chains
Step 7. Check the detailed reports if you need in-depth data. Explore what pages are non-indexable and why. Which of them have a nofollow tag.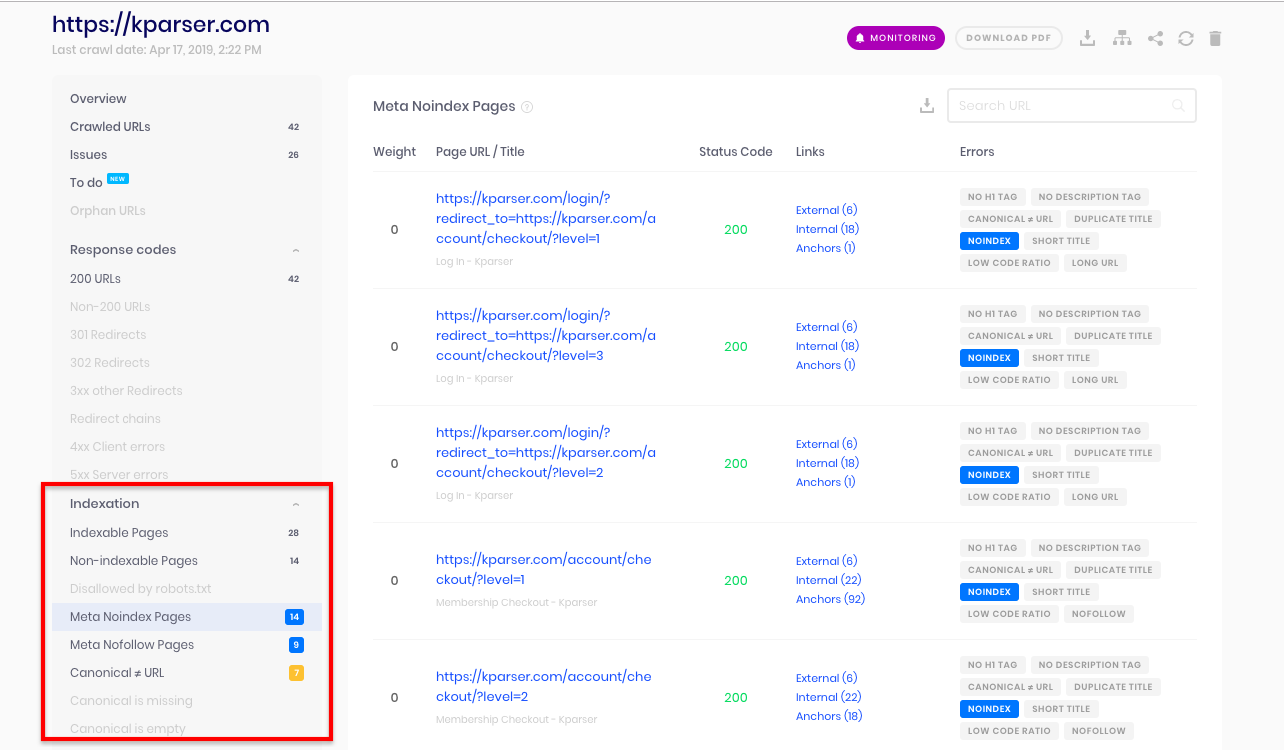 Sometimes you need to close certain pages from indexation (login/logout/account), to avoid problems with indexing, check whether needed links are closed from search bots. If you see the page that mustn't be hidden from indexing, immediately correct this mistake. Otherwise, search bots will not find it.  
Step 8. Then it goes a huge block of content analysis. Here you can find out what pages have meta tags duplicates (title, description), which of them are missing. One more useful feature is checking whether your title, description or h1 tag are not identical with each other.
To correct this mistake, click on "Show duplicates" and verify what pages you need to improve. Write unique meta tags for each page.
Step 9. Explore other type of technical mistakes that can make an impact on website rankings:
high external linking;

long and non user-friendly URL;

URLs where the content to code ratio is less than 10%;

detect thin pages; thin pages are URLs where length of the text is less than 500 signs.
Step 10. Visualize the structure of your website to improve SEO and traffic performance. It is necessary to know the whole structure of website to identify the most powerful and weak pages. On top of the report click on "Website sitemap" button.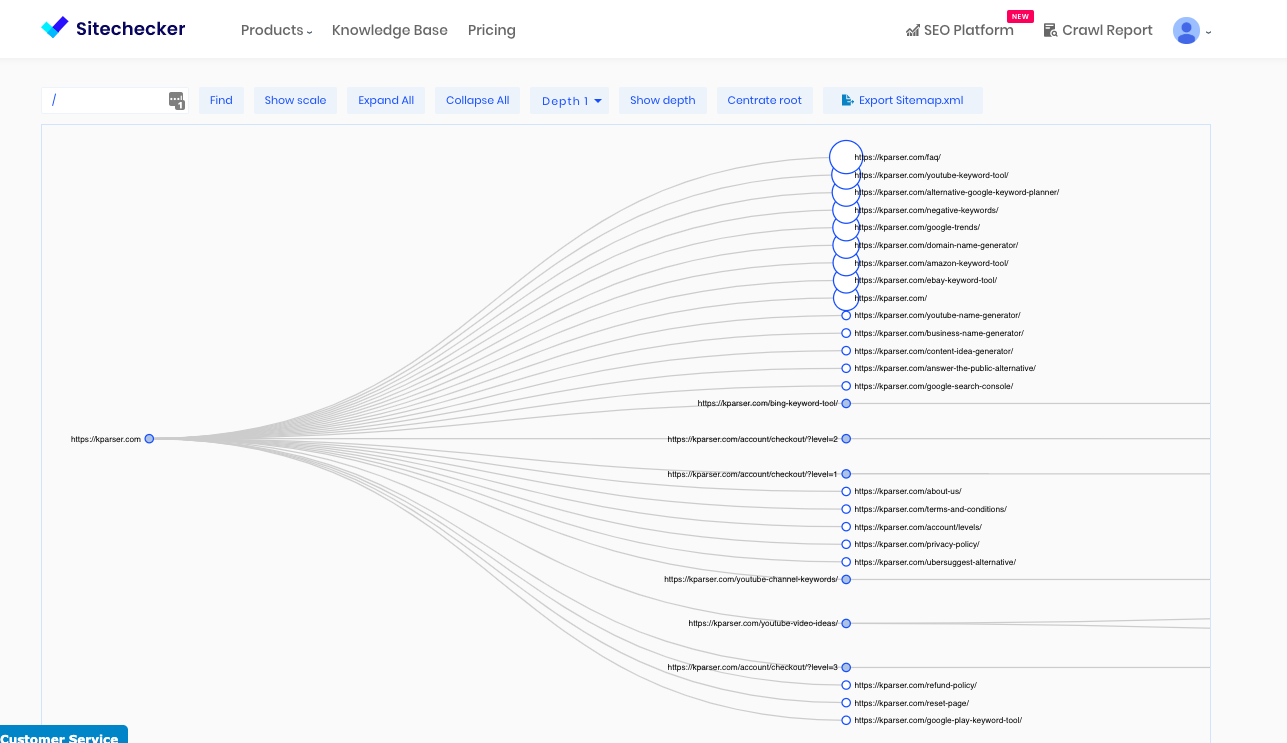 If you need, you can export it as an excel file or share with subordinates/clients.
Step 11. Check alt tags. Using key phrases for alt and title for images, you attract more leads to promoted requests.
Step 12. Delegate work to freelancers/subordinates if you need to fix errors. To share the report, switch to "share" logo and get the access by link. Easy and multifunctional.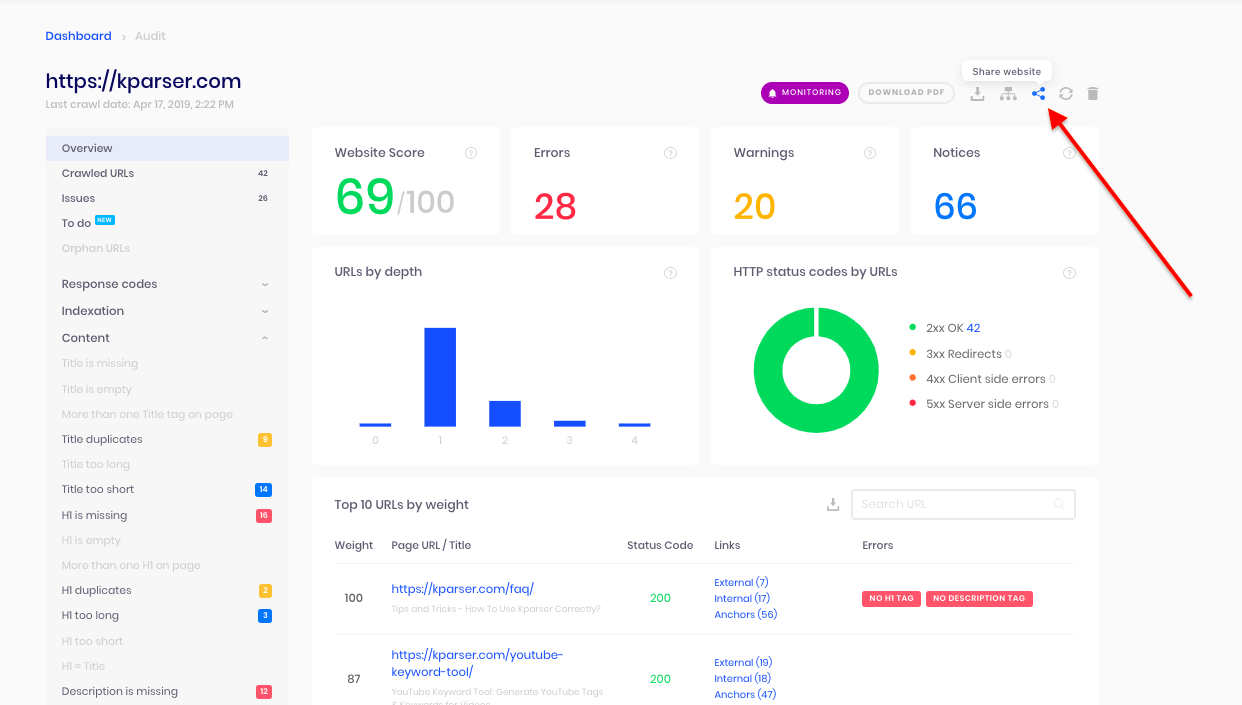 Check whether the errors were eliminated.
By following these steps, you can get the necessary information and make appropriate conclusions helping a decision-making process.
Now you know the definition of website spidering, how to crawl a website, what to do to fix website errors, and why it's needed. One of the crawlers is Sitechecker.pro that can be used for multiple businesses. By sending a request to crawl, you start the process of automated crawling and collect necessary data. This feature can be useful for many users.