What is a Bing Keyword Suggestion Tool?
Sitechecker's Bing keyword research tool swiftly identifies a range of popular suggestion keywords. Use this tool to discern what potential clients or readers search for on Bing. Then, adjust your website content to align with these topics. Expanding your keyword suggestions improves SEO, PPC, and content marketing outcomes.
Key features of the Bing keywords tool
Bing Keyword Analysis: Employ this instrument to discover the queries your prospective clients or readers make on Bing. Tailor the content on your website subsequently to resonate with these subjects. Broadening your repertoire of keyword suggestions enhances performance in Bing SEO or PPC.
Cross-Platform Keyword Suggestion: Our keyword instrument spreads its tendrils far and wide. It serves up suggestions sourced from an eclectic array of search engines, transcending beyond Bing. Unearth potential keywords harvested from platforms like Google, YouTube, Amazon, eBay, and more.
All-Encompassing SEO Arsenal: Our SEO repertoire extends its reach beyond the realms of mere keywords and research. With Sitechecker at your fingertips, you unlock numerous features encompassing on-page and off-page SEO evaluations, rank monitoring, website oversight, and more. Employ this granular data analysis to seamlessly identify potential pitfalls and unearth golden opportunities.
When is the Tool Needed?
The Bing keyword estimator tool is needed when SEO specialists, bloggers, and online entrepreneurs optimize their reach and visibility on the Bing search engine. As Microsoft's Bing holds a 21.6% share of desktop search in the US, tapping into this segment is highly beneficial. Here's when and why you might need this tool.
Assessing Bing Traffic: Understand the current traffic your website receives from Bing and how optimizing for relevant keywords can increase this traffic.
Competition Analysis: Bing might be less competitive than Google, presenting an opportunity for easier ranking. Understanding this distinction helps you shape your SEO strategy.
PPC Campaign Optimization: When running PPC campaigns on Google Ads, efficiently replicate and enhance them on Bing with the keyword suggestion tool. It includes finding new long-tail keywords, tweaking ad titles and descriptions, and experimenting with bids.
Organic Traffic Optimization: Bing's search results often differ from Google's. With Bing's Keyword Suggestion Tool, you refine your website's content for better organic reach on Bing. Ensure your content is relevant to the keywords and the domain authority is solid. Also, optimize ranking factors like page size, speed, and user behavior.
Keyword Expansion: Use the tool to expand your content's semantic core by suggesting related search terms. Though Bing limits the number of suggestions to 60, it's still valuable for broadening your keyword strategy.
Data-Driven Insights: Bing's tool provides additional data, such as keyword rank. It can be pivotal in making informed decisions regarding your online strategy.
How to Use the Tool?
Step 1: Input one or multiple foundational queries
Hit the "Get keywords suggestions" button to configure Bing by specifying geographic and linguistic settings.
Note: To obtain more precise and targeted results, please use the additional settings feature. Specify the search engine, region of interest, and language for the search suggestions.
Step 2: Scrutinize the outcomes and wield the potent features available to you
Upon launching the crawl, the tool will navigate you to the results page. It showcases data concerning the count of suggestions unearthed and lined up at the pinnacle. The tool transpires as the crawl progresses, so you can halt it once you have amassed an adequate suggestion volume.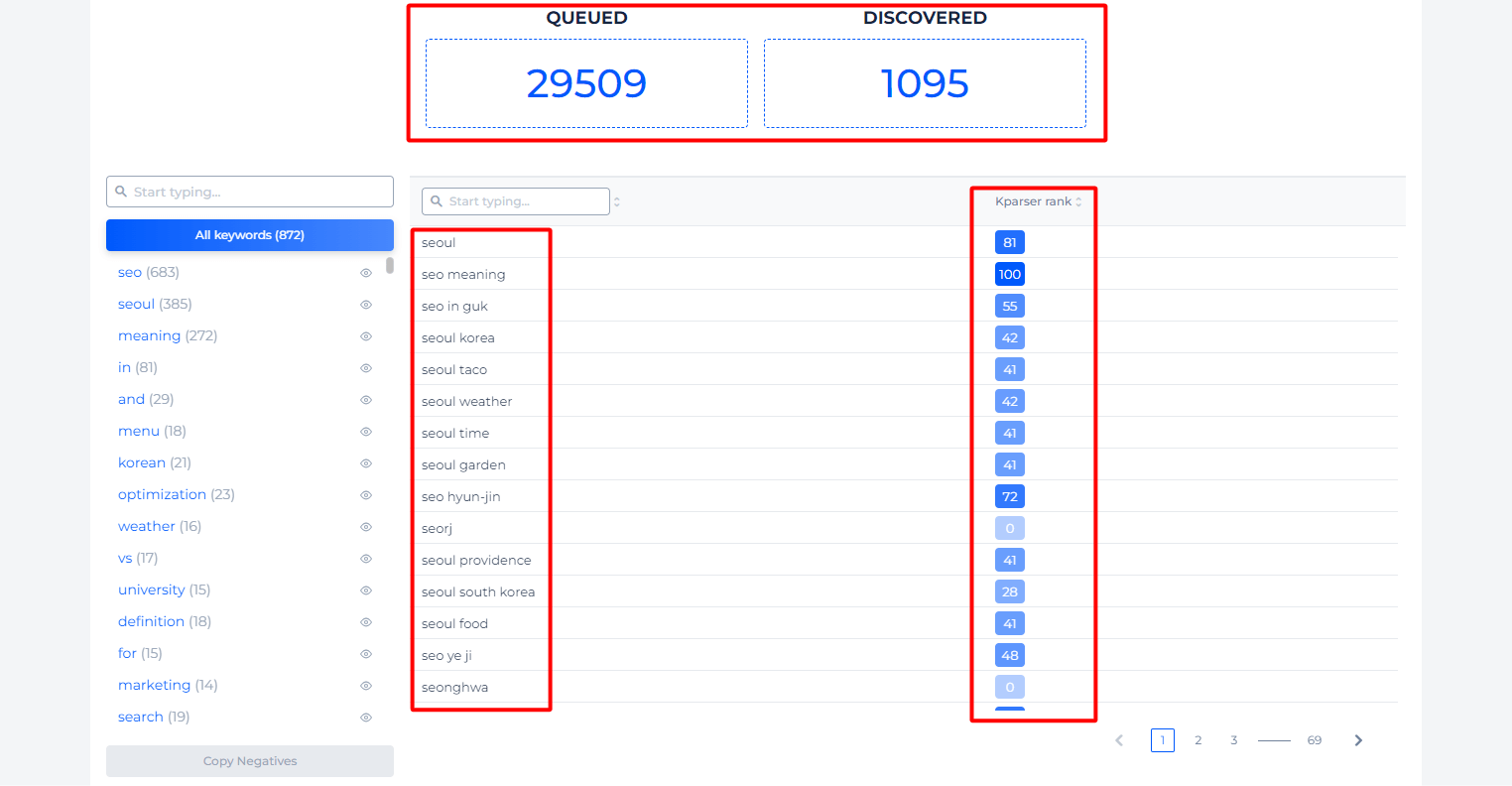 Do you want to find out how big the search potential of a particular word or phrase gets on Bing every month? Then, pay attention to the keyword ranking. It reveals what is popular now on Bing. As a rule, the higher the rank score, the more popular it's on Bing. That's a simple SEO strategy that guarantees you successful Bing keyword research.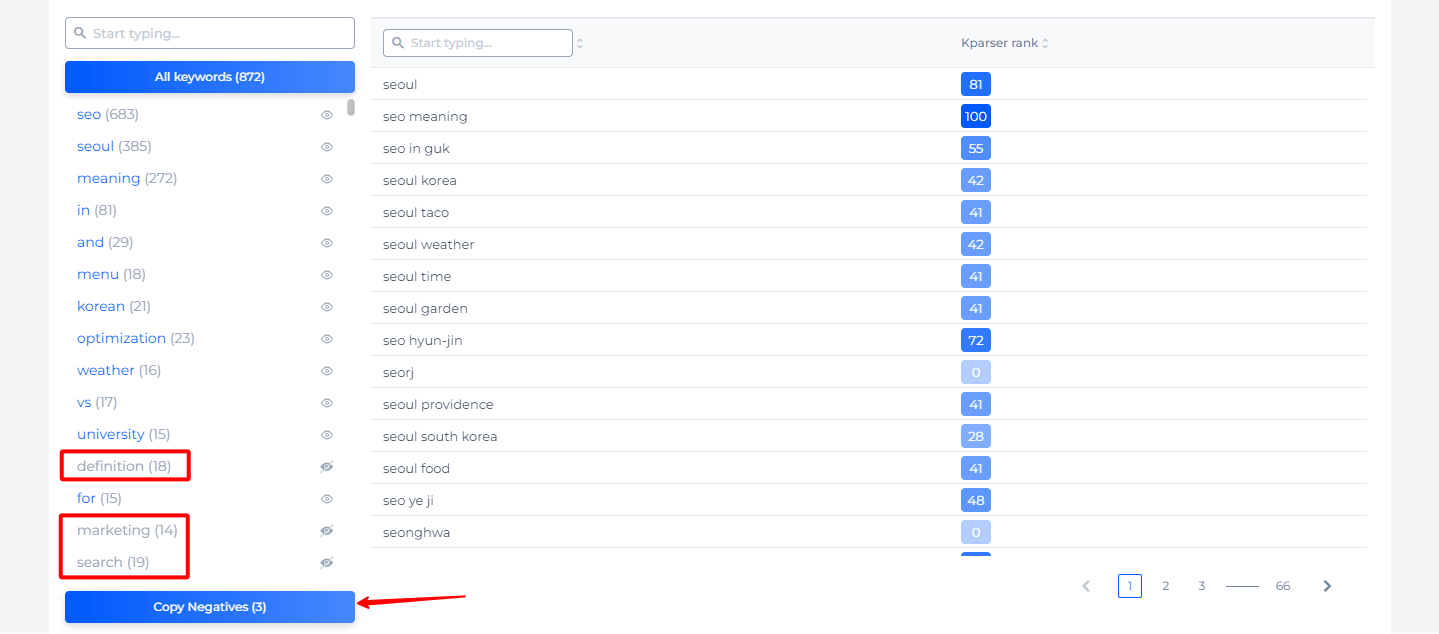 You can harness alphabets, numbers, questions, prepositions, and custom text to gather more pertinent suggestions. Additionally, it's convenient to amass negative keywords effortlessly. Moreover, you can surpass the limit of Bing keyword planner and obtain numerous suggestions, well beyond the standard 60 per keyword.
Enhanced features of the keyword Bing suggestion tool
Employ the advanced mode features to optimize your time and extract all conceivable suggestions for your seed keywords.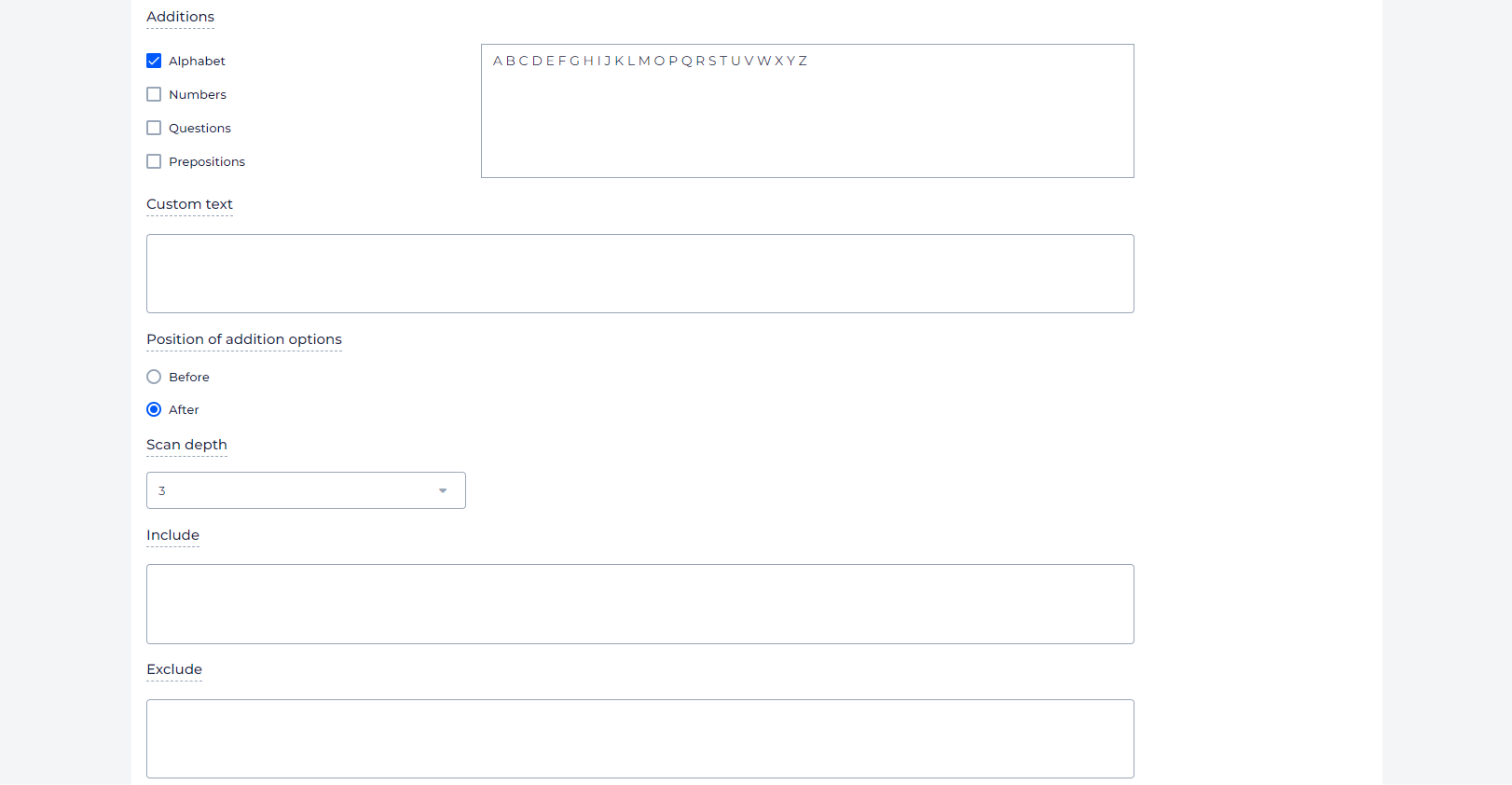 The advanced features encompass the following:
Additions: Each selection box represents an extra avenue for harvesting more results. For instance, selecting "Alphabets" implies the tool will seek suggestions by interchanging letters in your query. The "Questions" option, in turn, broadens results by seeking responses to typical questions containing your keyword. Finally, the "Custom text" field allows you to designate additional words, characters, or phrases you can replace in your query, facilitating the collection of further insights.
Before & After Functionality: With the "Before and After" toggles, you can dictate the placement of Alphabets, numbers, etc., preceding or succeeding your keyword.
Scan depth: The search depth determines the levels of results the tool will probe through to fetch suggestions.
Include: Use the "Include" field to enumerate words or phrases (each on a separate line) you want to see in the results. Keywords lacking these elements won't appear in the final output.
Exclude: Employ the "Exclude" field to outline any terms that should not emerge in the search results. Furthermore, suggestions containing these terms will be filtered out in subsequent searches.
In addition, suppose your pursuits extend beyond mere keyword discovery to encompass tracking and monitoring your website's positions for these keywords. Then, engage with our banner and select the "Start 14-Day Trial" button.

Upon swiftly configuring your keywords, region, search engine, and language, you will unlock access to our Bing keyword tracker tool, replete with multiple invaluable functionalities.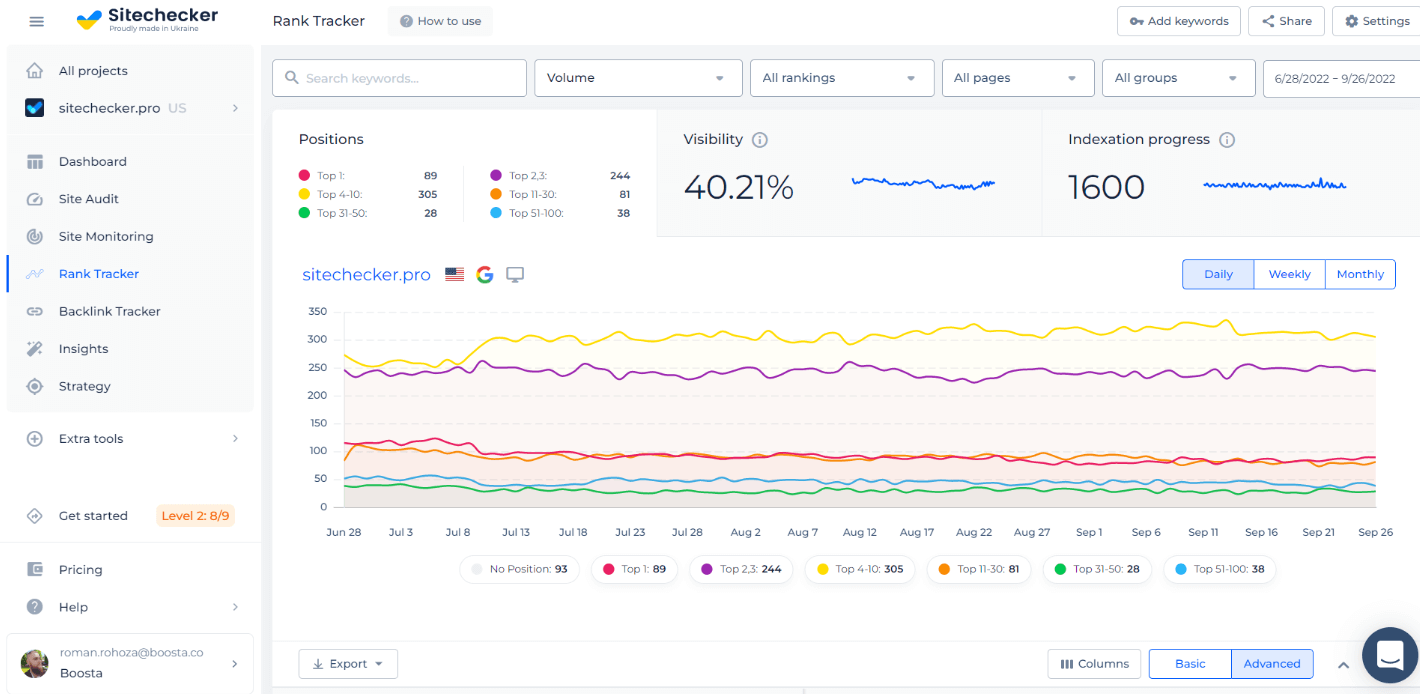 Concluding Remarks
Sitechecker's Bing keyword generator is an essential asset for SEO specialists, bloggers, and entrepreneurs. It offers comprehensive keyword suggestions across platforms, in-depth SEO analyses, and customizable search settings. This robust tool empowers users to optimize content and PPC campaigns for Bing's significant market share. Also, it considers the differences between Bing and Google. All in all, this tool is a must-use for data-driven strategies to enhance online visibility.
FAQ
What is Sitechecker's Bing keyword checker?
Sitechecker's Bing keyword research tool is online software identifying popular keywords potential clients or readers search for on Bing. With its help, you can optimize your website's content and improve SEO, PPC, and content marketing outcomes.
Who can benefit from using the Bing keyword finder?
SEO specialists, bloggers, online entrepreneurs, and anyone looking to optimize their reach and visibility on Bing's search engine can benefit from this professional tool.
Provide one or multiple foundational queries. Next, configure Bing by specifying geographic and linguistic settings and hit the "Get keywords suggestions" button. You can then analyze the results and use the features available to refine your search.