Ann Smarty – brand and community manager at Internet Marketing Ninjas, co-founder of ViralContentBee, founder of MyBlogU, MyBlogGuest and SEOsmarty. In the interview Ann shared why she decided to build own projects under different brand names, her top 3 errors in SEO career and algorithm to measure SEO performance.
1. How many years of experience in digital marketing do you have?
Around 15 years, hard to count after about 5 🙂
2. What type of digital marketing you have the strongest skills?
I think I am best at community management. I love creating micro-communities and keeping them engaged. But I am also heavily involved in content marketing, link acquisition and branding / reputation management.
3. You grow many own projects. Why did you decide to use different brand names for each of them?
All different reasons:
Some projects are not related (my consulting business is related to SEO while my other projects are mostly about networking and social media marketing).
I started Viral Content Bee in co-partnership, so I couldn't blend it into my other existing projects. It had to be standalone.
MyBlogU was an attempt to move away from "guest posting" concept, so it got its own name too.
4. What projects are you proud of?
All of them. MyBlogGuest changed many lives by creating opportunities you couldn't get elsewhere.
SEOsmarty: I was able to make myself known within months of blogging when I started it.
ViralContentBee offers promotional options no one else offers. It's so unique: We don't even have keywords to rank for 🙂
5. What do you do to further your own SEO knowledge and skills?
Whenever I am analyzing a site, I read tons of materials to provide a comprehensive report. That gives me lots of food for thought. I also travel to conferences at least twice a year. Otherwise, I sadly don't have too much time for self-education.
6. Is there any marketing or SEO blog you like most of all and why?
I think Barry's https://www.seroundtable.com/ is my top choice. Every SEO should read it daily.
7. What are the TOP-3 errors you made at the beginning of your SEO specialist career?
Got my domain registered by my employer (Took some drama to get it back when we parted ways).
Took too long to create my own courses to monetize and brand my site (There was no monetization for a decade).
Didn't write a book while I felt inspired (It's too late / busy now!).
8. What SEO tactics do you think are underrated?
Any tactic that involves long-term planning and no way to scale is largely ignored by our industries. We tend to look for shortcuts. Higher-quality longer-term projects are also hard to sell.
9. Do you believe that backlinks are Google's past? Is link building important for increasing the website's positions nowadays?
Google can't create an algorithm that wouldn't rely on links. It's still their most important signal. So link building is still very much alive and I don't see it going. After all, link building is the fundamental component of the Internet.
10. In your opinion, does the technical health of the website affect the ranking positions in search engines?
It sure does, especially its mobile friendliness. I've seen sites losing traffic due to that, after being moved to Mobile First index.
11. We all know about the June update from Google. Some websites rose, some of them fell. What do you think about the new algorithm? What are the main new rankings factors SEO and Marketing specialists should pay attention to? How do you stay up-to-date on the near-constant search algorithm changes?
There's an update every other month. Some are confirmed by Google, others are not. Most are called "core algorithm" updates targeting no specific tactic in particular. What to do about them? It may sound cliche and not as helpful but all you can do is:
Invest in valuable content for your site;
Keep looking for other sources of traffic and leads.
I think article describes what to do best: Google's Broad Core Algorithm Updates: How to Stay Safe.
12. In your opinion, does user's behavior impact on website ranking in SERP?
I am sure Google is keeping an eye on how well high-ranking pages are satisfying the user, so there's some tracking in place. It is not as straightforward. I believe they take those signals in comparison with neighboring URLs and also consider what they know about each query and user behavior. So that signal exists but it SEOs will never know how to measure it.
13. What is your approach to developing an SEO strategy?
Always start with keyword and competition research and spend a lot of time brainstorming and creating content that would be better than anything that already exists. This is the best way to develop an effective SEO strategy.
14. What services/companies/apps have inspired you the most this year?
I've been really excited when I discovered Text Optimizer. The tool extracts Google's search snippets for a particular query and applies semantic analysis to identify related concepts and entities. It is a cool topic research tool and since I started using I saw my search traffic go 30% up (without any new links). Super cool!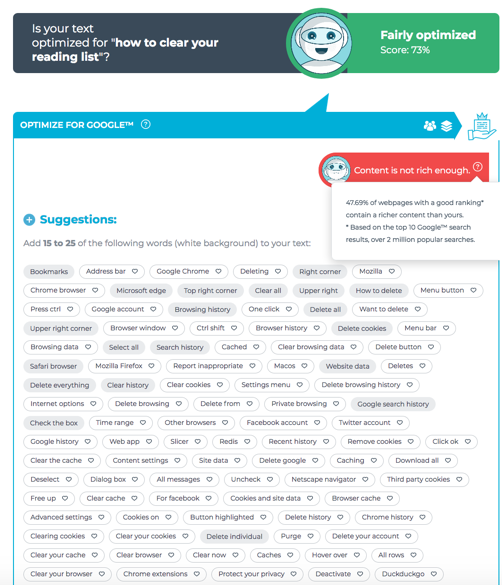 15. What are the most critical SEO mistakes you have ever seen in other companies?
Not having a clear understanding of what people are supposed to be doing when landing on that page.
Creating more content than they have time to properly market.
Not targeting key landing pages to an identified keyword opportunity.
16. How do you evaluate web analytics to measure SEO performance?
I always keep a close eye on the following things:
Branded traffic (If it grows, we are doing the right thing).
Referral / non-search traffic (We are always looking for ways to increase traffic beyond search).
Organic traffic trend (no dips).
17. How do you see the future of SEO (in 5 years)?
Google is getting smarter: It is going to be next to impossible to understand why they rank one page over another one (it is already tough in many cases). Hopefully Google will understand links well enough to be able to do without manual penalties and Disavow.
18. Which SEO or marketing tools can you recommend as a must-have for every SEO specialist?
Serpstat (Kparser is also pretty cool);
TextOptimizer;
Any crawler (I use Netpeak Spider);
Google Analytics (or any alternative like Finteza);
Google (and Bing) Search Console.
19. What advice can you give for those who are just starting their career in digital marketing?
Start your own personal site and play with it. The best way to understand SEO is to play with tools and immediately apply tactics you've just learned. It also makes it much more fun. Good luck!