The most important product updates for August 2022.
1. New design of Site Audit summary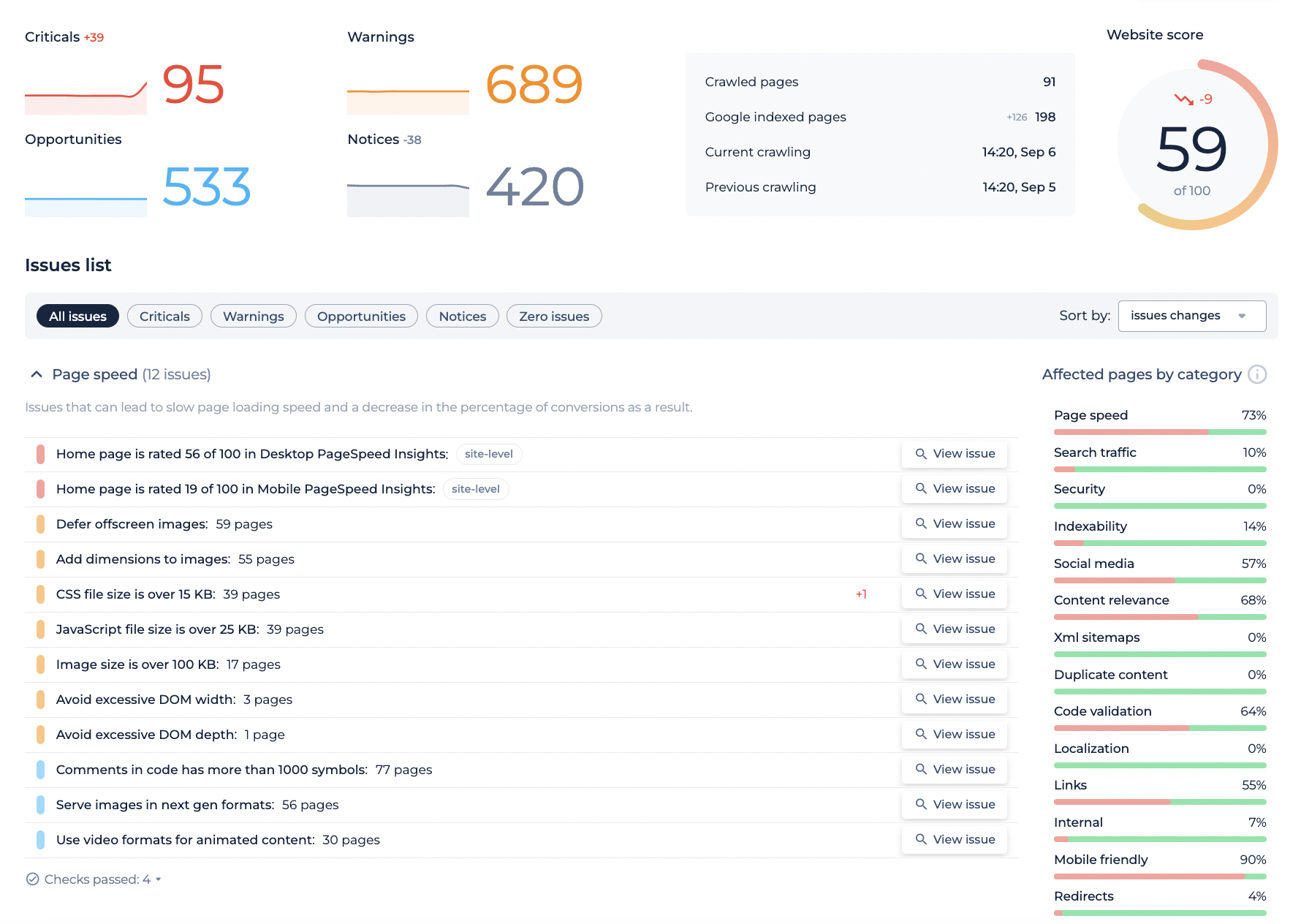 We never stop updating our core tool – Site Audit. Welcome the new design with even more structured navigation between categories.
Filtering by the type of issue
Now it is easier to prioritize the issues you want to work with by filtering them into 4 main types (Critical, Warnings, Notices, and Opportunities). You can also filter the issues to see all the pages and the pages with zero issues.


Sorting the issues list
There is a new way of sorting the issues. We have added 3 main sorting options for your convenience:
Default.
Issues count. (Sum of all the types of issues (Criticals, Warnings, Opportunities, and Notices) which refer to a specific category).
Issues changes. (Sum of the changes implemented in a range of a specific category).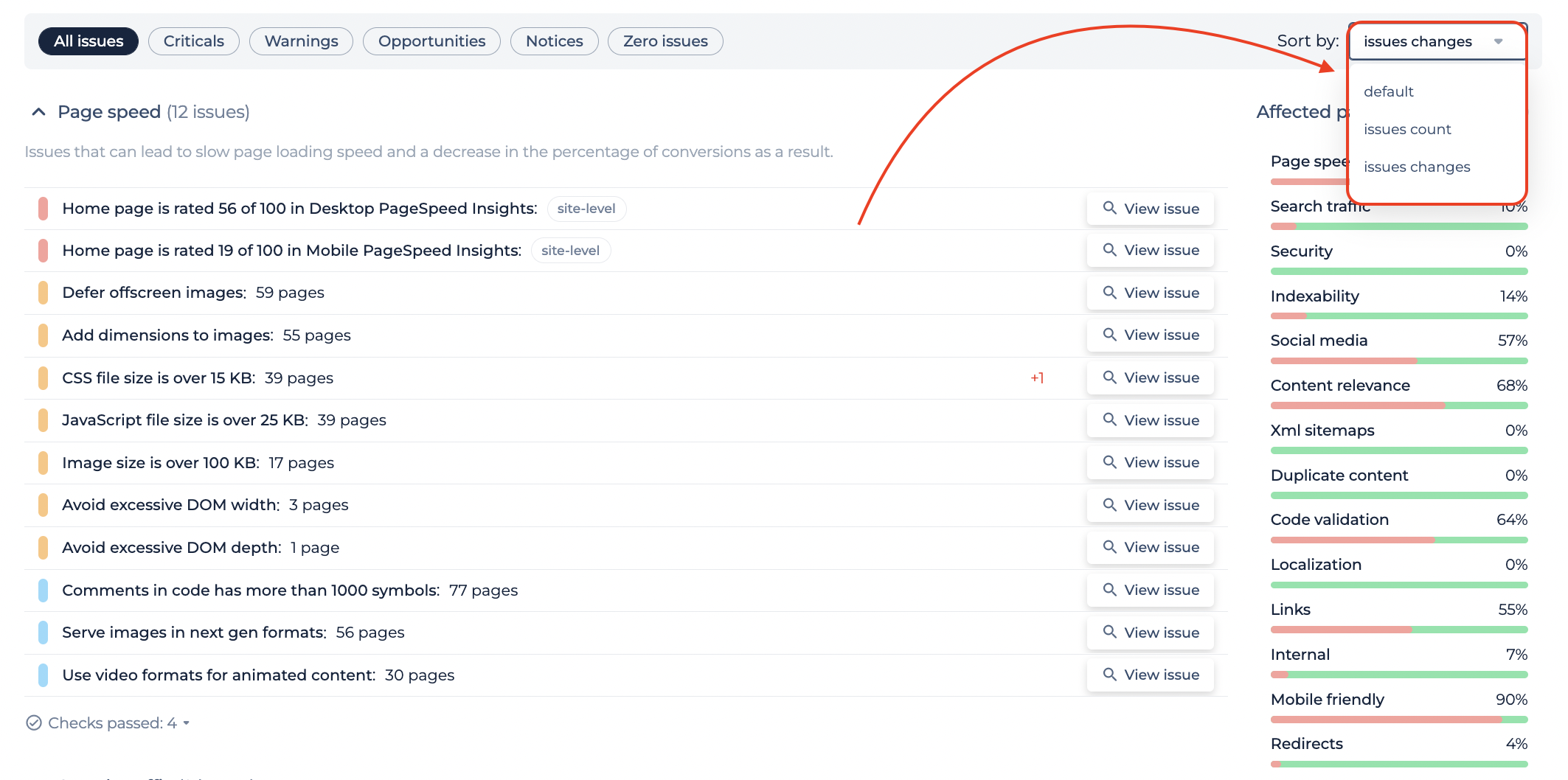 Percentage of the affected pages by category
Our new right sidebar with the issues divided into categories by their type of influence is now displayed with the percentage of pages that have critical errors and warnings of a specific category in relation to the total number of scanned pages.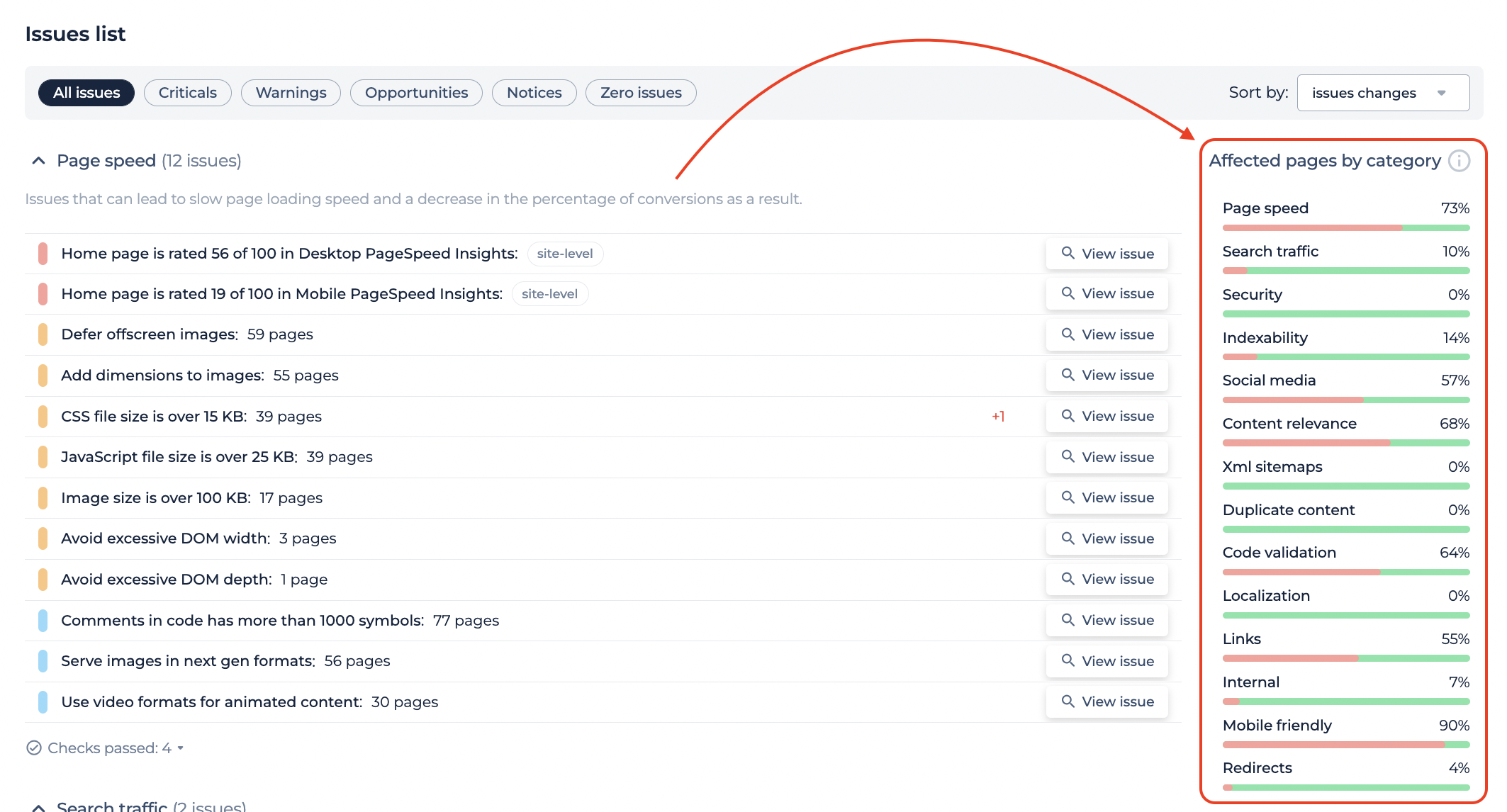 2. Improved design of Site Audit issues
Now, different types of issues have their unique design and functionality. Depending on the type of issue, the main button that locates it on the website differs.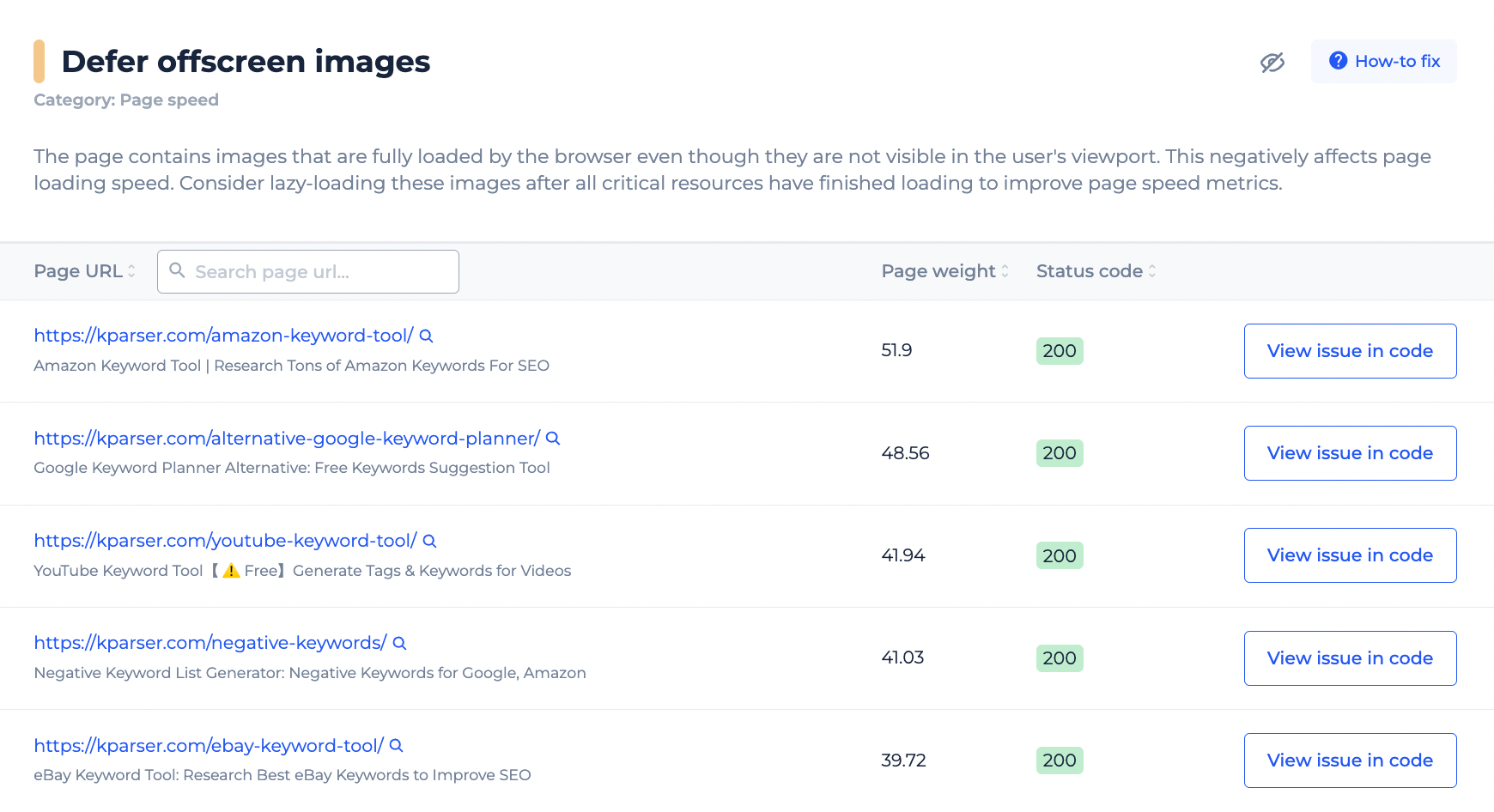 For example, if there is an issue "Defer offscreen images", you will see the button "Issue in code" that will show you where the issue is located inside the code of the page. However, if there is an issue "301 redirects" or "4xx client errors", the button "View internal backlinks" will appear and show you all the backlinks for the specific page.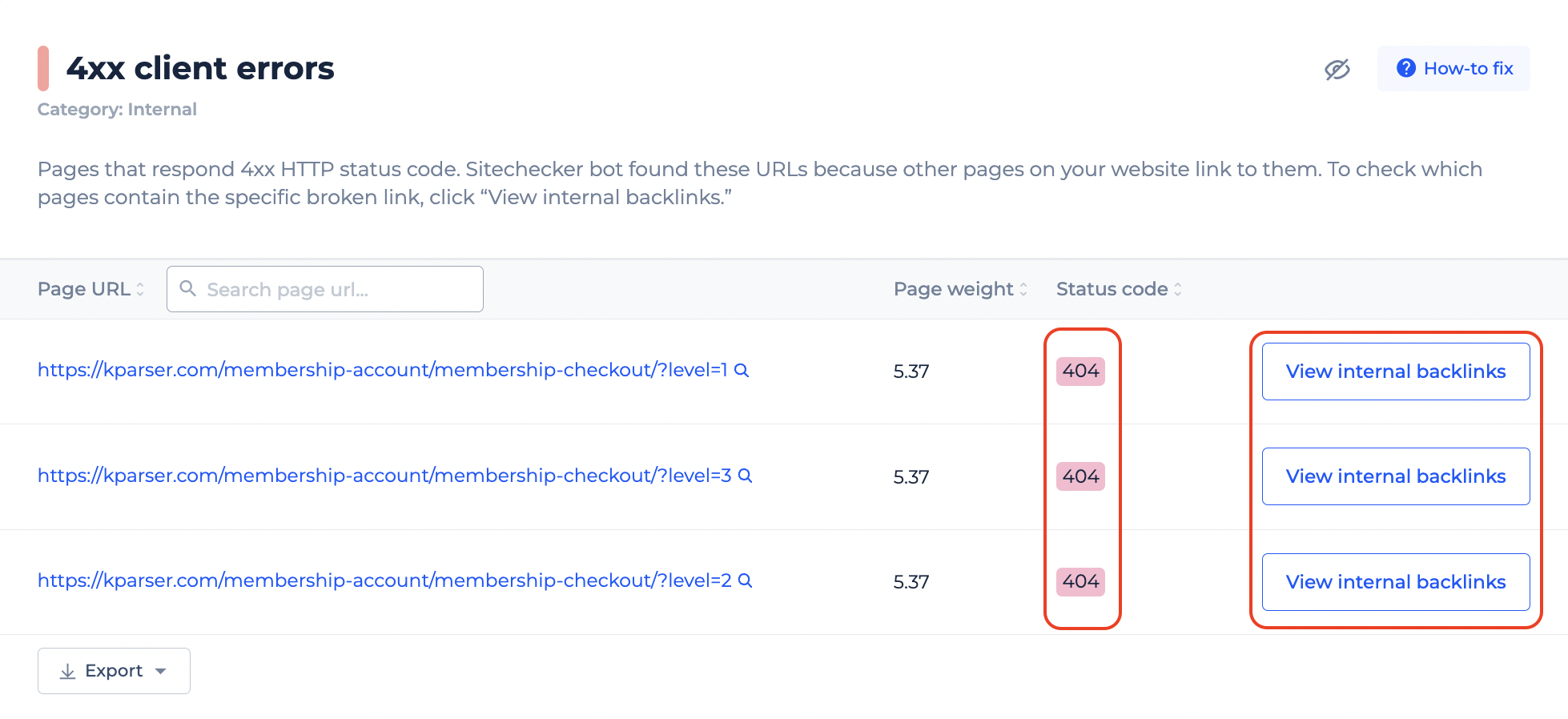 Also, for your convenience, we have added an icon with the URL's HTTP status code.
3. New page-level checks in Site Audit
The key to a well-maintained SEO is to stay up-to-date with the trends. Thus, it is really important to implement new checks based on the latest research. Here is the list of all the new implementations in page-level checks.
URL contains upper case characters
URL contains repetitive elements
URL contains non-ASCII characters
Query string contains a question mark
URL contains no Google Tag Manager code
URL contains more than one Google Tag Manager code
Query string contains sort parameters
Query string contains search or filter parameters
Query string contains repetitive parameters
Query string contains paginated parameters
More than one <body> tag on page
More than one </head> tag on page
More than one </html> tag on page
H1 has other tags inside
Page has content after </html>
Page contains rel=sponsored attributes
Page contains rel=sponsored attributes
H2 is missing
H2 starts with a lowercase letter
Page has <table> but has no <caption> attribute
Page has <table> but has no <th> attribute
HTTP URLs
Add dimensions to images
Comments in code has more than 100 symbols
Defer offscreen images
Whitespace in URL
Page has disallowed CSS files
Page has disallowed images
Page has disallowed JavaScript files
URL contains upper case characters
URL contains repetitive elements
URL contains non-ASCII characters
Query string contains a question mark
URL contains no Google Tag Manager code
Query string contains sort parameters
Query string contains search or filter parameters
Query string contains repetitive parameters
Query string contains paginated parameters
Has outgoing hreflang annotations to redirecting URLs
Invalid incoming hreflang annotations
Noindex URL has incoming hreflang
Missing reciprocal hreflang (no return-tag)
Has outgoing hreflang annotations to broken URLs
Has outgoing hreflang annotations to disallowed URLs
Has outgoing hreflang annotations to noindex URLs
HTTPS URL contains a form posting to HTTP
Loads page resources using protocol relative URIs
Missing hreflang annotations
Hreflang annotation also x-default
Page has alt tags with one word
Page has outbound internal links with one-word anchor
Page has no boldface elements
Page has no list markdown
Page has no strong importance elements
Page might have an outdated H1
Page might have an outdated title
Paragraphs are missing
Title starts with a lowercase letter
4. Big update of Page Audit
Check the information about your pages just in the Site Audit report. Now it is even more convenient to look into On-Page SEO audit. Just click on any URL in the report and you will be presented with its details (issues on page, tags, h1-h6 structure, interlinking, page speed, and many more).
Before the update, every Page Audit has reloaded the app and it took much more time to navigate between Site Audit issues and Page Audit. Now you can switch between Page Audit of different pages 3x faster.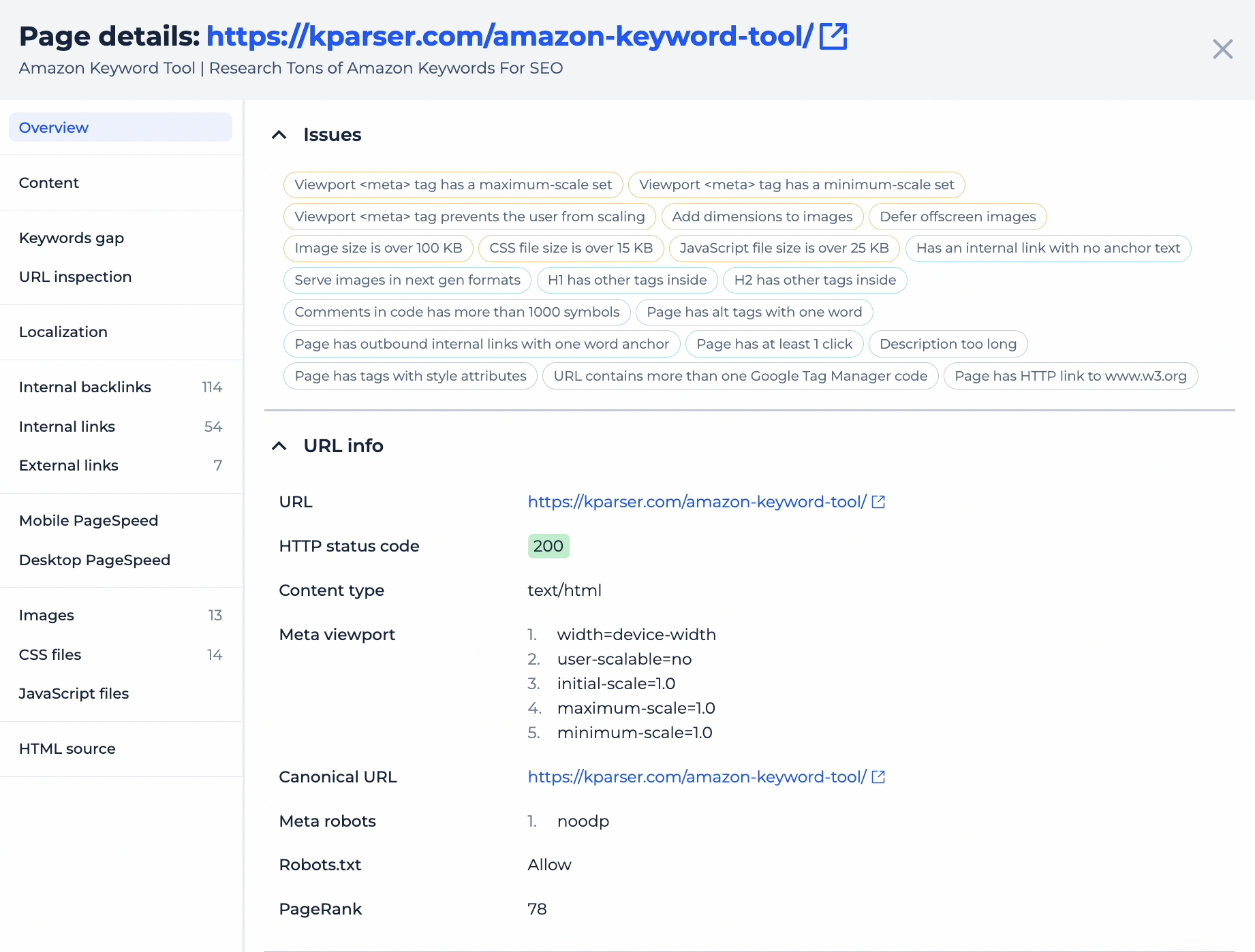 Keywords gap
In  "Keywords gap" tab, which is a quick integration from your Google Search Console, you will see:
Top keywords by lost clicks
(The Top 20 keywords collected from Google Search Console by lost clicks for the last 30 days with their performance metrics and status of use in the title, meta description, H1-H6 headings, and alt tags).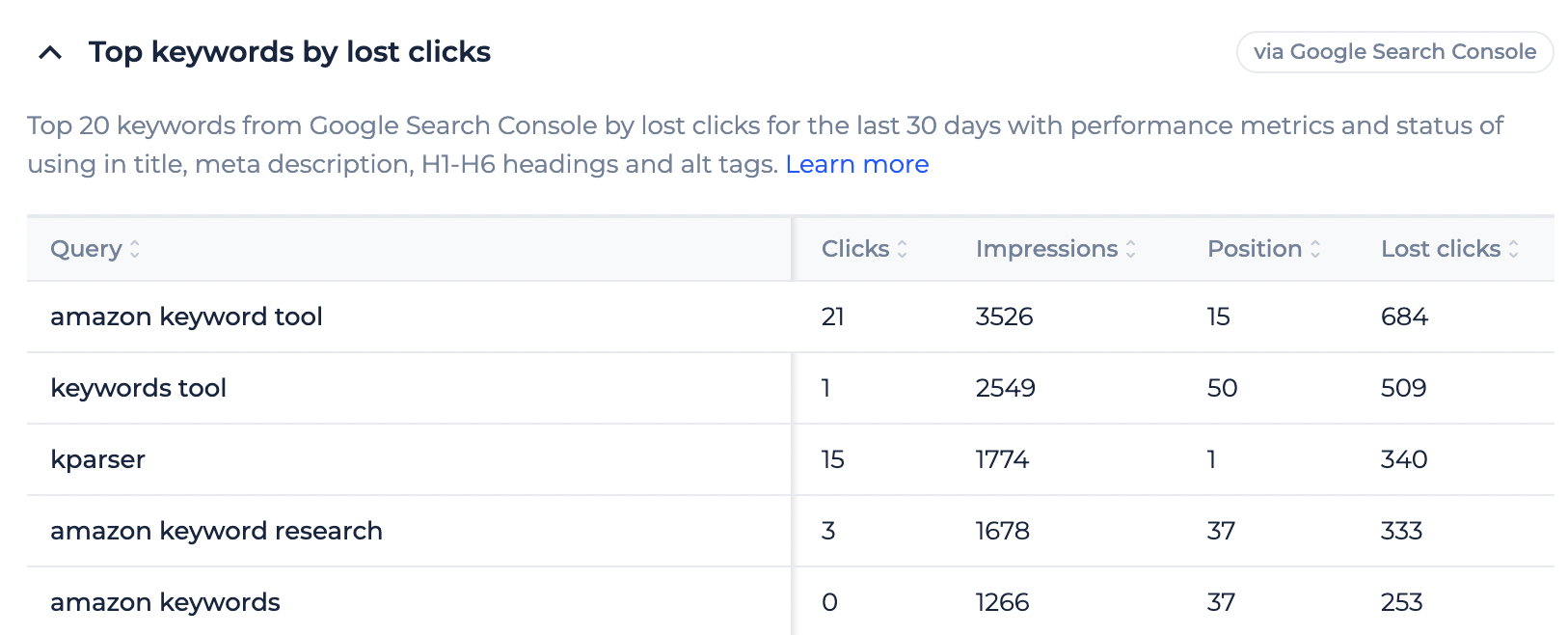 Top keywords to expand the content
(Top 20 keywords from Google Search Console by Lost clicks for the last 30 days that are missing in the content. There are no such keywords in page text, title, meta description, H1-H6 headings and alt tags, but your page ranks by them in Google.)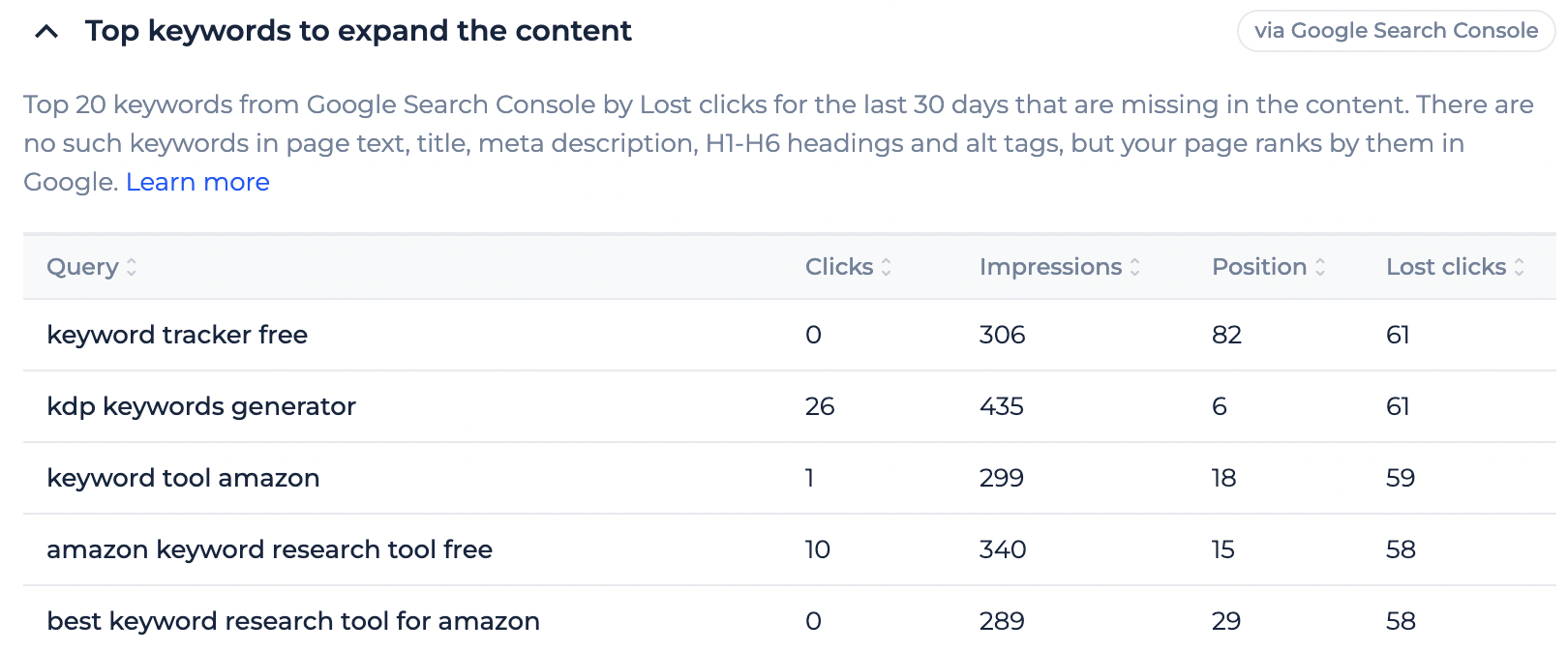 This section is created to help you find phrases to expand your page content to improve rankings by keywords for which your page is already ranked.
URL inspection
This tab in Page Details is also an integration from your Google Search Console that collects a piece of general information about the URL. For example, here you can see whether the page is submitted and indexed, all the canonicals (both chosen by you and Google), the sitemaps of the page, referring pages, and information about the date of the latest crawling. It will also show you if the page is mobile-friendly.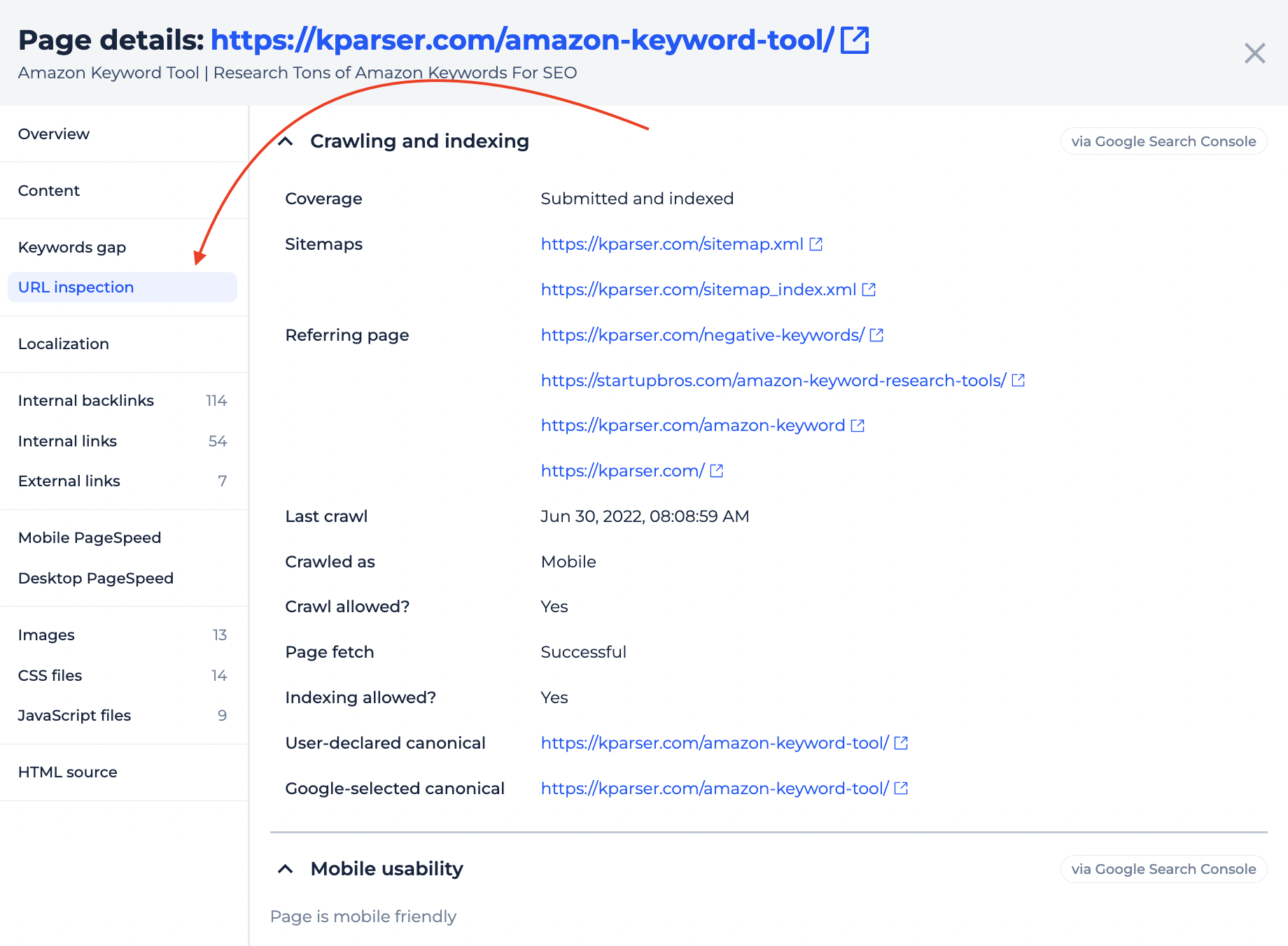 Note, that this tab displays the real info if the page is indexed by Google or not and how Google found this page, and which canonical URL is chosen. If your page is open for indexing it doesn't guarantee that Google will add it to the index. There are many reasons why Google can decide that a page doesn't deserve to be indexed.
Simplified interlinking navigation
It is now easier to navigate to the pages that are linked to the URL. With the new Page Details, you can access the interlinking section where you can see all the internal and external links the page has along with internal backlinks. This section significantly simplifies the process of finding the location of the broken links, redirects, and other non-200 URLs.
In the interlinking section you can search for the specific ones using the search bar and filter them by the relation (do/nofollow), status code, and anchor (empty/ not empty).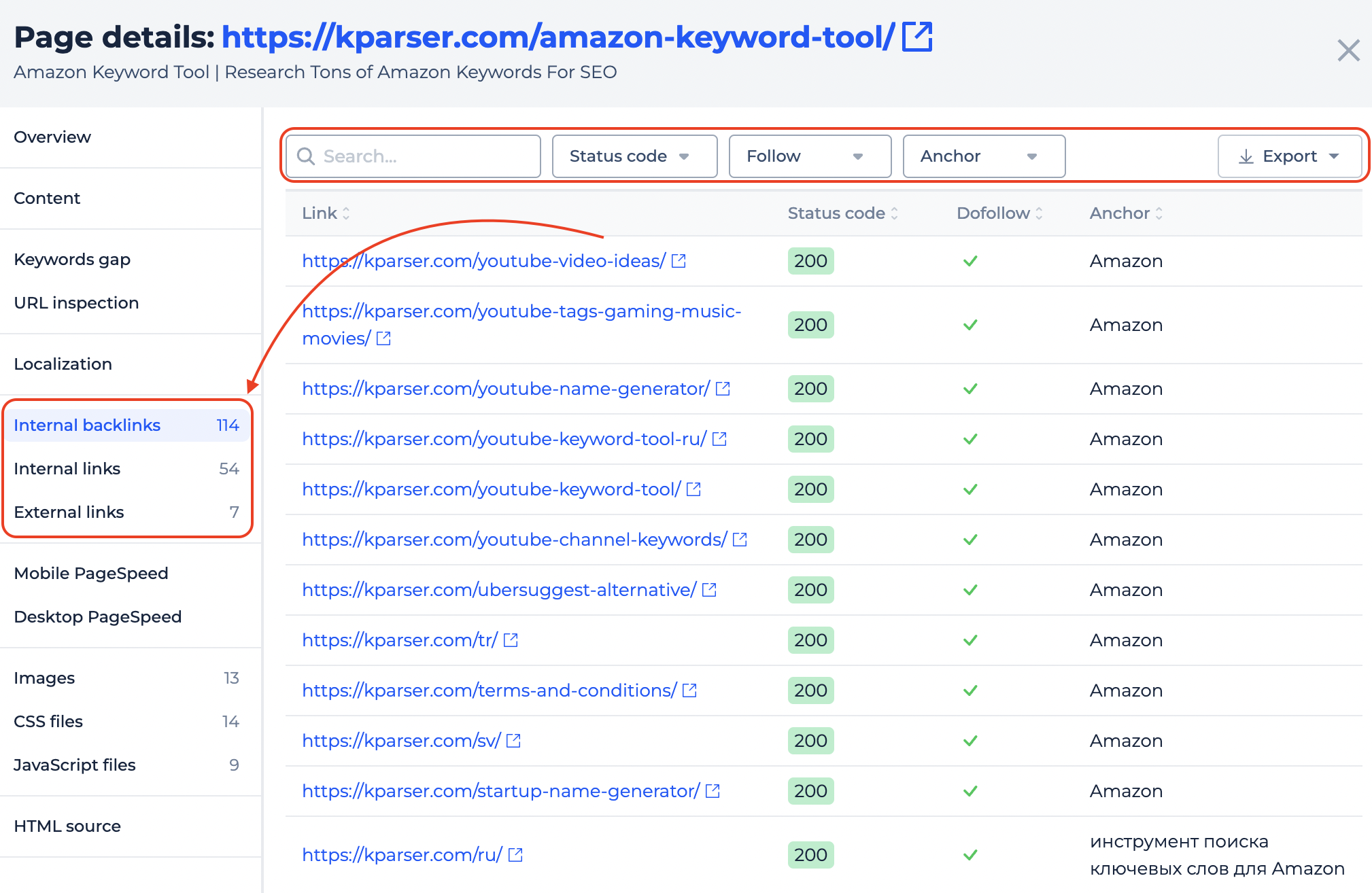 The list with the links is now can be simply exported as CSV file, Google Sheet, or just by copying it to the buffer.
New filters in the Images, CSS, and Java Script tabs
Now all these tabs have their filtering options. All of them now have a search bar, export button, and a status code filter. In addition, the Images tab has an additional filter by alt attribute (empty/not empty.)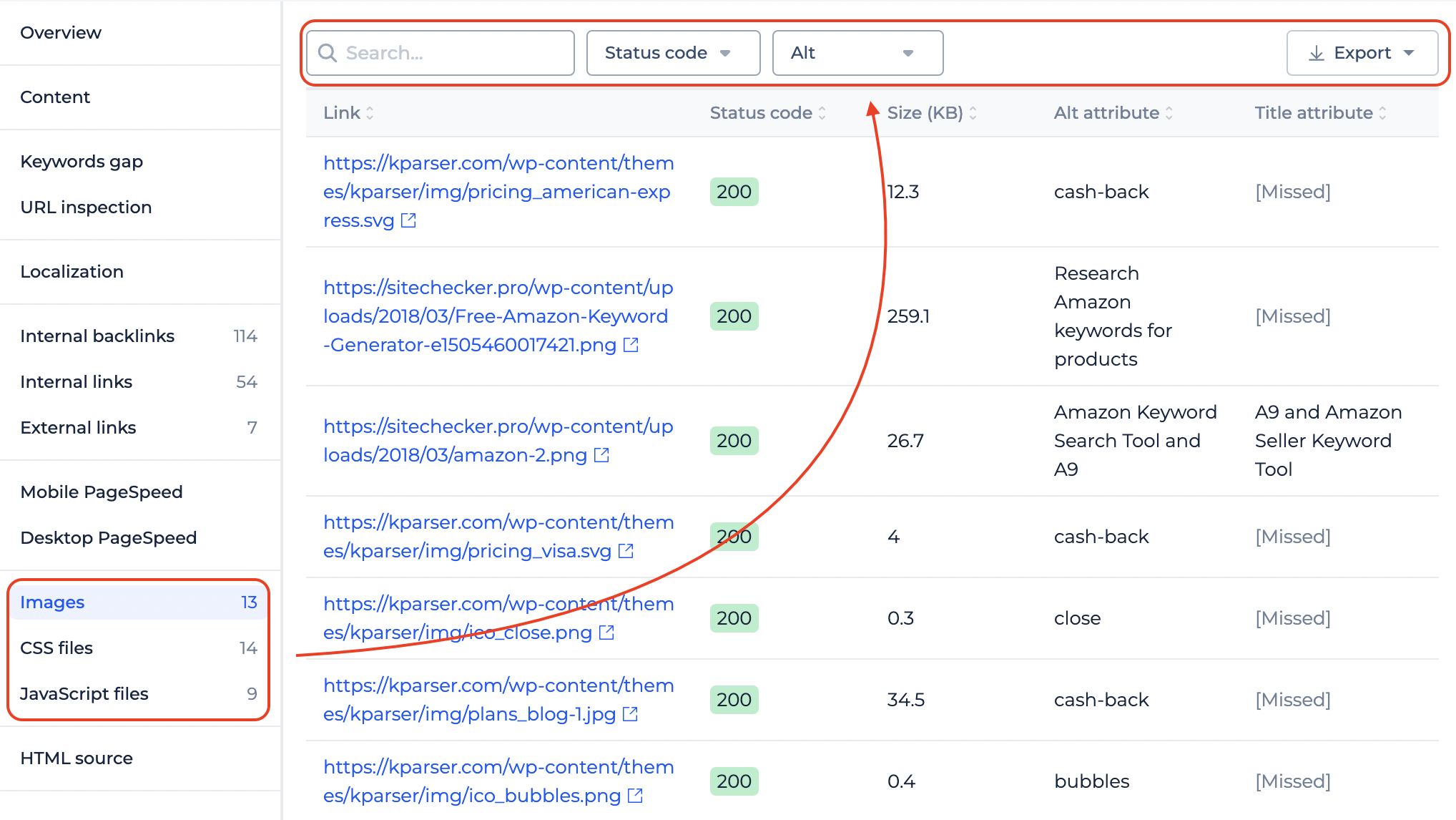 Research keywords tool
There is no more need to use third-party tools in order to search for keyword ideas. Along with importing keywords from the file or your Google Search Console, you can now generate some new ones just in the app. To do so, go to the settings of your project and navigate to the "Keywords" tab and click on "Research keywords". There you will find such options:
Your website keywords. (the list of keywords your website already ranks for in Google, but you don't monitor them in Rank Tracker yet)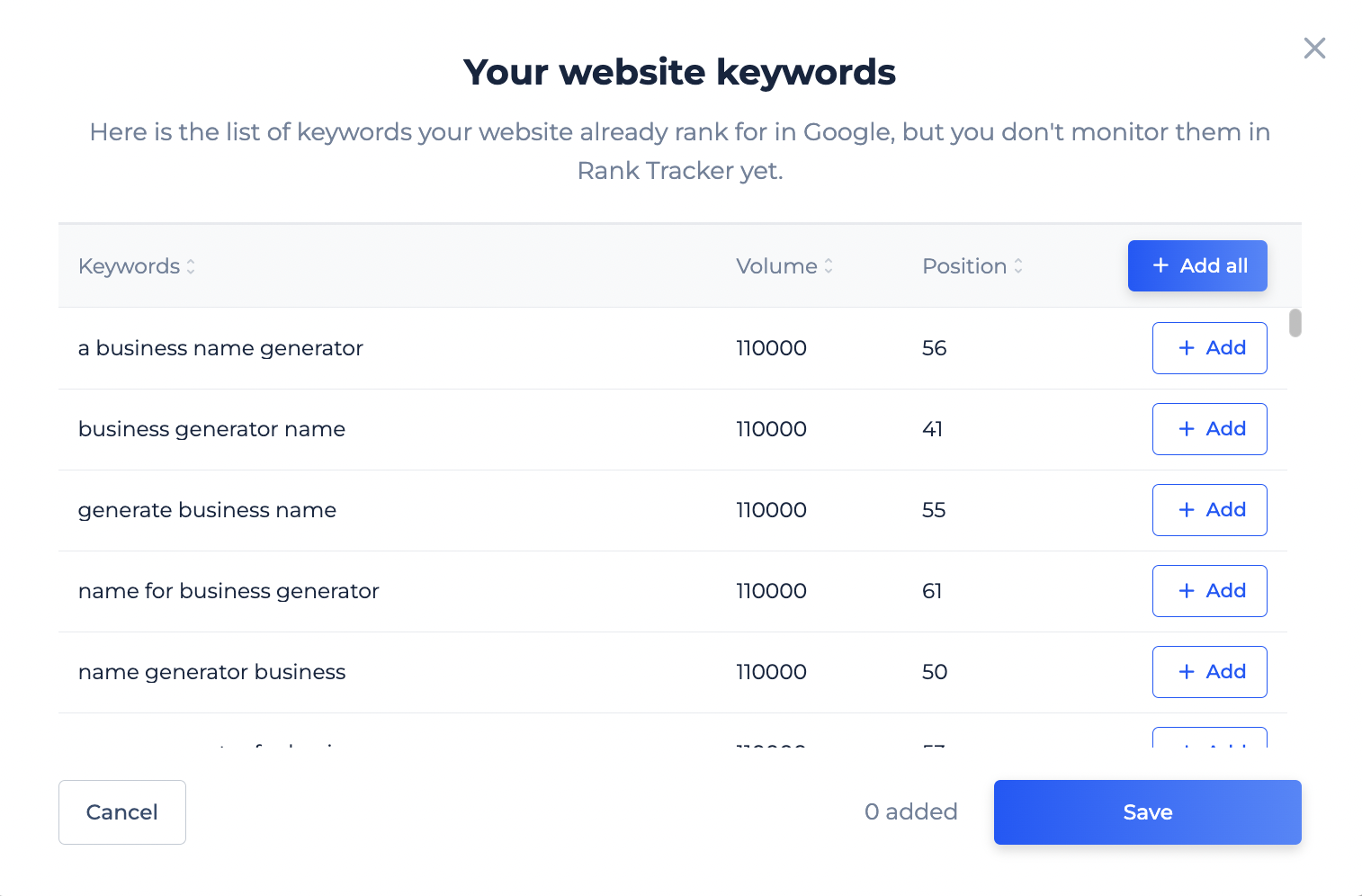 Long tail keywords.
(more specific keywords that visitors are more likely to use when they are closer to a point of purchase)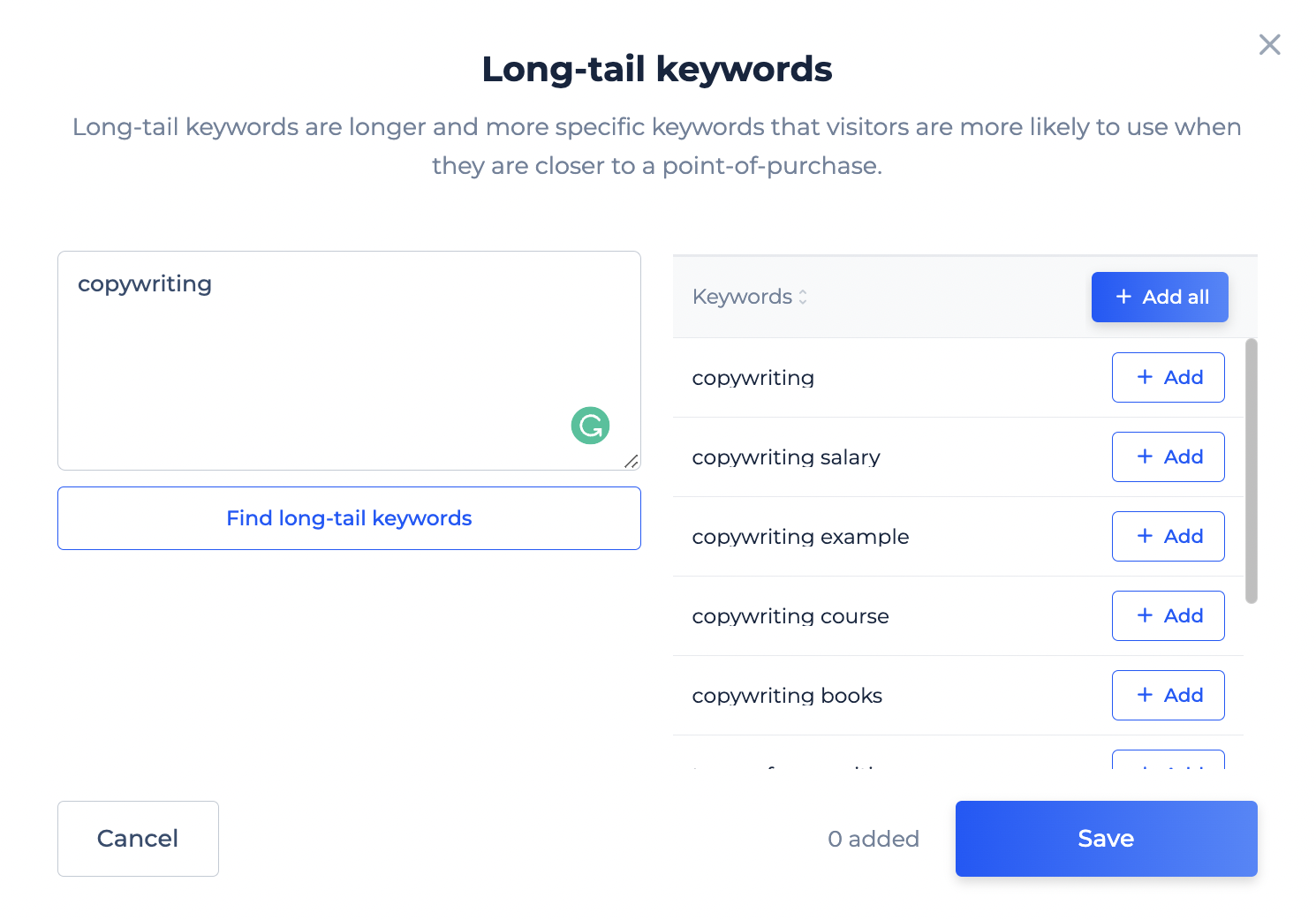 Related keywords
(variants, synonyms, or semantically related terms to the main keywords that you are targeting and trying to rank for in the SERPs)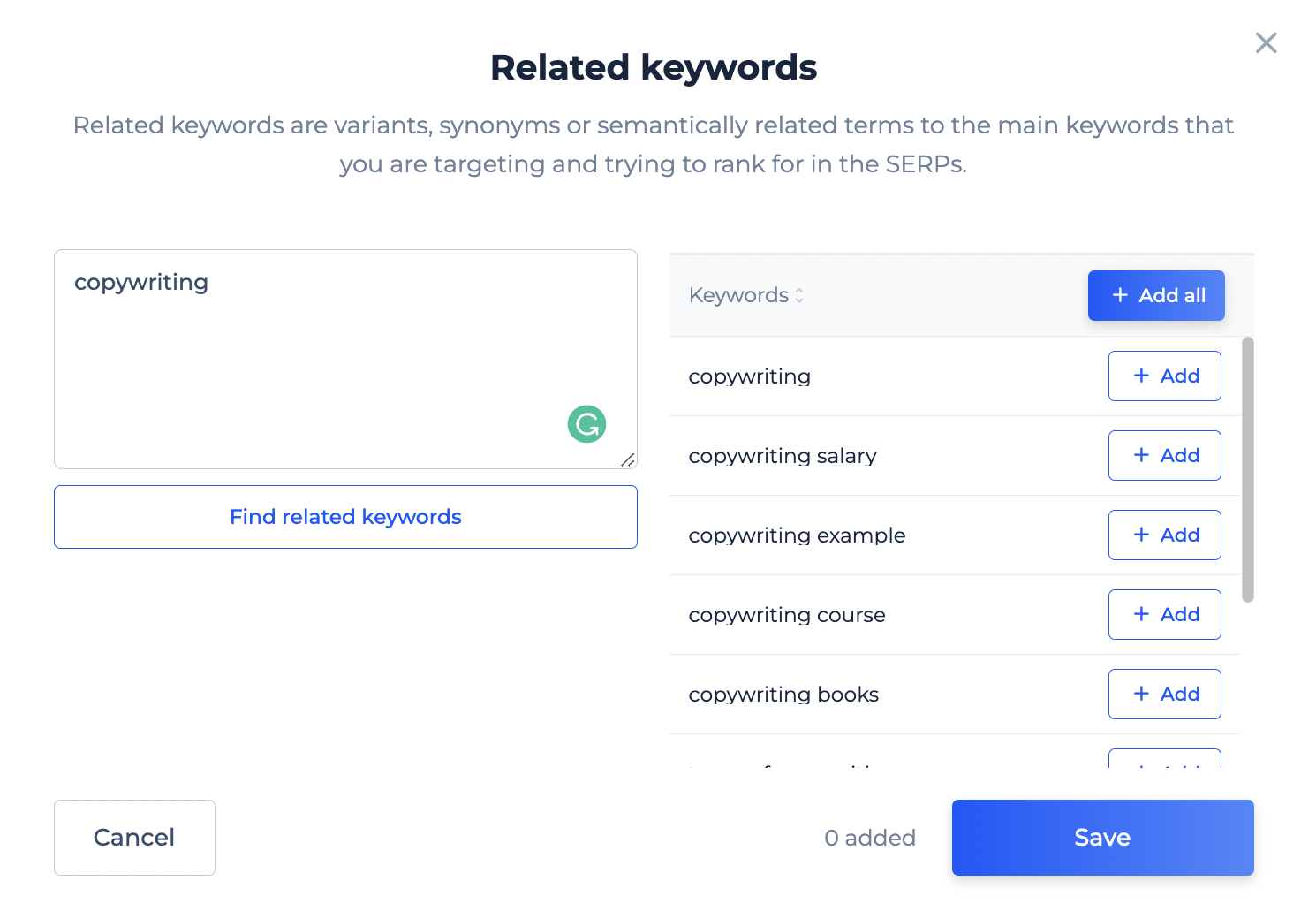 Competitors' keywords (Find keywords that bring traffic to your competitors from Google Search)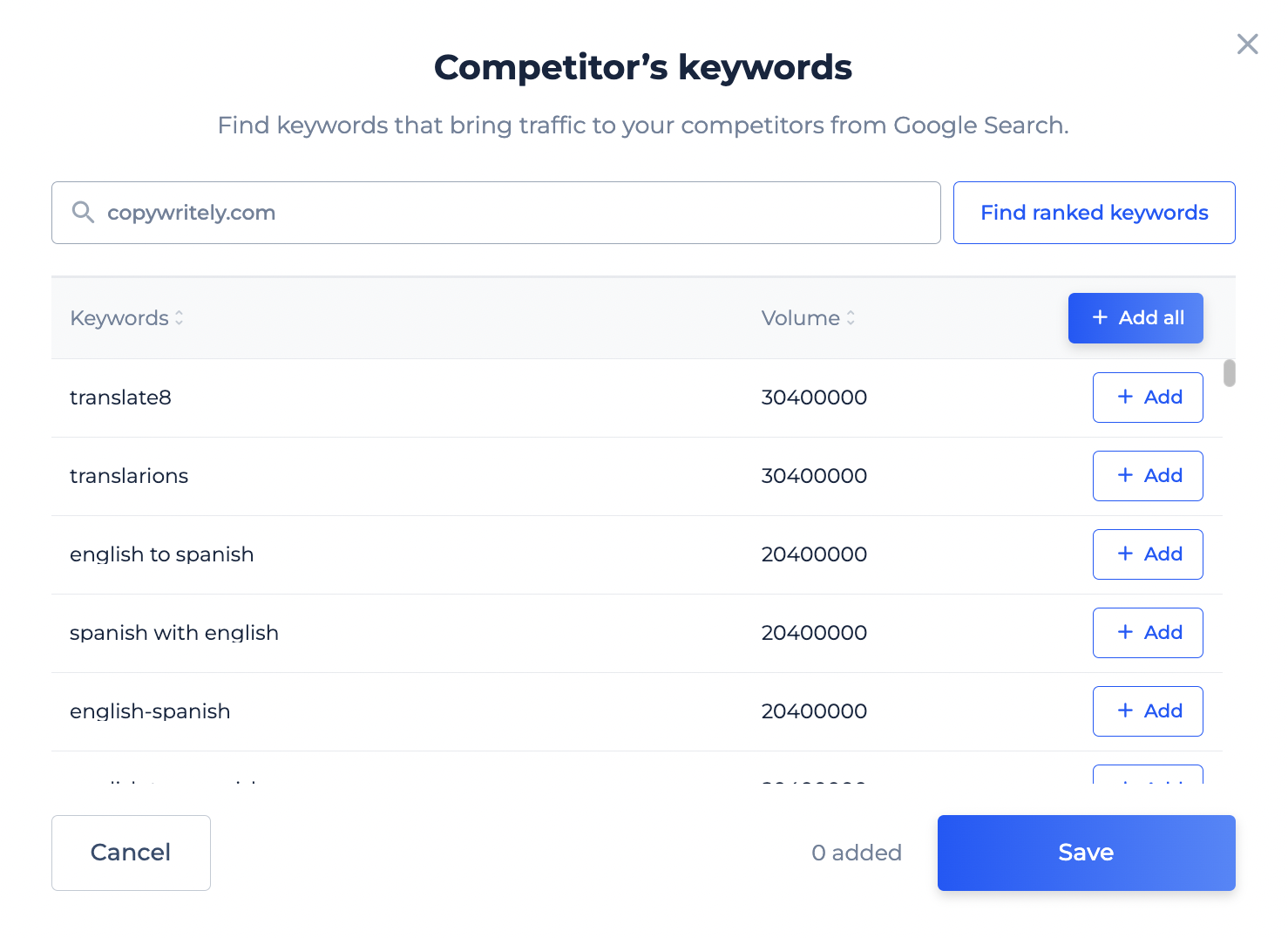 5. New, better Site Monitoring
After the new update Site Monitoring will show you not only the changes in the website itself (new pages, edited content, downtimes) how it was previously but also all the changes in the technical SEO of your website. The data is updated after the re-crawl and compared with the previous scan of the website.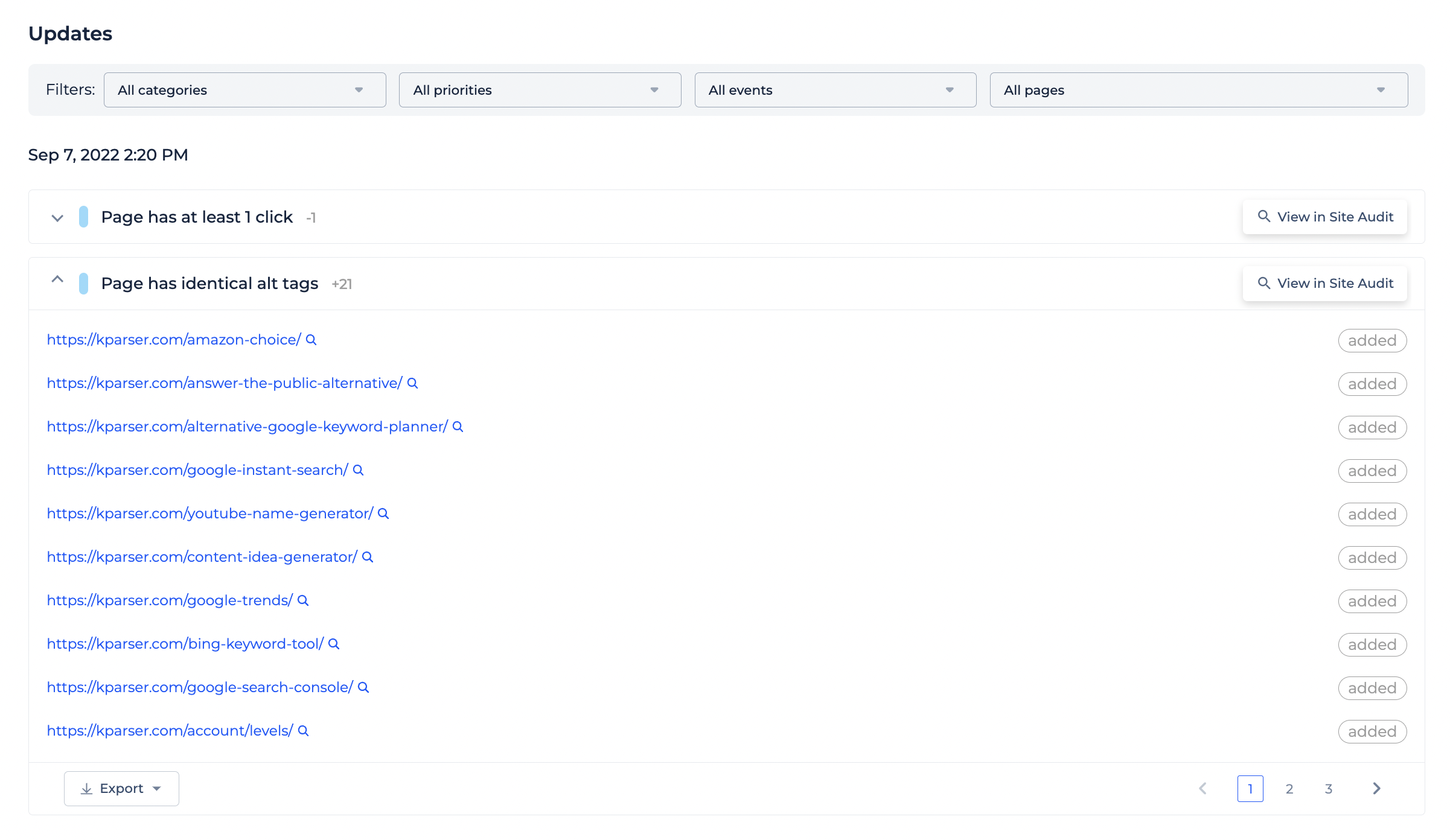 Site Monitoring is now integrated into Site Audit, so you can easily see what exactly was changed within the last period. There is either a red or green arrow depending on whether new issues appeared or old ones are fixed accordingly.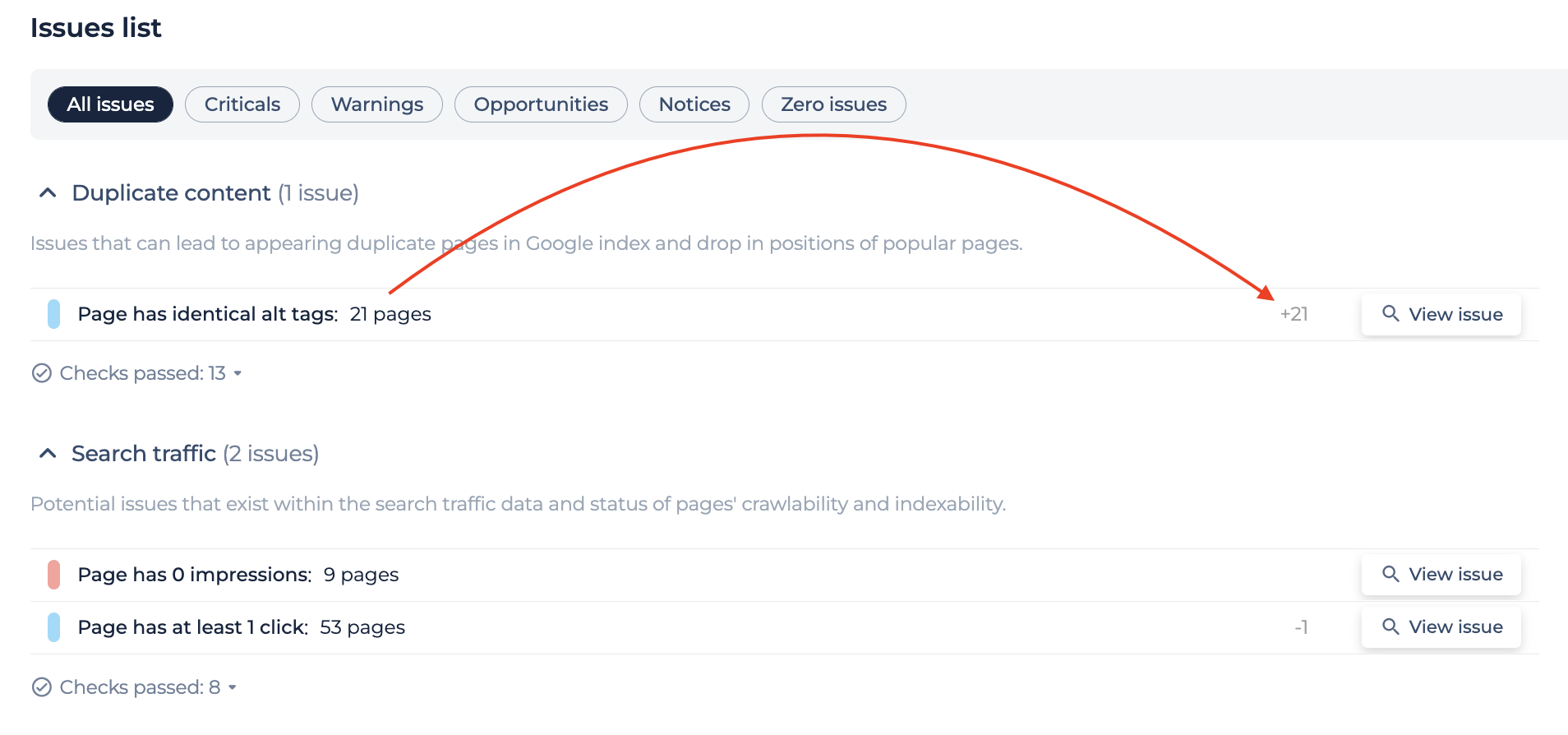 6. United integration page
It is now super convenient to connect your Google Analytics and Google Search Console with one account only. By giving access to your Google account, we will find all the properties for both tools and provide you with a list of them for you to choose which one to integrate into the Sitechecker app.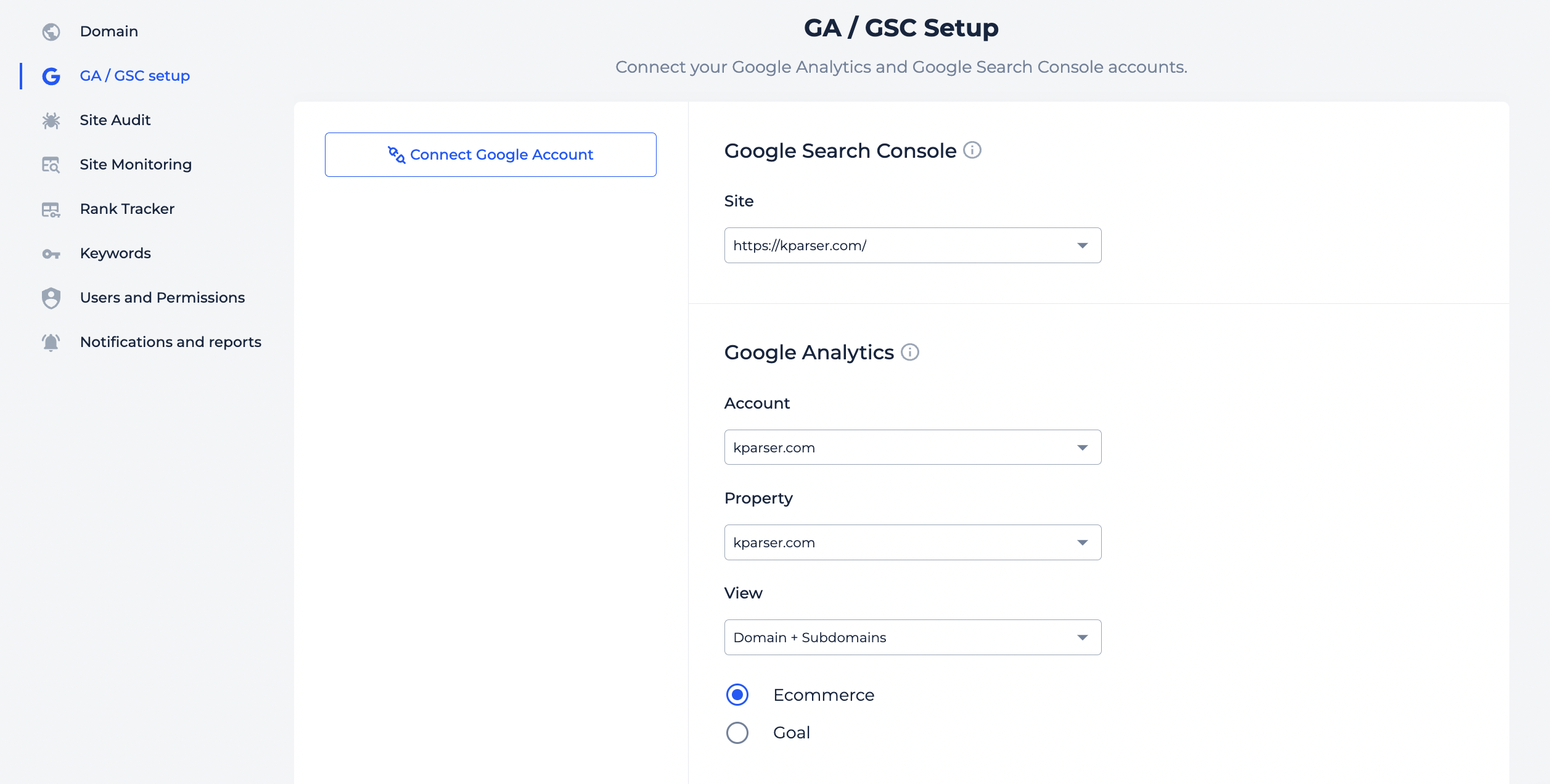 7. Now even more links can be crawled!
With our tool, it is now possible to crawl not only the URLs from the interlinking or sitemap, but also from canonical and hreflang tags, redirect chains, and Open Graph structure.
8. 100,000+ installations of Sitechecker Chrome Plugin
We are super excited to announce that more than  100,000 users have already installed our SEO plugin for Google Chrome . We expect to see further growth and believe that our tool will continue helping SEO professionals and marketing specialists.

There are many more interesting things ahead of you.  Check out our public backlog, vote on the features you like, and add your ideas.
Follow us on Twitter, LinkedIn, Facebook and YouTube to stay informed about new product updates, interviews, and SEO tips.