Links are the currency on the World Wide Web. Sites that have a lot of links are automatically considered authoritative and they rank well in search engines. Sites that cannot boast of a large number of links will be lost in the Internet space. As a result, they won't get the attention they deserve. If you are just getting started in the world of SEO, you should understand all the ins and outs of link building.
What Is Link Building & How does it work in SEO
Link building is an important component of successful SEO promotion. Link building plays a critical role in driving quality traffic, increasing brand awareness and organic rankings. A self-respecting marketer, SEO specialist and website owner should use link building as a growth strategy. Building links to grow the audience on your site by providing relevant information to users is one of the most holistic approaches.
Search engines are more "friendly" to those resources that have different types of backlinks from relevant sites. An effective link-building strategy will allow you to form a natural link profile. This means that links will appear on quality authoritative resources.
In simple terms, link building is the act of encouraging other websites to link to pages on your site to help them rank higher in Google search results. Most link building strategies boil down to two simple steps:
creates remarkable content worthy of a link;
show it to people who own websites and can link to it.
Below in the article we described the key tips for quality link building services.
Tip #1. What types of links do you need
Link building has technical nuances that are invisible to users but important to search engines. By default, links pass link equity so that search engines can follow them. But everything changes when the links have attributes. Therefore, links can be:
Dofollow and nofollow are link attributes intended for search engine robots. They report to the robots what to do with a specific link or all links placed on a page.
Dofollow backlinks are automatically indexed by search engines. This means that the robots follow it and pass on PageRank and anchors. That is, if the first site links to the second site with the dofollow tag, this automatically increases the link rating of the second site. But if the positions of the first site are not good enough, the dofollow link can backfire and worsen the ranking of the second site.
Nofollow links are not indexed by search engines, so they don't pass PageRank or anchor text. Accordingly, nofollow links change the ranking — neither of the pages they lead to nor of those where they are placed. Nofollow links are useful for effective website SEO and are used for the following purposes:
removing spam in comments;
safe placement of advertisements.
service links masking.
preservation or redistribution of link weight.
Nofollow and dofollow links are important attributes that have a significant impact on the search ranking of sites. The dofollow attribute prioritizes the link so that it gets indexed by the search engines first. Such links are recommended to be placed on thematic sites with good SEO performance in order to improve the site's ranking. The nofollow attribute works differently, preventing search engines from indexing individual links or all of the links on the page. It must be assigned to advertising and user links so that search engines do not limit the ranking of the site due to low-quality links being promoted.
Tip #2. What are the methods of link building
There are a lot of link building methods, but not everyone is effective and complies with Google's policy on the site's link profile. Many SEO specialists recommend paying attention only to white hat methods. These include crowd marketing, outreach and guest posting. Let's take a look at each of these methods.
Crowd marketing
Crowd marketing is a method of placing links on blogs, forums, question and answer (Q&A) sites by creating profiles and communicating with the audience. This method is not only about SEO, but also about increasing interest in the product and the brand as a whole. Crowd marketing performs several functions at the same time:
attracts traffic;
dilutes the link profile of the site;
improves the behavioural factors of the site;
increases audience loyalty, brand awareness, and company reputation.
Crowd links are effective and shareware, so it is actively used.
Outreach
Outreach is a link building method in which links are placed on trust resources through direct agreements with the owners of such resources. This is one of the most expensive methods since it includes the cost of various services, specialists and high-quality content. But outreach is more effective than other methods since the quality of the links is much higher than in the case of crowd marketing, submissions or purchased links.
Guest posting
Guest post for seo this is one of the most popular methods of promotion. This method involves publishing posts on major blogs or on sites with similar topics. Articles with keys and anchors are written by representatives of donor sites but sometimes the owners of the promoted project can provide content for publication themselves. The goal of guest posting is to get a high-quality backlink and PR for the product/company to attract the target audience.
What is the benefit of a site that hosts a guest post on its resource? The owner of the blog/website receives useful content that will attract a new audience and warm up the interest of the existing one. Guest posts can be negotiated for a fee or by barter.
The second option is to use a marketplace for guest posts such as Collaborator.pro, here you can buy backlinks that suit your budget and requirements. The marketplace connects site owners who accept guest posts and advertisers who are looking for a place to post. Marketplace offers users a lot of advantages:
high speed of posting from 2 to 3 days;
a wide range of high-quality and relevant sites;
safe cooperation – the link will not be deleted after a few days;
easy selection of a donor site using many metrics to find a suitable site.
Tip #3. How to create a link building strategy
The choice of the optimal approach to link building depends on the specifics of the project, budget, team level, niche competition and other factors. If you are going to start promoting your site and plan to use link building for this, start with improvements to the site itself. Poor quality content, a slow and uncomfortable site, an uninteresting commercial offer — in this case links will not save. Once you're done with the tweaks, start building your strategy based on a phased approach.
Be sure to follow a few simple rules:
Carefully consider all issues when you develop a strategy. And it is better to consult with a specialist who has experience in link building. This is necessary in order for link building to bring you an excellent result in the SEO promotion of your site.
But if you are confident that you can handle it by yourself use the following strategy:
1. Link profile analysis
Link building is one of the most popular and effective ways to promote your website. Sitechecker Backlink Tracker helps:
check on-page and indexed links;
monitor which landing pages are leaders by backlinks;
identify the reasons of peaks in link building history;
find the anchors most used by websites that link to your website.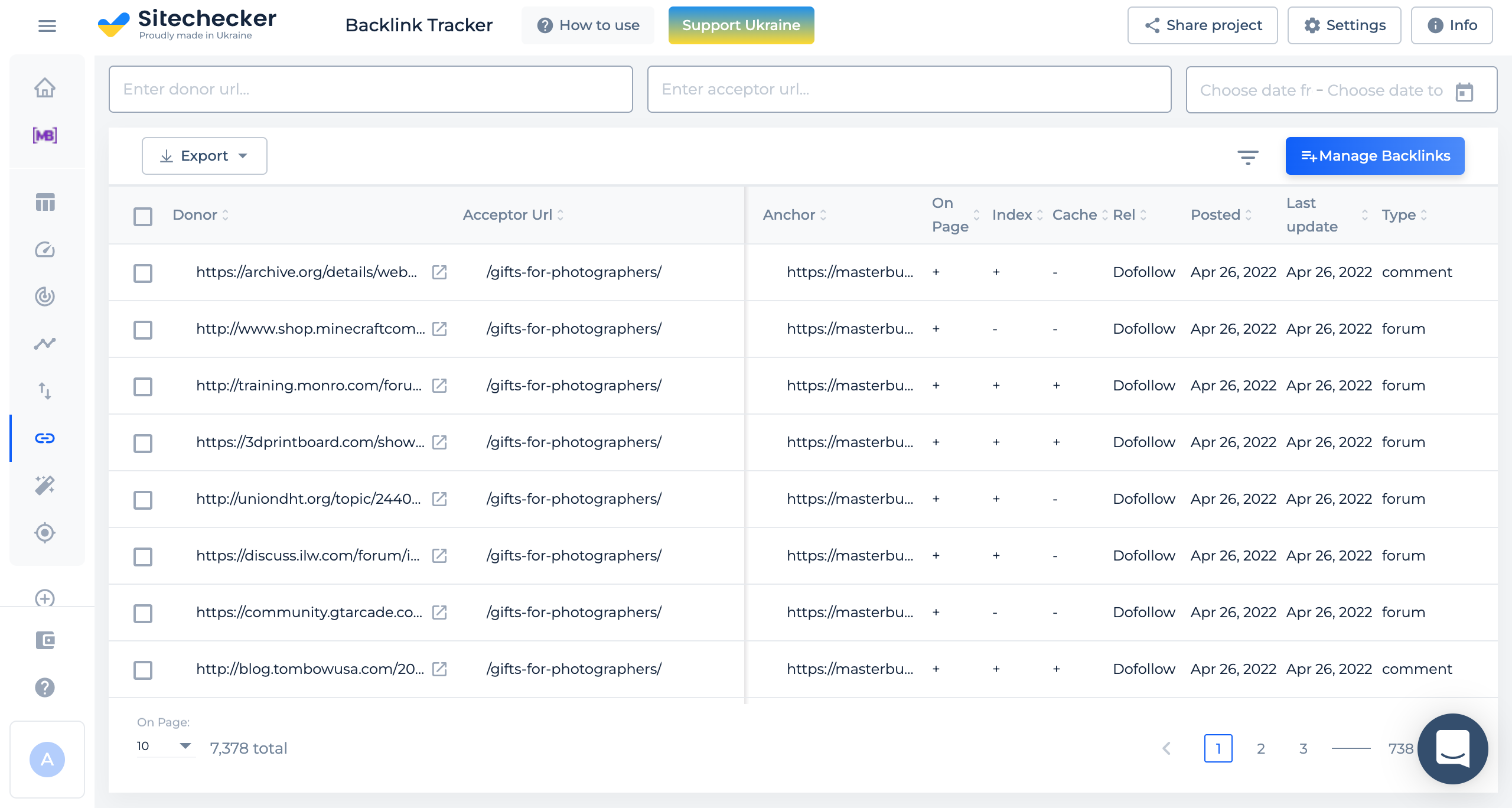 This is necessary for auditing your website and comparing it with competitors.
To draw up a link building strategies, you need to take several TOP resources, analyze them and put the results in a table. This will clarify how many and what kind of links you need to create in order to catch up with competitors.
2. DR
Pay attention to the DR (domain rank) parameter. This ranking is considered to be the most accurate for link analysis. It is recommended to place links only on resources with a DR above 10. Naturally, the list of the most promising donors of competitors should be kept in a separate table.
3. Anchors
Anchor is the text of a link that directly points to a service or product. Anchor texts of competitors should be saved in order to recycle and use for your resource.
Tip #4. Best services for successful link building
As in the case of link building methods, there are also a lot of tools for link building. But it is worth considering the most popular ones that are used by SEO specialists.
Google is one of the largest sources of linking opportunities. It is noteworthy that many people do not consider Google as a link building tool. But it's one of the best ways to find link opportunities since Google has the largest web page index in the world and the best search algorithm. Just enter your keyword and Google will rank the most popular pages related to your query. These pages can be your donor sites. Add them to your list and consider how you can get these sites to include your link in their article/blog, etc.
Services for link building
Collaborator
The service simplifies getting a link and makes it easy to choose a donor site thanks to the official metrics integration with Ahrefs and Serpstat. Users have many options, for example:
guest posts insurance;
regularly updating the list of sites;
worldwide unique advertising platforms;
information where the article will be published;
verified data on site traffic using Google Analytics, Similarweb;
official integration with Ahrefs and Serpstat and 40+ other metrics;
additional earnings with referral program – 25% of the service fee and much more;
available are free services: SEO checklist, server response check, domain busy check and more.
Brandcitations
This is one of the first link building services that appeared on the American and European markets with 10+ years of experience in promoting websites on various topics. Working in English, German, French, Spanish, Italian, Polish.
The benefits of the service include:
increase brand awareness online;
provide only safe, organic and natural links;
increase the ranking of client sites in Google;
donors are selected with high dr and traffic in accordance with the site theme.
These link building services help your website rank high in search engines.
Tip #5. How to check the success of link building for SEO
To understand whether link building brings results or not, it is worth paying attention to such factors:
Site authority. Domain Rating (DR) is a metric that includes the number of backlinks a website has received from trusted sites. The higher the DR, the higher the website's Trust Score. You can check your site's domain rank with tools like Semrush or Sitechecker.
Traffic Trends. If there is a positive trend, then it will accelerate the effect of the link building campaign. Google tracks the dynamics and gives preference to those resources that demonstrate a stable growth trend.
Positive changes in landing page positions in Google search. This is one of the most important goals for which link building is used. If the position of the landing pages has changed for the better, this indicates the success of link building.
Conclusion
Link building becomes easier when you have the tools to do it. And while it is possible to build without them, it is still recommended to use auxiliary tools, especially when speed and efficiency are important. After all, the more time it takes to link building, the more time it takes to rank. Use our tips to achieve the desired results and it will help you to get your site to the top of search engines.