Google Search Console is a great tool, but it has many limitations to work with data it has. You should spend too much time to find answers to your questions. That's why you need Looker Studio to get more insights for less time.
In this guide I will share the best Google Search Console Looker Studio templates with details why I think that specific is good and what makes such template unique.
But remember, that I listed here only the templates that I have found in the internet and I decided they can be useful for you, but I know there exist many valuable templates that aren't public. Many experienced marketers and SEO specialists create templates to solve own problems and don't share it in the web.
1. My all-in-one Search Console template
Price: $199
This is my Google Search Console Looker Studio template, that I edited and extended with new charts many times.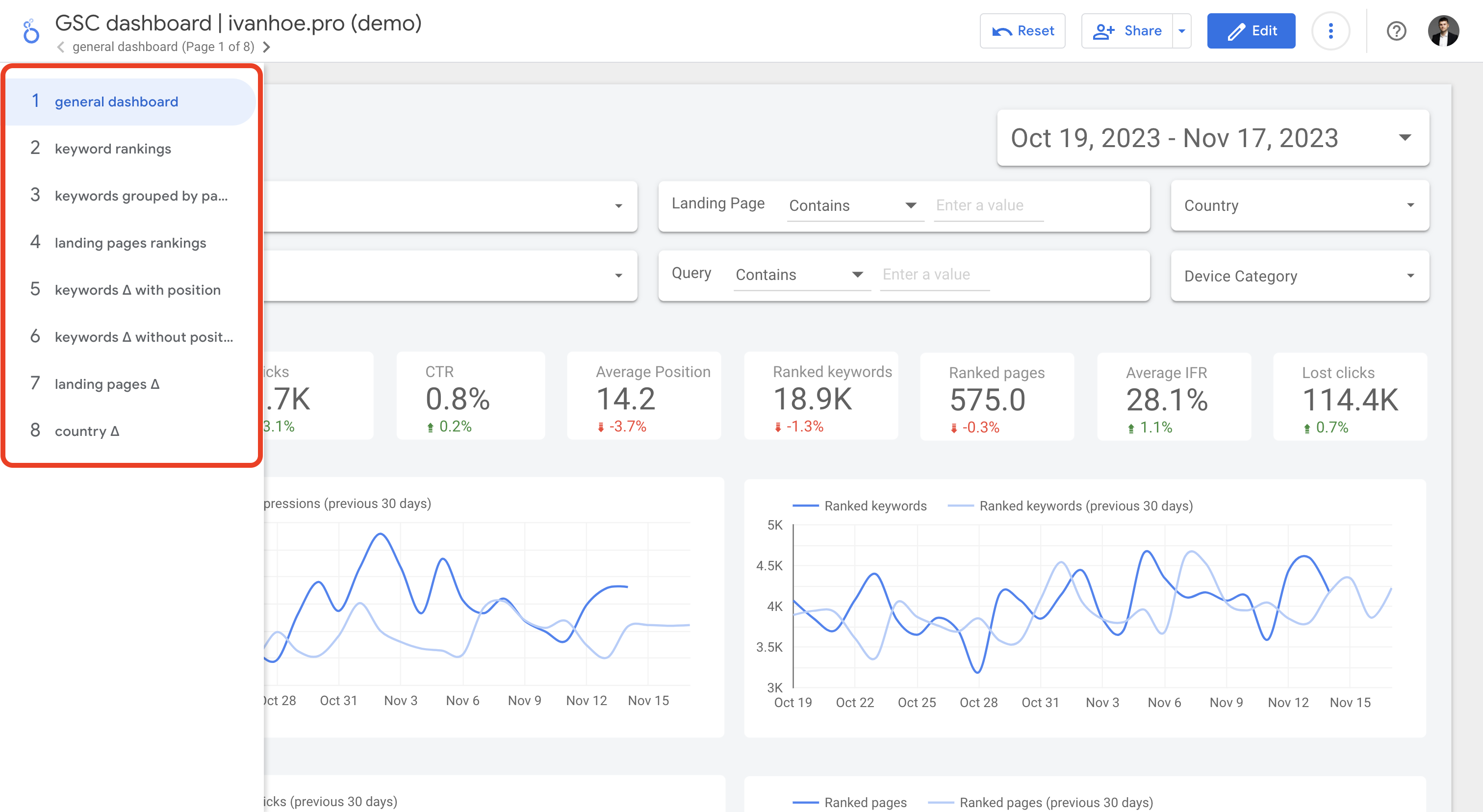 I believe this is one of the most complete templates and it is really unique because it has solutions I didn't see in other templates (like custom metrics Potential Rank, Ideal Final Result and Lost Clicks and so on).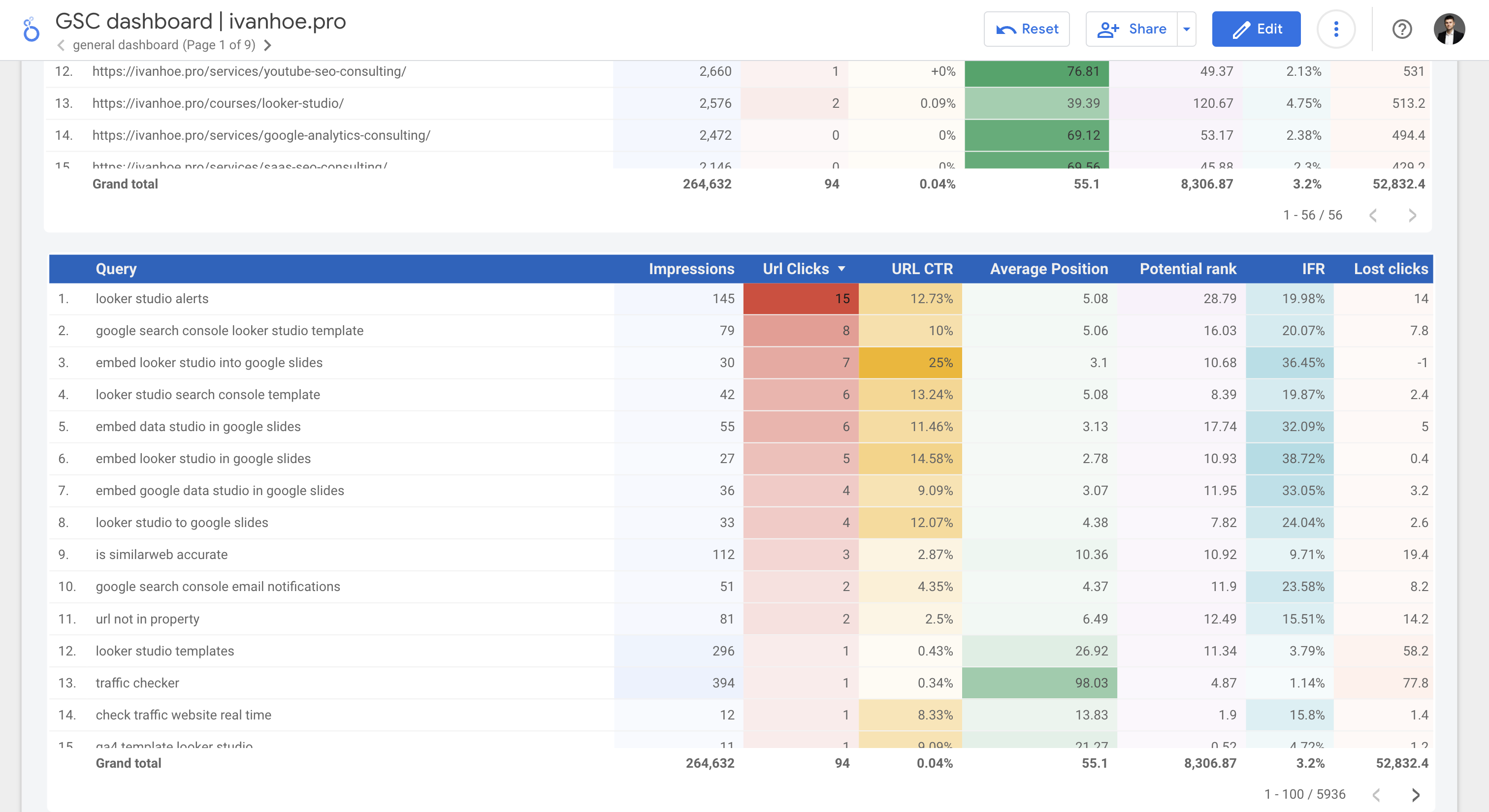 It contains of 8 pages with data. It doesn't have a great UI, but my focus was on creating core value. Creating it I just tried to answer my own questions that I couldn't find in native GSC interface. Many of solutions from this template were added then to Sitechecker's SEO Dashboard and On-Page SEO Checker.
You also can view demo of the template here.
But this is also has some missing features that other templates have, like dividing keywords into branding and non-branding, dividing keywords by search intent, displaying the distribution of count of keywords on different positions like top 1, top 2-3, top 4-10, etc.
2. My template to blend Search Console and Google Analytics 4
Price: $249
This GSC + GA4 Looker Studio template helps to blend Google Search Console and Google Analytics 4 data to be able to quickly prioritize pages and keywords for SEO based on their potential revenue, conversions, and clicks.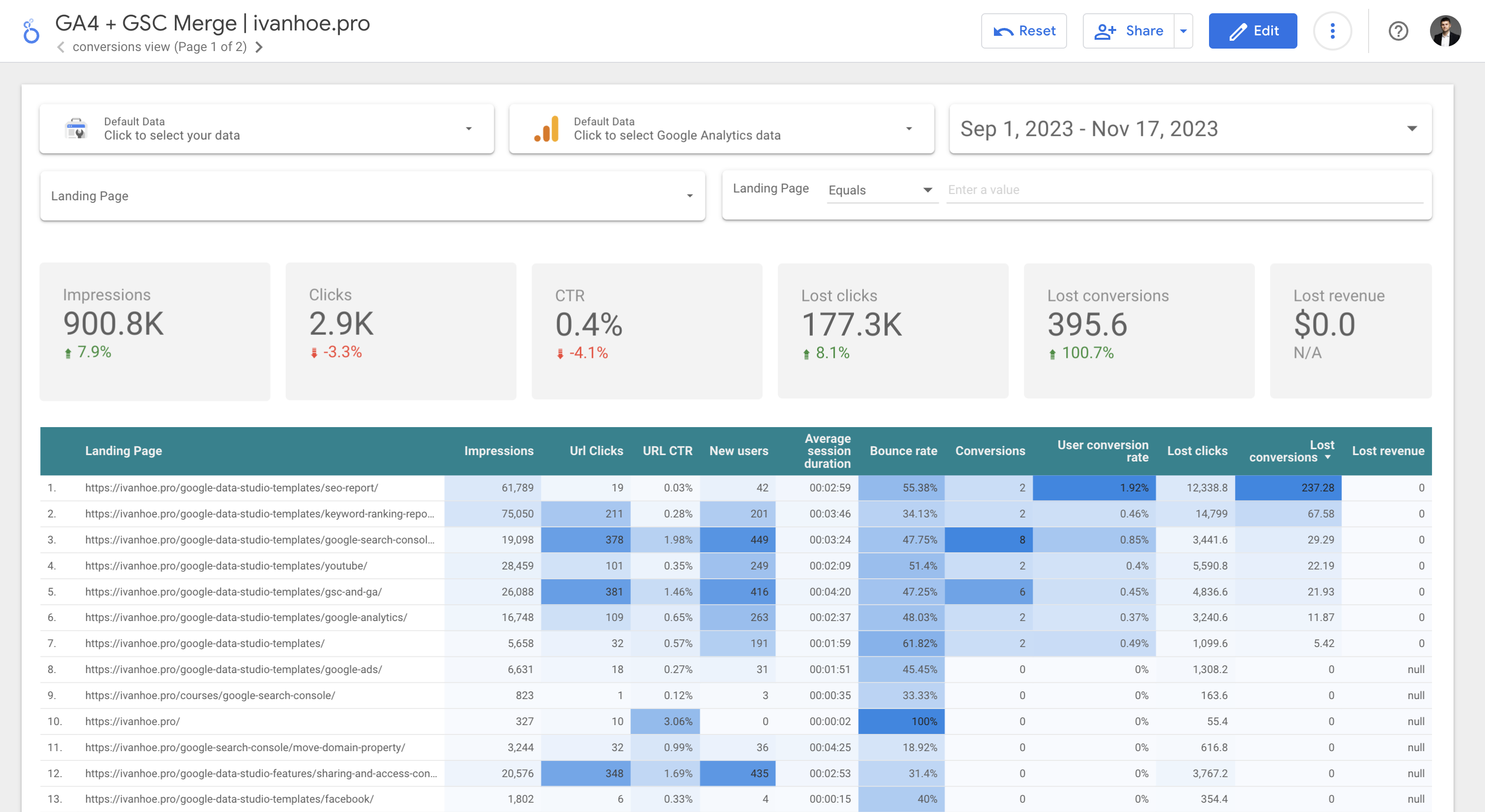 The report answers 1 specific question: How many clicks, conversions, and revenue can a page get if it ranks in first place for all the keywords for which it currently has impressions in Google search and its conversion rate and average order value remains the same as before?
You also can view demo of the template here.
3. All-in-one Search Console template by Databloo
Price: $75
This template has one the best designs and a few unique features that my template doesn't have yet. Here are features I like the most:
1. Displaying absolute and percentage changes for core Search Console metrics.
2. Creating a custom field "Week" and getting ability to group data not only by dates but by weeks too (by default Search Console has no such parameter).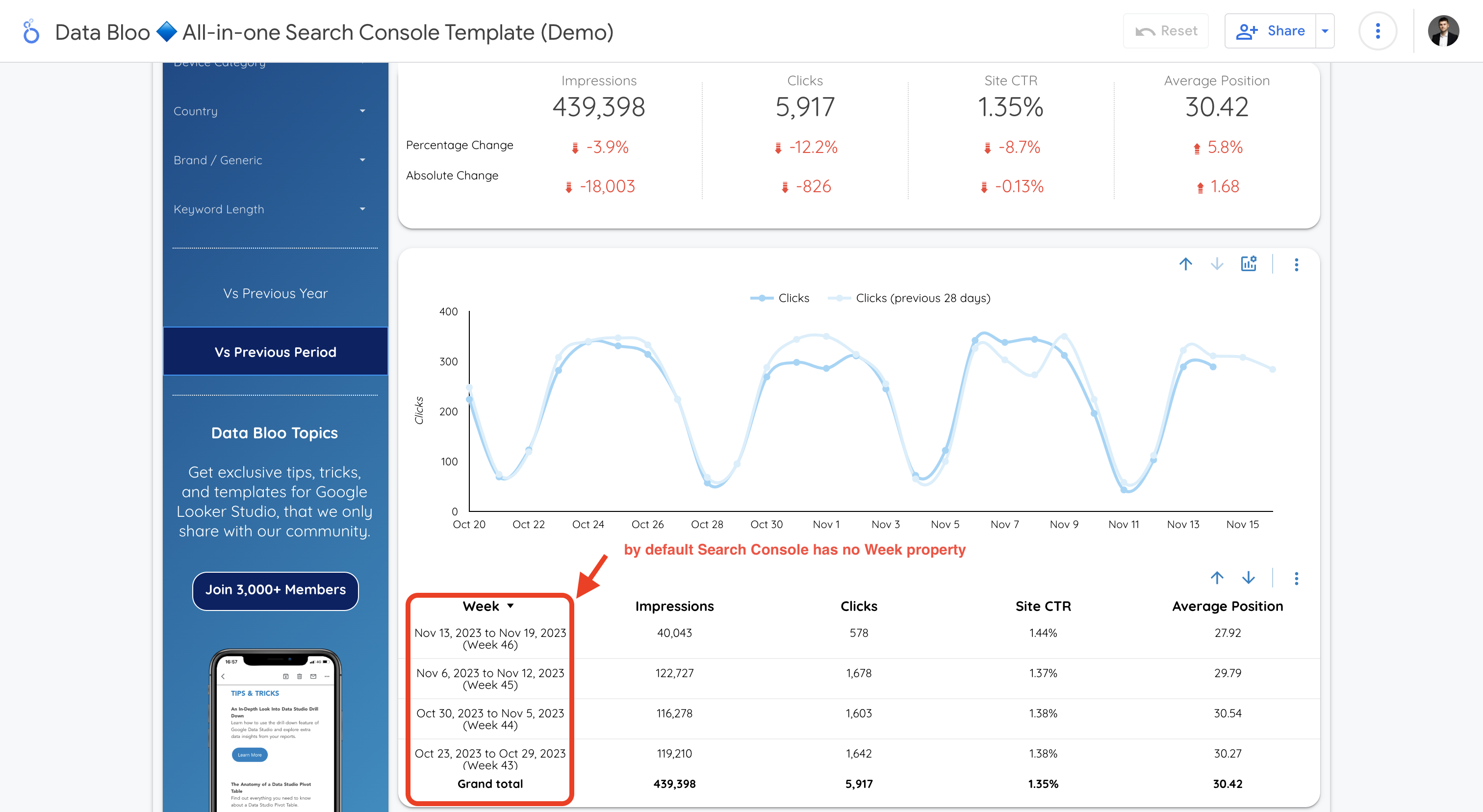 3. Adding ability to set up your brand keywords and monitor their metrics separately.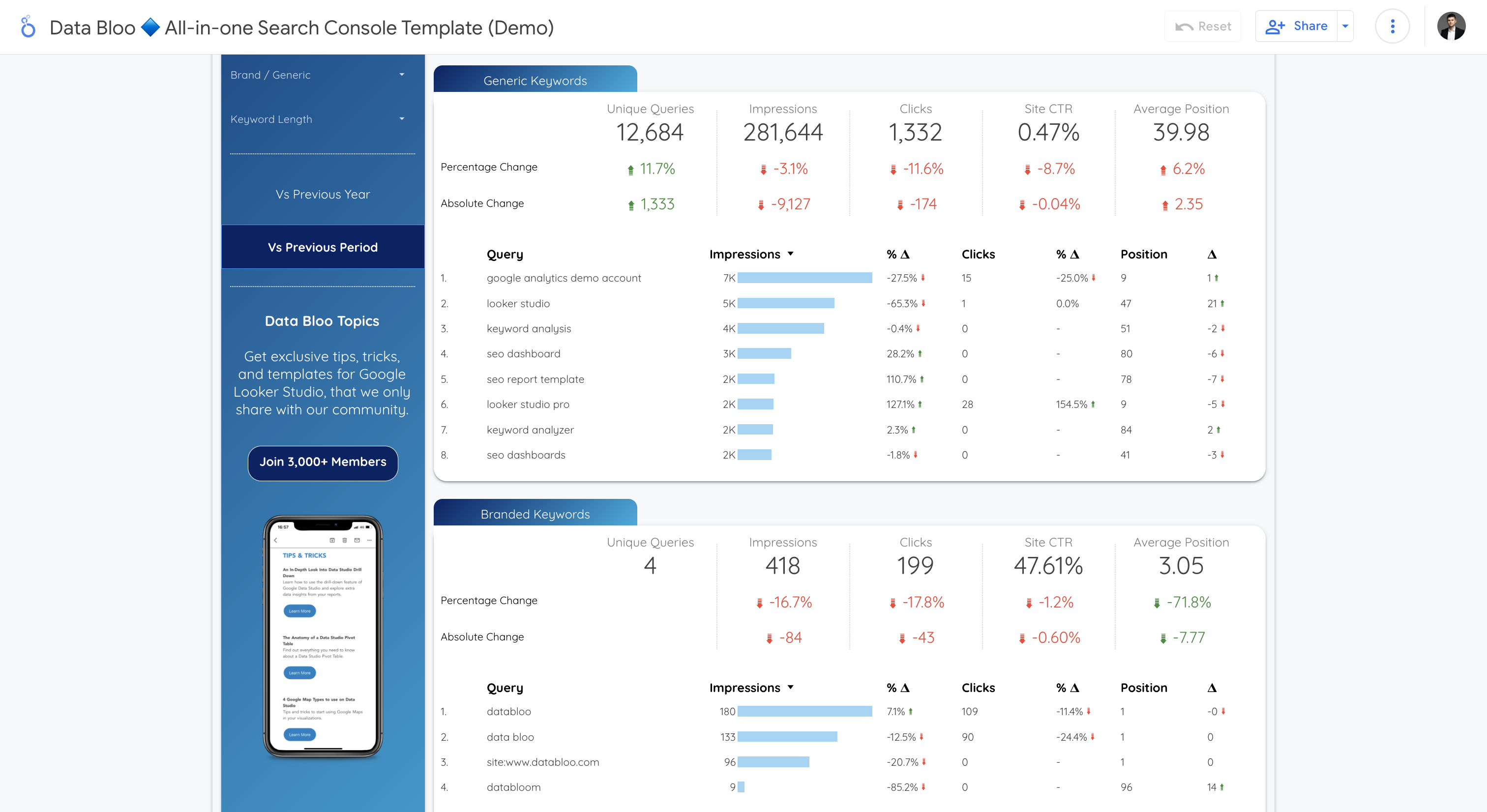 4. Creating a custom field "Keyword Length" and adding ability to compare search performance metrics for long tail and short tail keywords.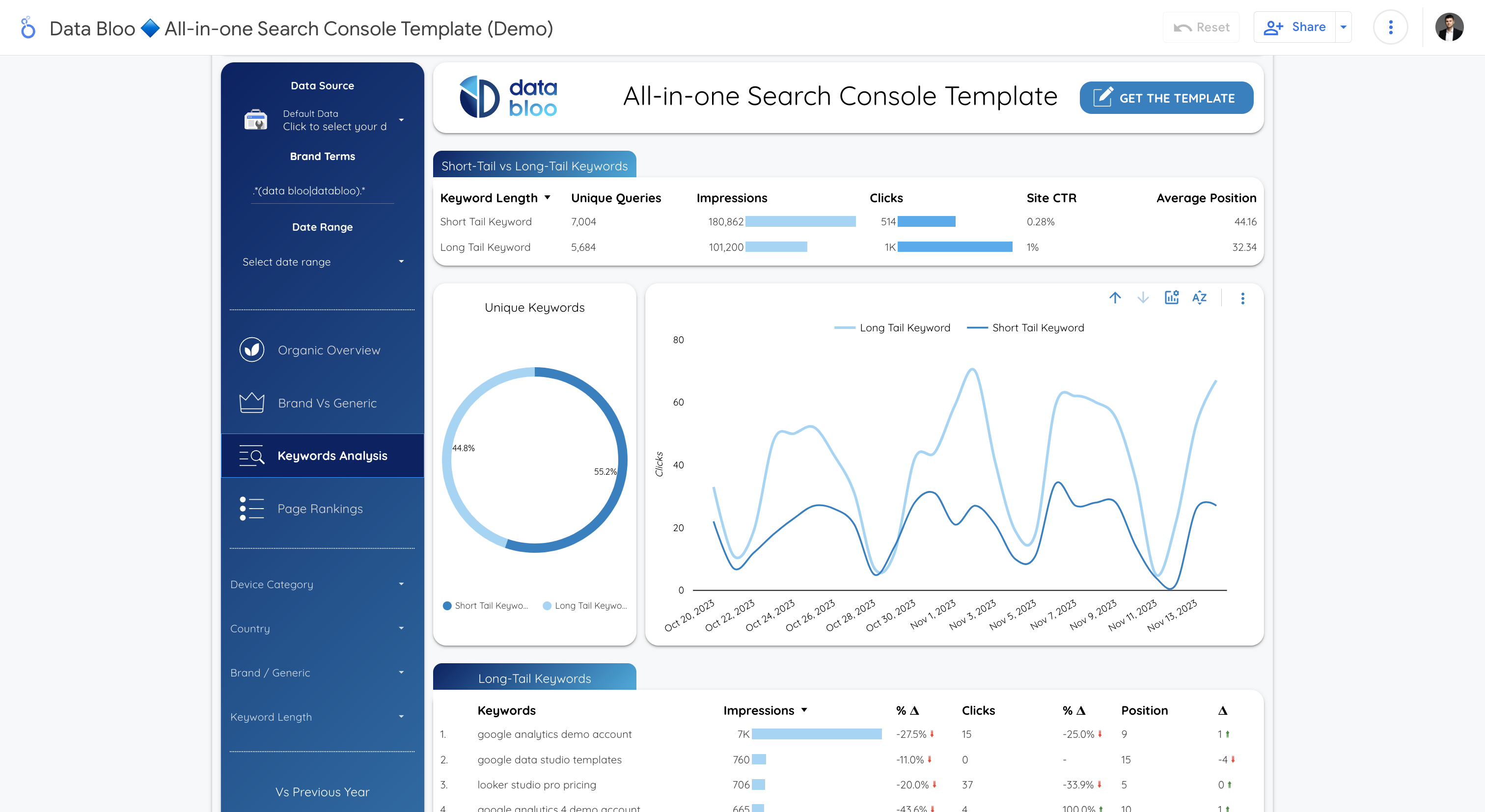 5. Creating ability to segment keywords by position clusters: Position 1, Position 2-5, Position 6-10.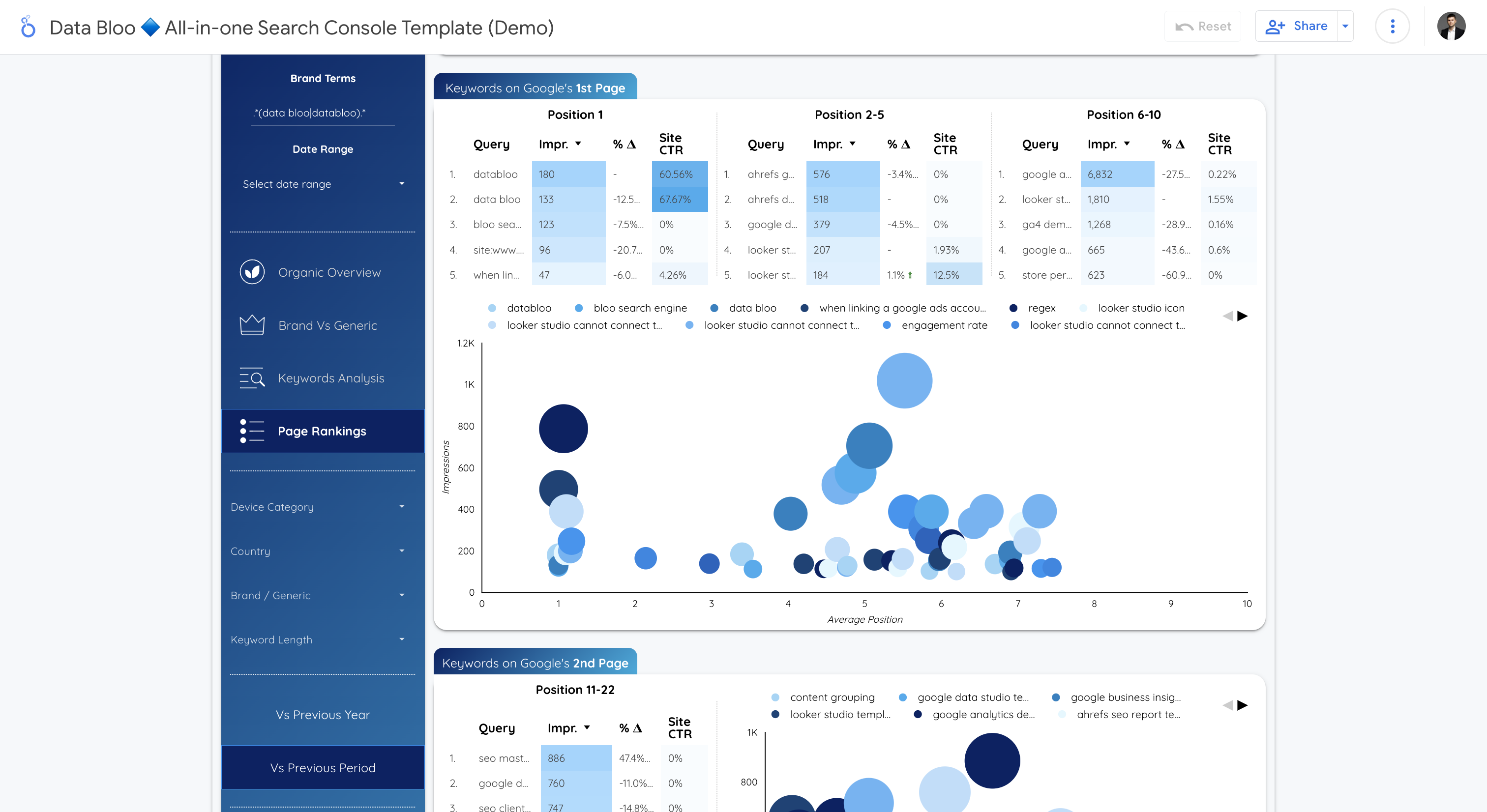 4. Free Search Console template by Datasasi
Price: FREE
This template has 4 strong features:
Ability to sort table by delta values, for example the difference in Impressions for the last month. By default Looker Studio doesn't have the option to sort data by delta value. So the author made a big job in report customization to make it possible.
Ability to segment keywords by search intent.
Ability to segment keywords by branded and non-branded values.
Ability to segment landing pages.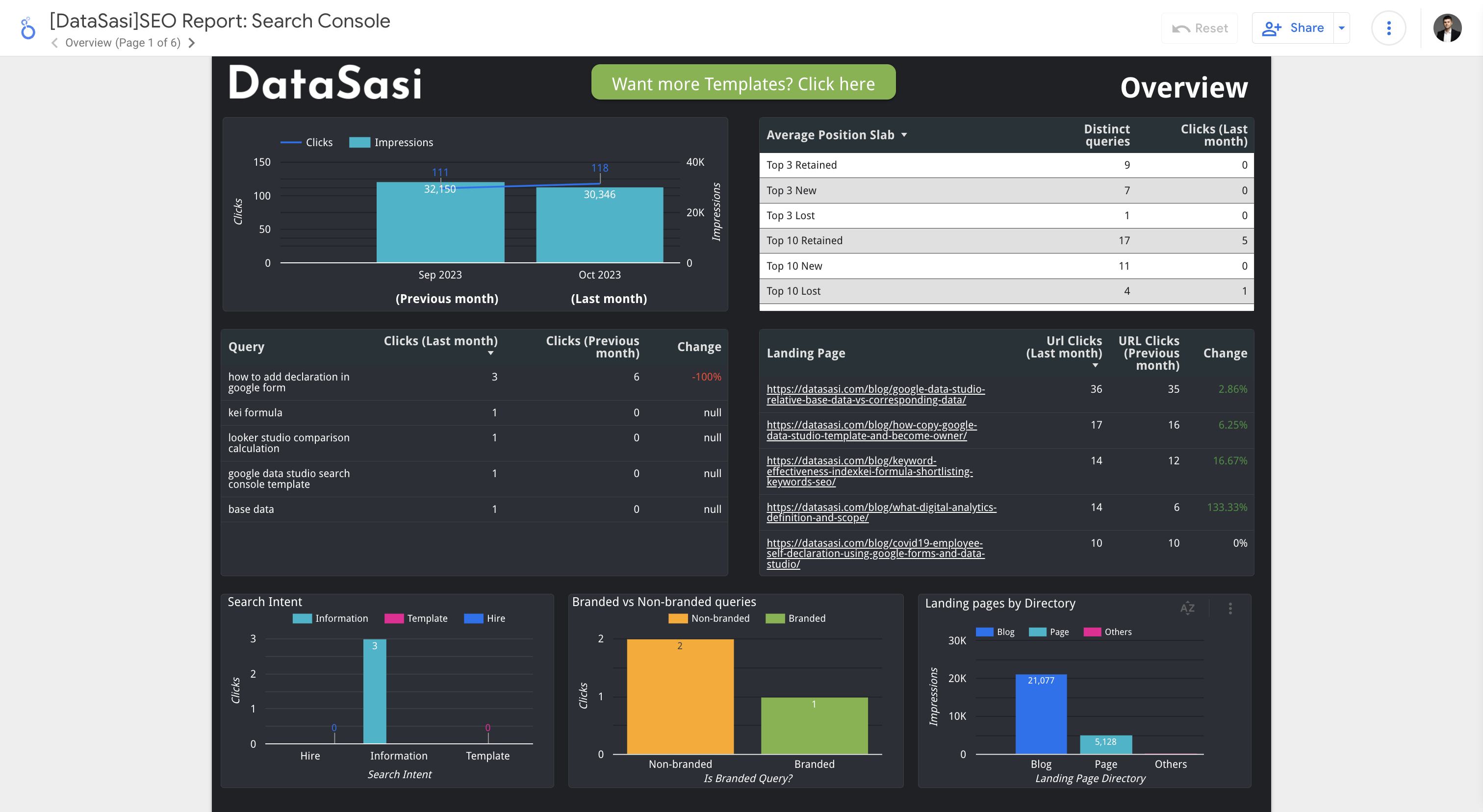 You can read how the author of this template created valuable custom fields here.
5. Free simple Search Console templates by Catchr & Aleyda Solis
Price: FREE
Template from Aleyda Solis and template from Catchr are too simple.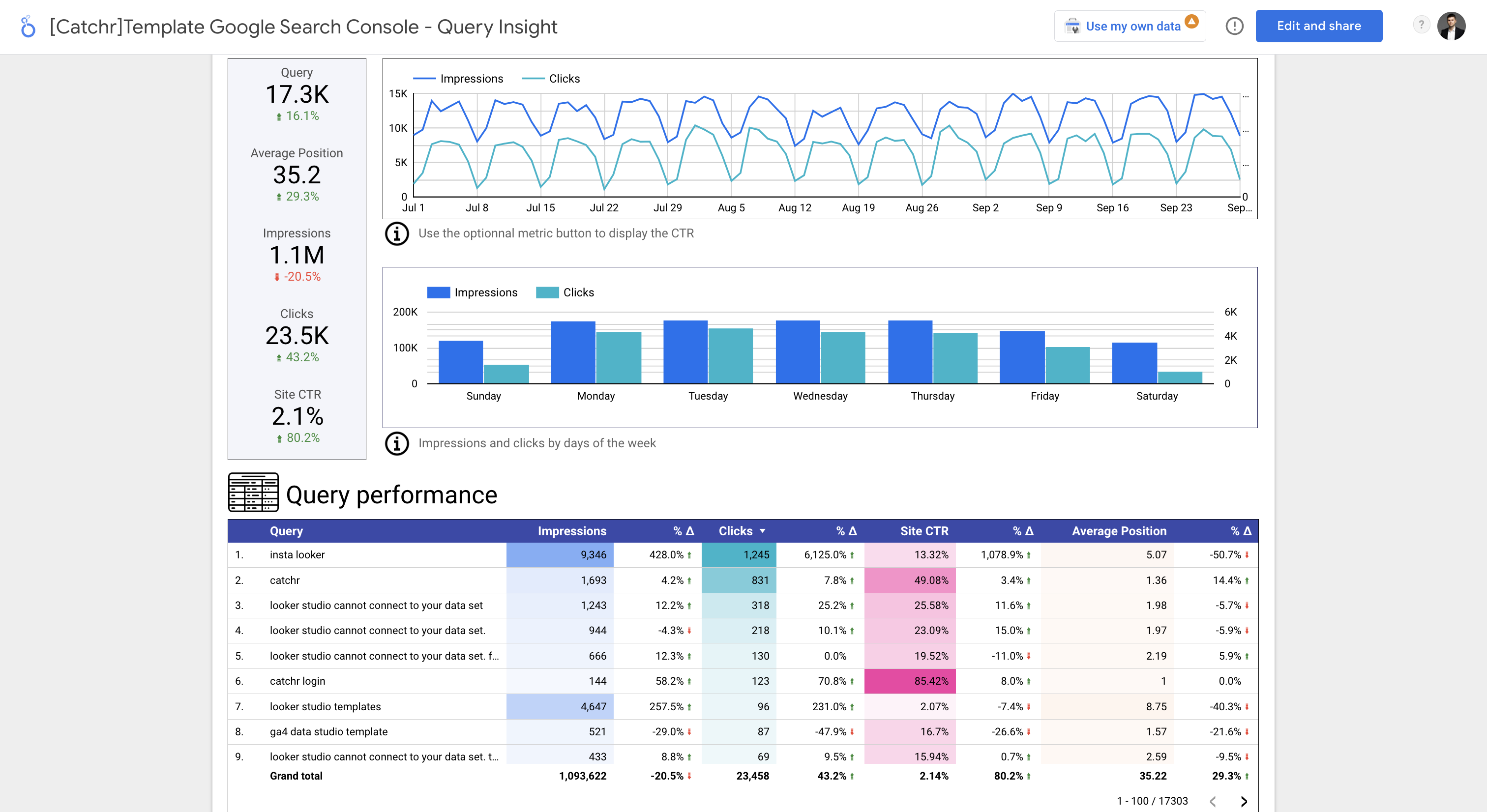 They don't have any advantages that have the templates mention before. But in some cases this is what you need: just quickly review the results of the website and export data to Google Sheets in the right format than you can get in Search Console.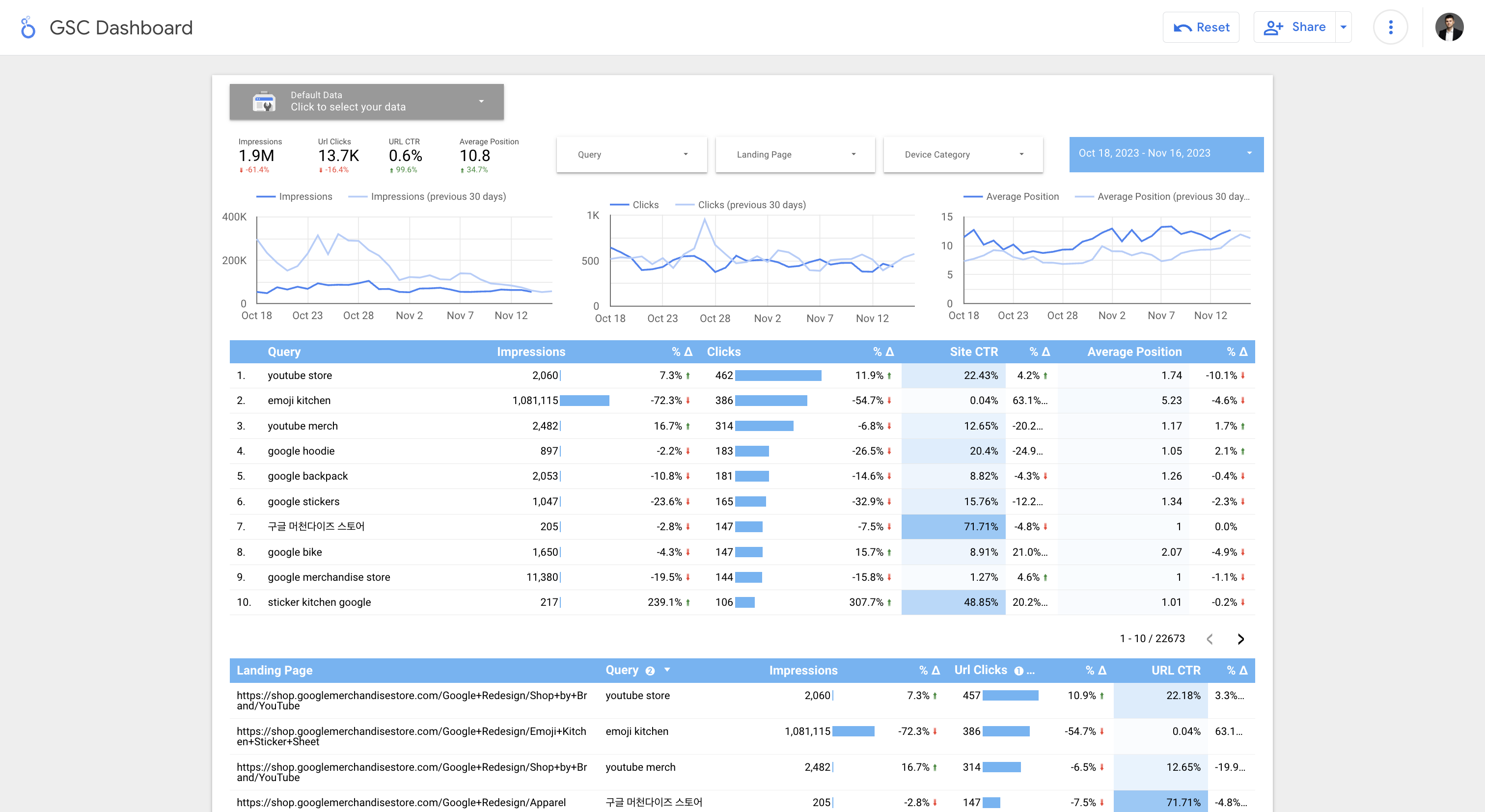 Why is Looker Studio not enough to work with Search Console data?
It is important to remember that although Looker Studio expands the capabilities of working with data from Search Console, it nevertheless does not have some functions that are important for SEO professionals. Therefore, this is not a comprehensive solution for all issues related to the Search Console, but only one of the tools that has its pros and cons.
Here are some limitations you should remember about.
Data retention only for the last 16 months
Looker Studio doesn't store any data, it only visualizes the data that stored in some external tool. That means that in Looker Studio you has the same available period of 16 months as you have in Search Console.
To fix that you have two options:
Start exporting data from Search Console to Google BigQuery as Google Search Central describes it. After that you'll have that option to visualise more time frame in Looker Studio via connecting BigQuery datasets.
Connect your Search Console property to Sitechecker and subscribe to Standard (to save data for 24 months) or Premium plan (to save data for 36 months). Moreover, you will get and data retaining and valuable templates for data visualization without any additional setup from your side.
No ability to integrate Search Console data with Site Audit & Rank Tracker
You can blend data in Looker Studio from different sources, but usually it is too difficult to build and maintain a custom report that will include data from separate tools. That's why Sitechecker is a better solution for that.
Integration Search Console data by keywords and landing pages with website crawler data help to find
by which keywords landing page ranks for, but has no such keywords in the content;
how many pages with search traffic are non-indexable or has other technical SEO issues.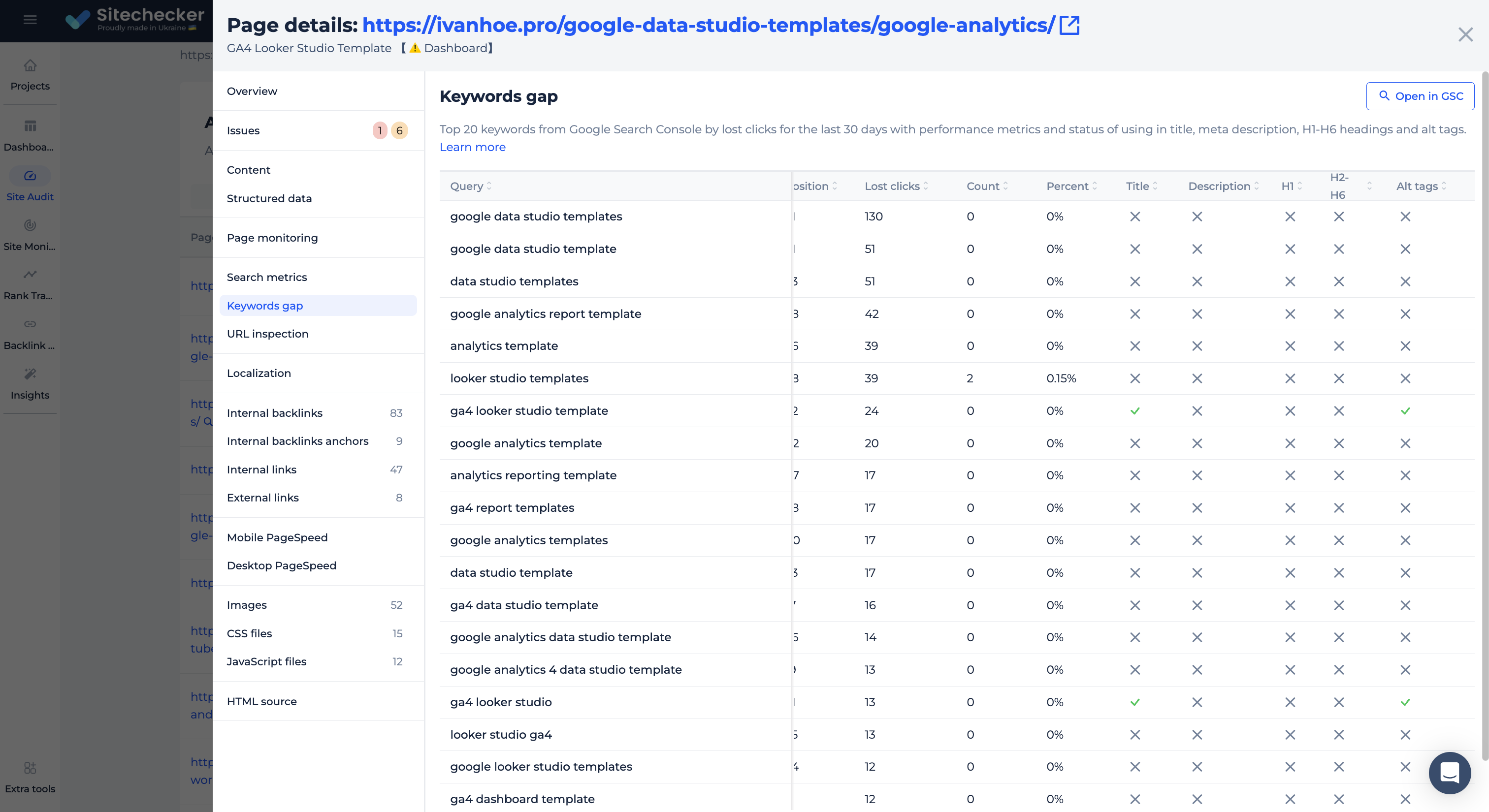 Integration Search Console data by keywords with keyword rank tracker data help to detect valuable keywords you don't track yet and add them for tracking.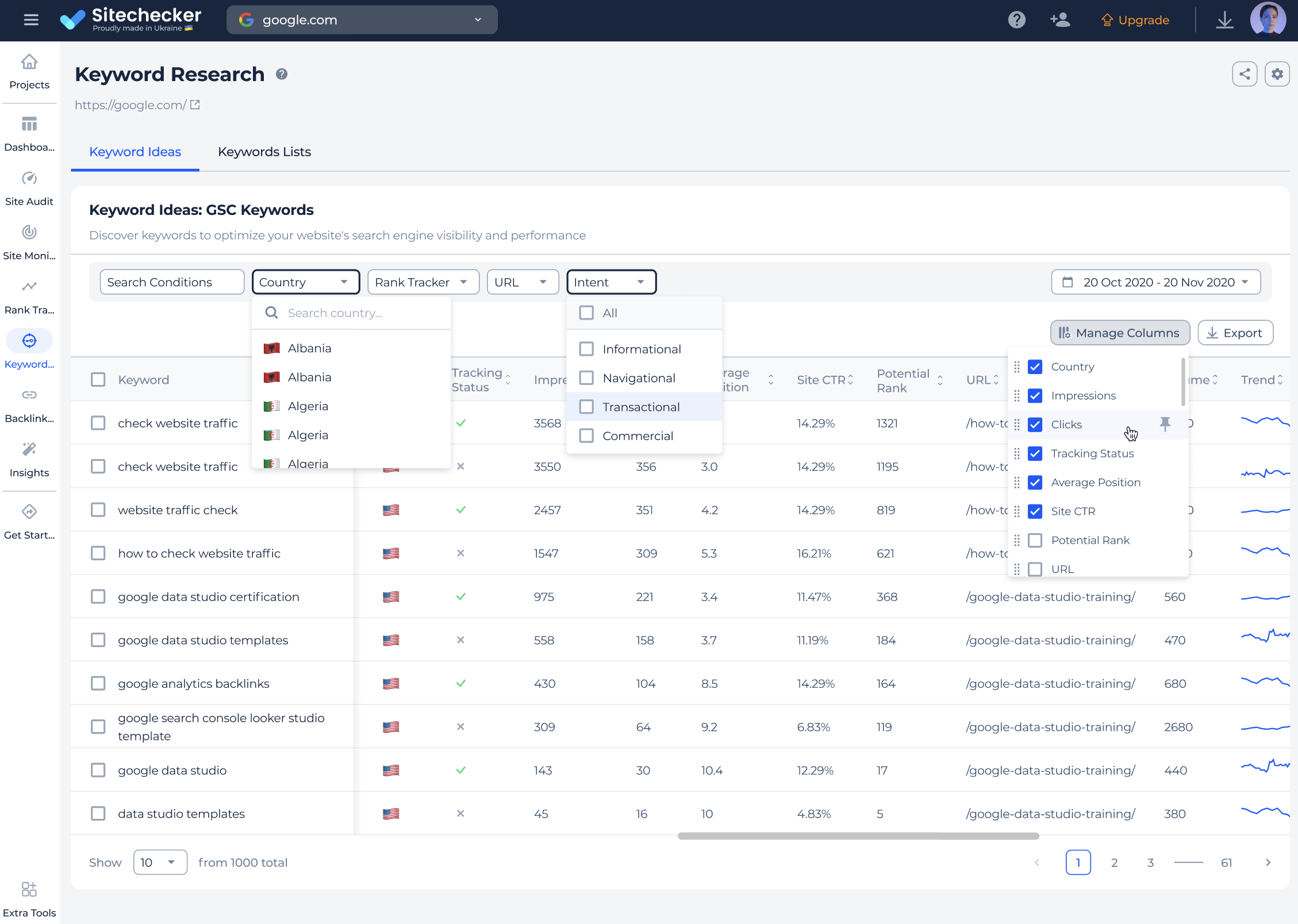 That's it. If you know a really great Search Console Looker Studio template that I should add to this list, please write me via LinkedIn or Twitter.