Ahrefs is one of the best tools out there for keyword research and competitor analysis, but many people don't know about one of its most powerful features – the DR Checker. When you first start using Ahrefs, it's easy to get caught up in checking rankings and keywords, but it's also important to note that your website could be at risk if you have poor DR scores. This article will walk you through using an Ahrefs DR Checker, factors that influence Ahrefs' ranking, and its impact on SEO and marketing.
What Is an Ahrefs DR Checker?
As a website owner, your main concern is always going to be getting traffic. But when you do get traffic, you also want to ensure that your visitors are interested in what you have to offer. If they're not, they'll leave and never come back. To keep people on your site and engaged with what you have to say, it's important that you check your Domain Rating regularly. If there are issues, you can correct them quickly before your rankings slip further.
Ahrefs offers an easy-to-use tool for this purpose – its Domain Rating (DR) Checker. The two biggest factors impacting a website's searchengine ranking are:
The popularity of the content: Refers to how many times something has been shared across social media platforms like Facebook or Twitter
The popularity of the domain: Refers to Alexa traffic rank or other metrics used by Google when determining where sites should rank in SERPs (Search Engine Results Pages). A high number here means more visibility and better ranking potential for your site; conversely, low numbers mean very poor results from an SEO standpoint.
Many sites have problems with their DR scores simply because they don't know how to increase them effectively. Ahrefs provides users with everything they need. Their Domain Rating Checker reveals overall page authority as well as statistics about inbound links, referring domains, and social shares.
Using these tools, users can optimize their pages to improve the score based on current information rather than guessing which changes will be beneficial. Ideally, you should use an Ahrefs DR Checker each time you publish new content to see how it affects your overall indexing ability. Keeping track of these figures over time will give you a much better idea of whether the changes were helpful or harmful.
Using an Ahrefs DR Checker
Ahrefs provides an excellent domain rating system that gives you an idea of how much trust it has in a particular site. And that's exactly what our freeRank Checker finds out.
Step 1: Insert your domain
If you want to check out your site or a competitor's, all you need to do is enter its URL into our tool, click on the arrow, and get instant access to its Ahrefs rank.
Step 2: Results analysis
SiteChecker displays not only the Ahrefs rank but also the domain rating, total external backlinks, and much more:


These metrics allow you to see how your site is currently performing. For example, a domain rating of 76 is excellent. Conversely, anything below 50 would indicate that you require external links to high-authority sites.
If you want deeper insight into backlinks, you can also run a link analysis through the Ahrefs Backlink Checker tool: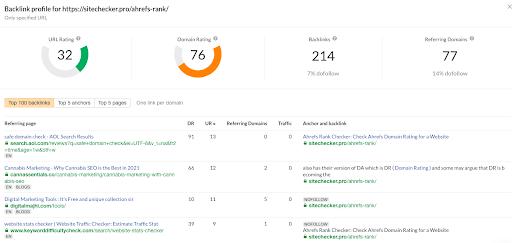 What Does Ahrefs Rank Mean?
All of the websites in the Ahrefs database are ranked based on the number and quality of backlinks in their link profiles (in other words, their DR). The higher a website's DR is, and the closer its AR is to #1, the more and better-quality backlinks it has.
Right now, Ahrefs Rank #1 is assigned to the site with the most powerful backlink profile (Facebook.com), #2 is assigned to the second most powerful (Twitter.com), #3 is assigned to the third most powerful (YouTube.com), and so on.
Ahref Ranking is calculated using a number of metrics and a simple formula. For example, if a site has 10 external backlinks and ranks in position 10 for relevant keywords, it will have an Ahrefs Domain Rating of 50.
What Does Ahrefs Domain Rating Mean?
Ahrefs' Domain Rating (DR) is an indicator of a domain's traffic-generating potential, as it takes into account both its backlinks and the number of referring domains. Great performance in search results can be achieved through high-quality content, website speed optimization, and a strong backlink profile.
Domain Rank is determined by the number of relevant and high-quality backlinks to your site. There is no specific method used to calculate Ahrefs domain ranking. Ahrefs, in reality, calculates DR using its own method with the following parameters:
The total number of unique backlinks attributable to referring domains
The number of unique domains leading to your site
The number of relevant domains that add value to your site
The target website's Ahrefs Rank (AR) ranks it among all other websites in the Ahrefs database, based on the "strength" of their backlink profiles. The website with the most backlinks gets ranked first.
On a 100-point logarithmic scale, Domain Rating (DR) depicts the target website's relative backlink popularity in comparison to all other websites in the Ahrefs database (the higher the score, the stronger the DR). The number of websites referring to the domain's URLs and the strength of their backlink profiles is used by Ahrefs to calculate DR.
How to Use These Scores in SEO and Marketing?
To research your competition and their SEO techniques, combine Alexa Rank Checker, Moz Rank Checker, Traffic Checker, and SERPTracker for Google, Yahoo, and Bing.
Examine your own website's backlink profile to see how effective your link-building technique is.
Check and assess your DR and AR, then devise a strategy for improving a website's SERP performance.
Checking Ahrefs Rank is important but not enough to rank good enough!
Check not only the issue but make a full audit to find out and fix your technical SEO.
For more detailed information on how to increase your website's domain authority, check out this video guide by Sam Oh from the Ahrefs team.
FAQ
How Do Referring Domains Influence AR and DR?
The stronger the referring domains, the higher the AR and DR. Factors that affect AR and DR include the linking domain, source quality and relevancy, placement context, and the page on which the backlink is placed.
How Do Dofollow Backlinks Influence AR and DR?
The more and higher-quality backlinks a site has, the higher its DR is. Google considers older domains to be more trustworthy. Thus, they can be more powerful than newer ones.
How Do Total External Backlinks Influence AR and DR?
External backlinks heighten popularity, increase your site relevance, improve reputation, boost value and encourage backlinks. They play a major role in improving AR and DR.
An Ahref rank is measured using metrics such as domain rating. Domain rating is measured on a scale of 0-100. The higher the score, the better the Ahref ranking.
What Domain Rating Is Ok?
A score of 40 to 50 is considered average, while a score of 50 to 60 is considered good. If a site has a score of more than 60, the DA is considered to be excellent.