Marketing and Advertising
Agency
Europe
SMB
Writing Metier
is a dedicated team that's passionate about creating engaging and persuasive content that resonates with customers' audiences.
In the kingdom of content, they are the master chefs, expertly crafting delectable word dishes that tantalize the taste buds of any target audience. From haute-cuisine blog posts to the most scrumptious website content, they serve up a veritable buffet of copywriting services for businesses of all shapes and sizes.
In everyday words, the team consists of talented writers, each with their unique writing style, knowledge, and approach. Together, they work diligently to craft content that effectively reaches the target audience and encourages them to take action.
Writing Metier has a transformative organic search increase for the company with Sitechecker, enabling them to reach a wider audience and enhance its brand recognition within its niche. Let's check how they did it!
The Challenge
– acquire new clients through organic search traffic;
– automate tracking of backlinks and keywords rankings;
– be always aware of the critical errors on the website.
The Solution
Our business partner advised us to try Sitechecker because we wanted an all-in-one SEO toolkit instead of using multiple separate tools. It was challenging to pick just one tool for the team with different SEO experiences, but I'd say that Sitechecker has a really intuitive and user-friendly interface.
I find the site audit tool pretty helpful, especially when it comes to identifying and fixing technical errors on our website. As our blog content grows, it's great to have a reliable tool that helps us stay on top of things. It's all part of the adventure when managing a website or blog!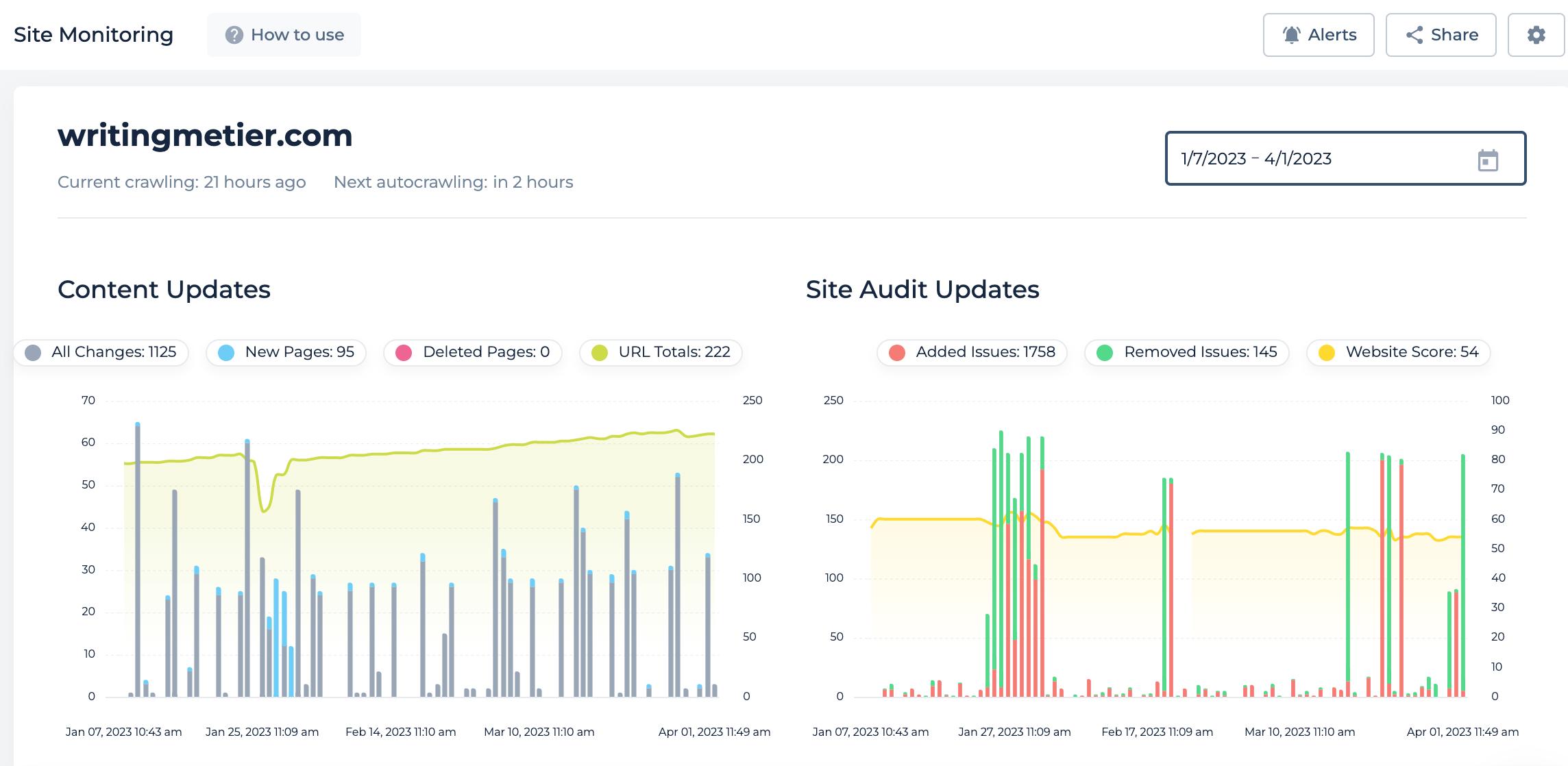 The history of content changes and Site Audit issues fixes for the Q1-2023
The team also uses Rank Tracker to keep an eye on their most important positions and adore how they can organize it in different sections and folders to get a clear view of what's happening with the keywords.
The backlink tracker is a real-time-saver for Writing Metier as it helps to find links that have been removed either intentionally or accidentally. They appreciate not having to spend hours on manual tracking.
Last but not least quite a handy feature for the agency is email alerts that help keep an ear to the ground and be sure that nothing falls through the cracks.
The Results
We have been harnessing the power of Sitechecker for over a year now, and I'm thrilled to share some of the remarkable results we've achieved during this time.
Before I delve into the details, I must emphasize that these accomplishments are not solely due to Sitechecker; they are the fruits of our diligent SEO team's labor. However, Sitechecker has undoubtedly played a pivotal role in helping us attain these milestones.
1. Organic search traffic has soared to new heights, with an impressive 32% increase. This surge has been transformative for the company, enabling them to reach a wider audience and enhance its brand recognition within its niche.
2. The company's visibility has seen a significant boost, with a 25% uptick in its overall online presence. This has allowed them to outpace their rivals in various niches and maintain a robust foothold in the industry.
3. They have observed a modest yet noteworthy growth in acquiring new clients, which they can directly attribute to the improvements in their keyword rankings and conversion rates.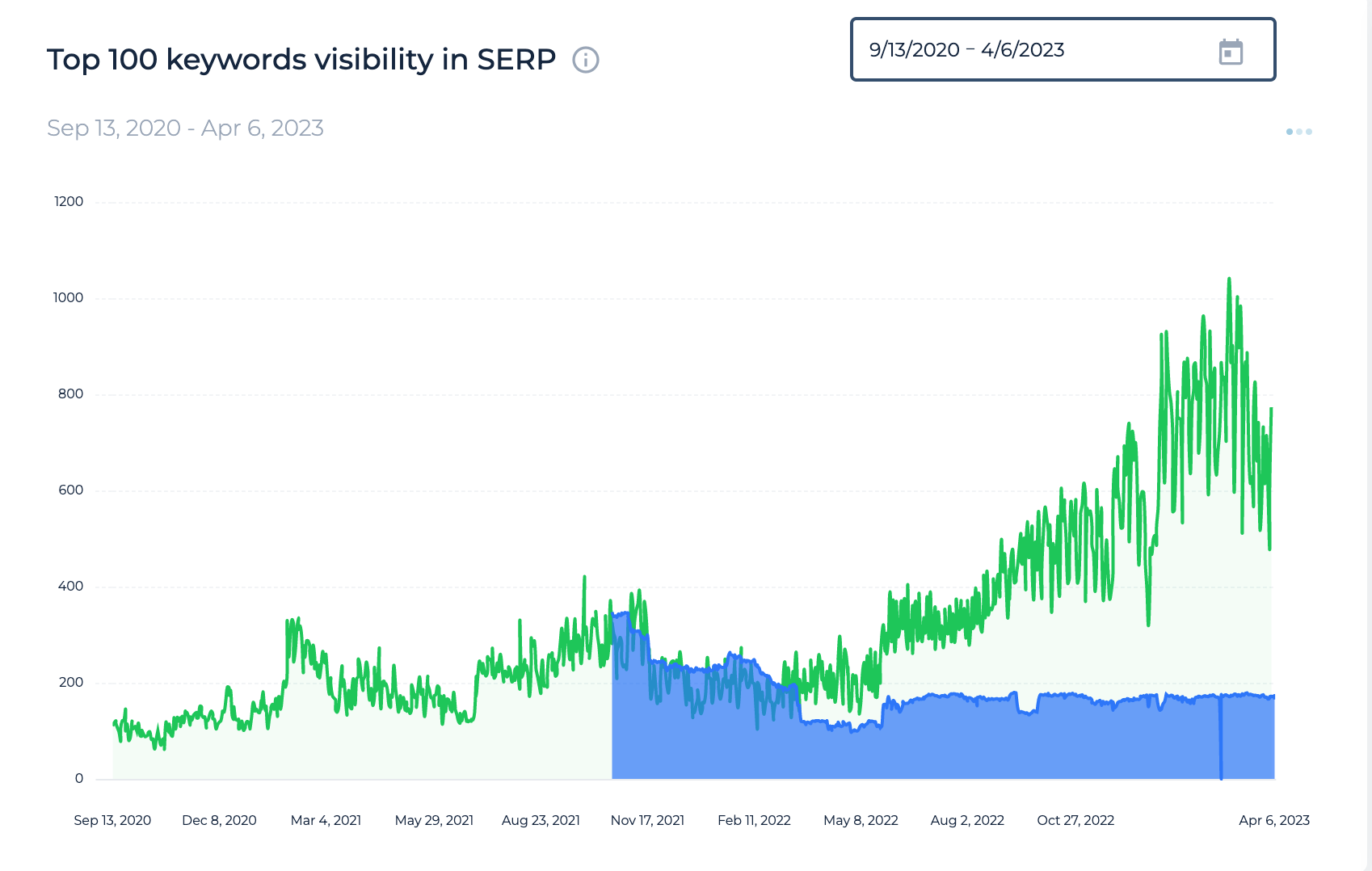 Keywords visibility in SERP
The Takeaways
While we had hoped for even higher gains, the current global economic climate and challenges posed by various AI tools have impacted our revenue. Nevertheless, we remain resilient and prepared to face these challenges head-on!
Sitechecker has proven to be an indispensable asset for our company, equipping us with the insights and guidance necessary to continually optimize our online performance and work towards achieving our business objectives.