Website SEO Checker for Fast & Complete Technical Audit
Get a detailed SEO audit report with a personalized checklist on how to improve your website and get to the top of Google.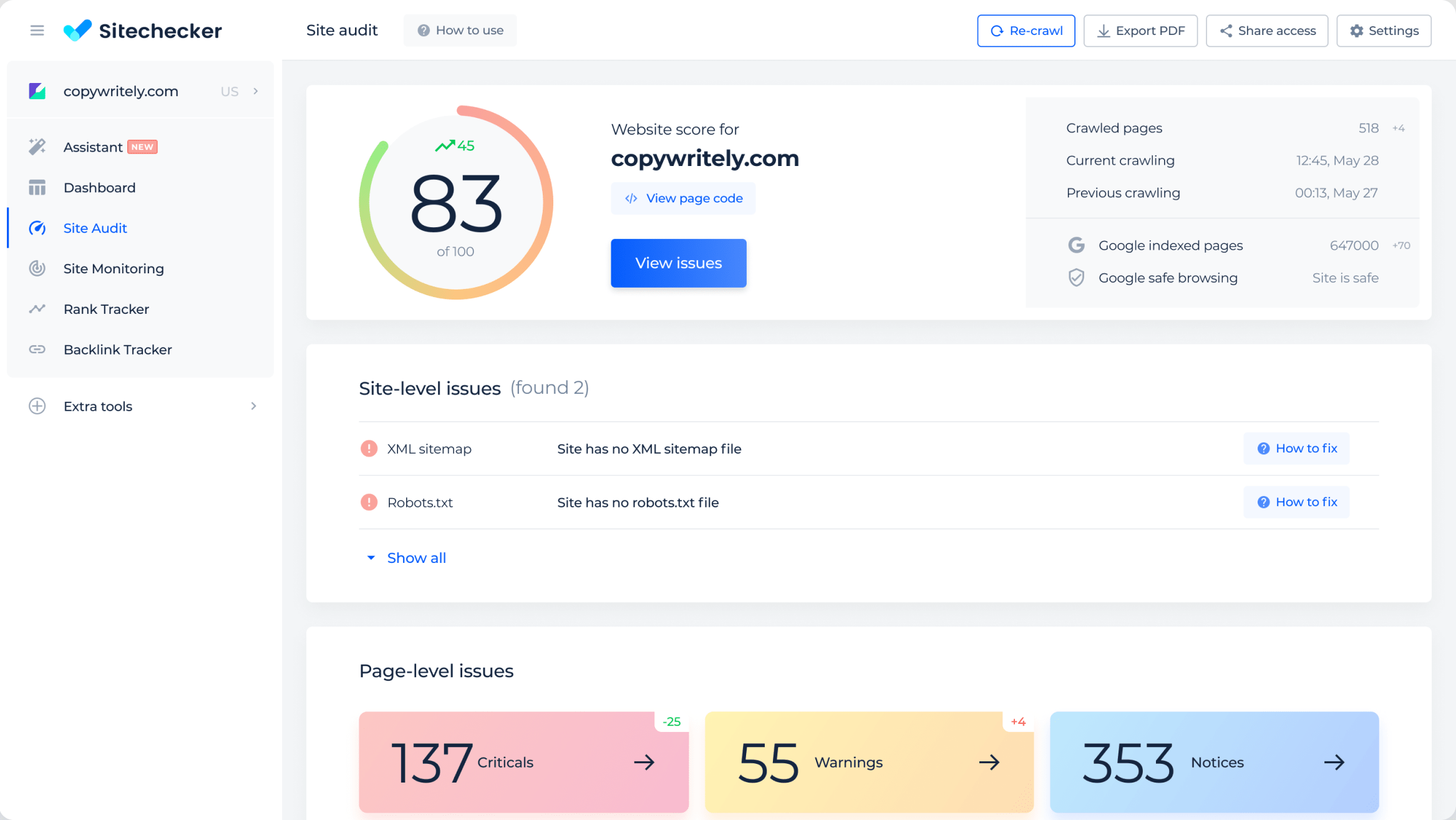 Trusted by 1000+ teams
You are going to love Sitechecker tool
Business Owners
Whether you run a startup, SMB or e-commerce, website checker will help you get to the top of Google without having to master SEO or complex SEO software.
Agencies
Whether you run a marketing, web development or design agency, Sitechecker will help you deliver SEO packages to clients without having to master it or hire experienced staff.
In-house marketers
Whether you are a marketer, designer, or a developer, Sitechecker will help you improve your website's SEO without being an SEO expert.
All you need to increase your rankings all on one platform
Improve your website's on-page and technical SEO
Run a website crawler to get a technical SEO audit whether you are launching a site, moving your website, or looking for ways to improve search performance.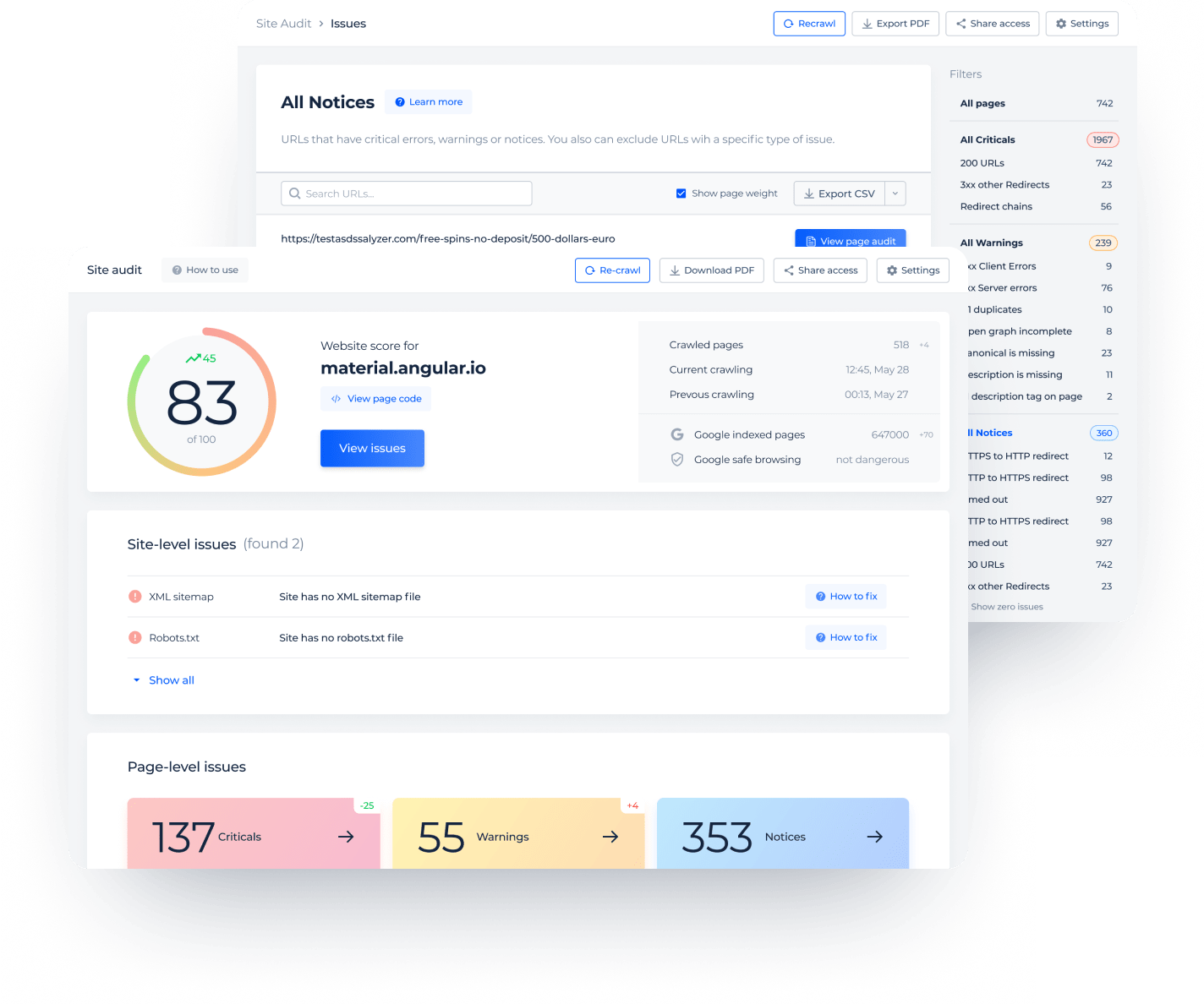 Turn data from your Google Search Console and Google Analytics accounts into actions
Google Search Console and Google Analytics collects valuable data about your website. But they don't tell you what to do based on this data. Sitechecker SEO dashboard will.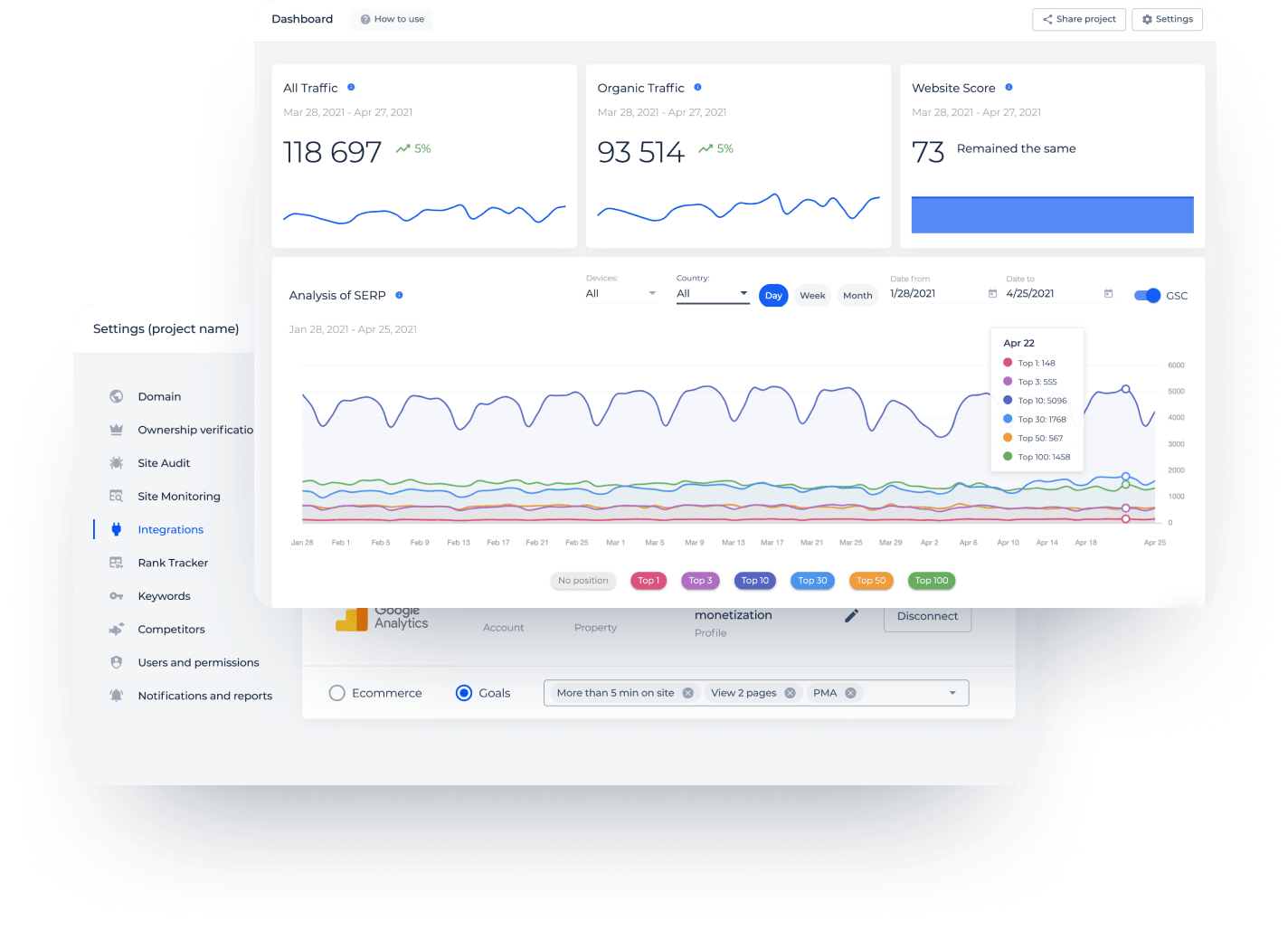 Get personalized step-by-step SEO instructions
Sitechecker analyzes your search performance every day and updates your to-do list based on changes happening in terms of your website content, website rankings, or backlinks.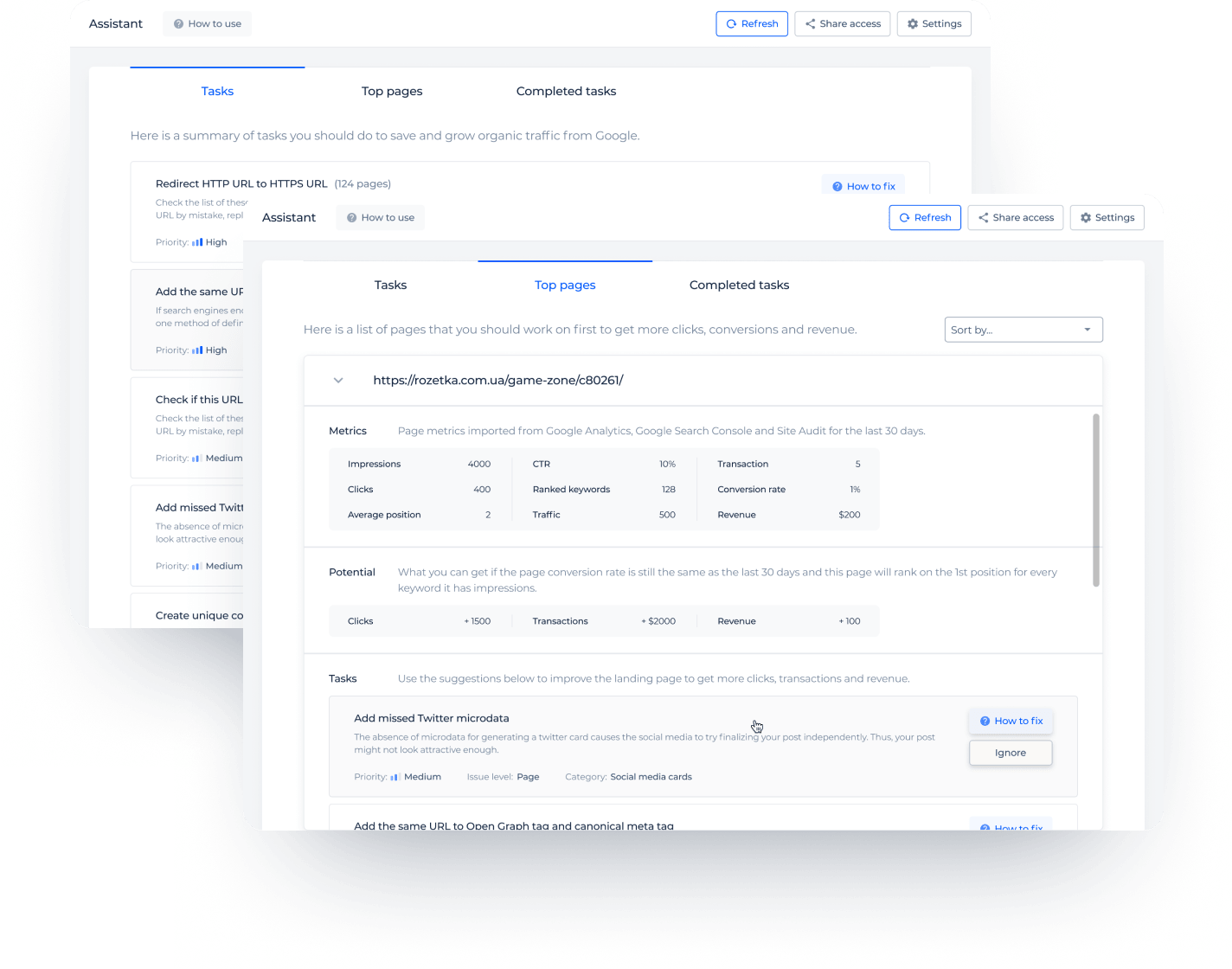 Monitor all your website's changes 24/7
The more profitable your project is, the more expensive each error costs. Monitor website changes to keep your business running.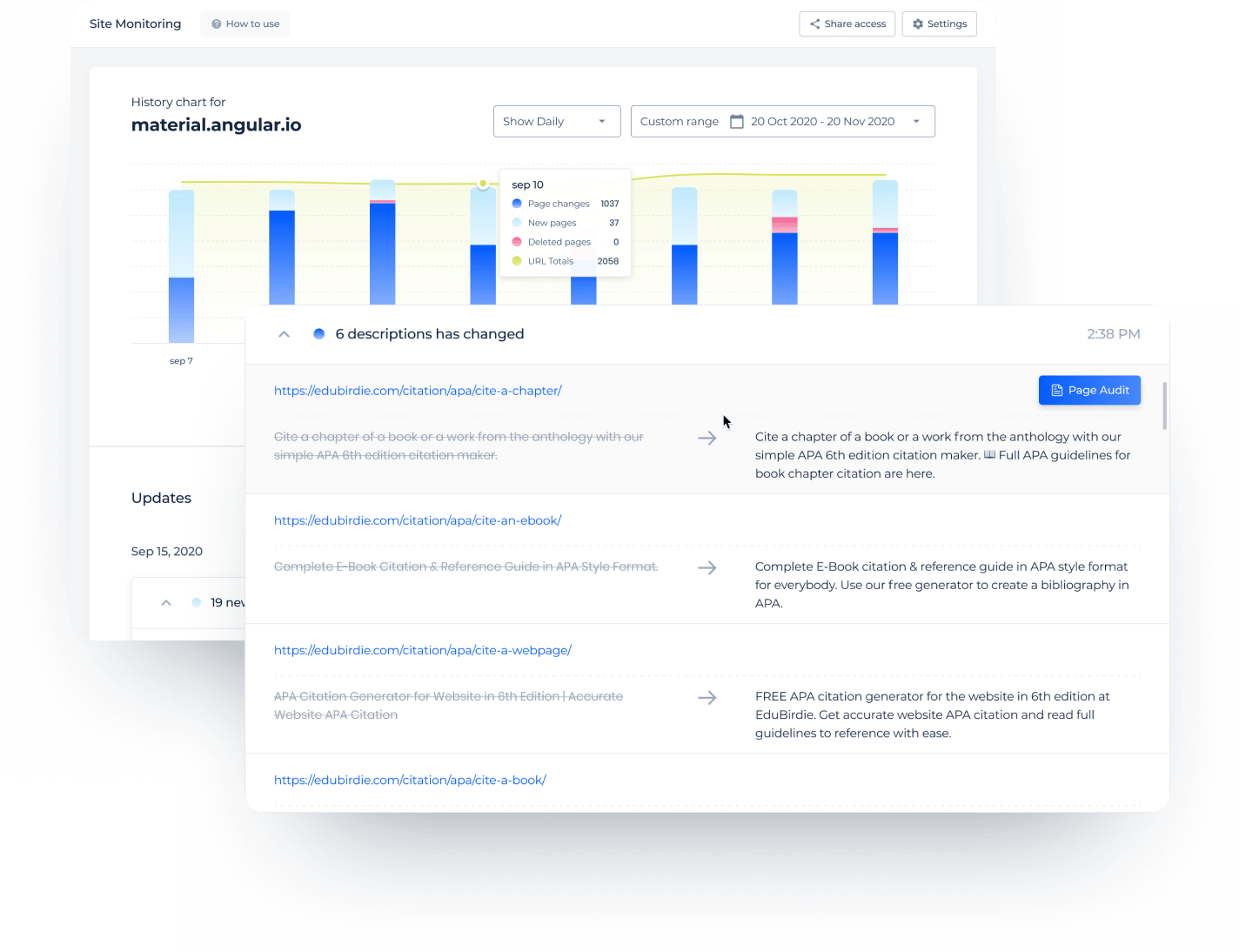 Get clear keywords reports with an accurate rank tracker
Track website keyword rankings regularly, find out what of your actions led to growth and be the first to know when something critical happens.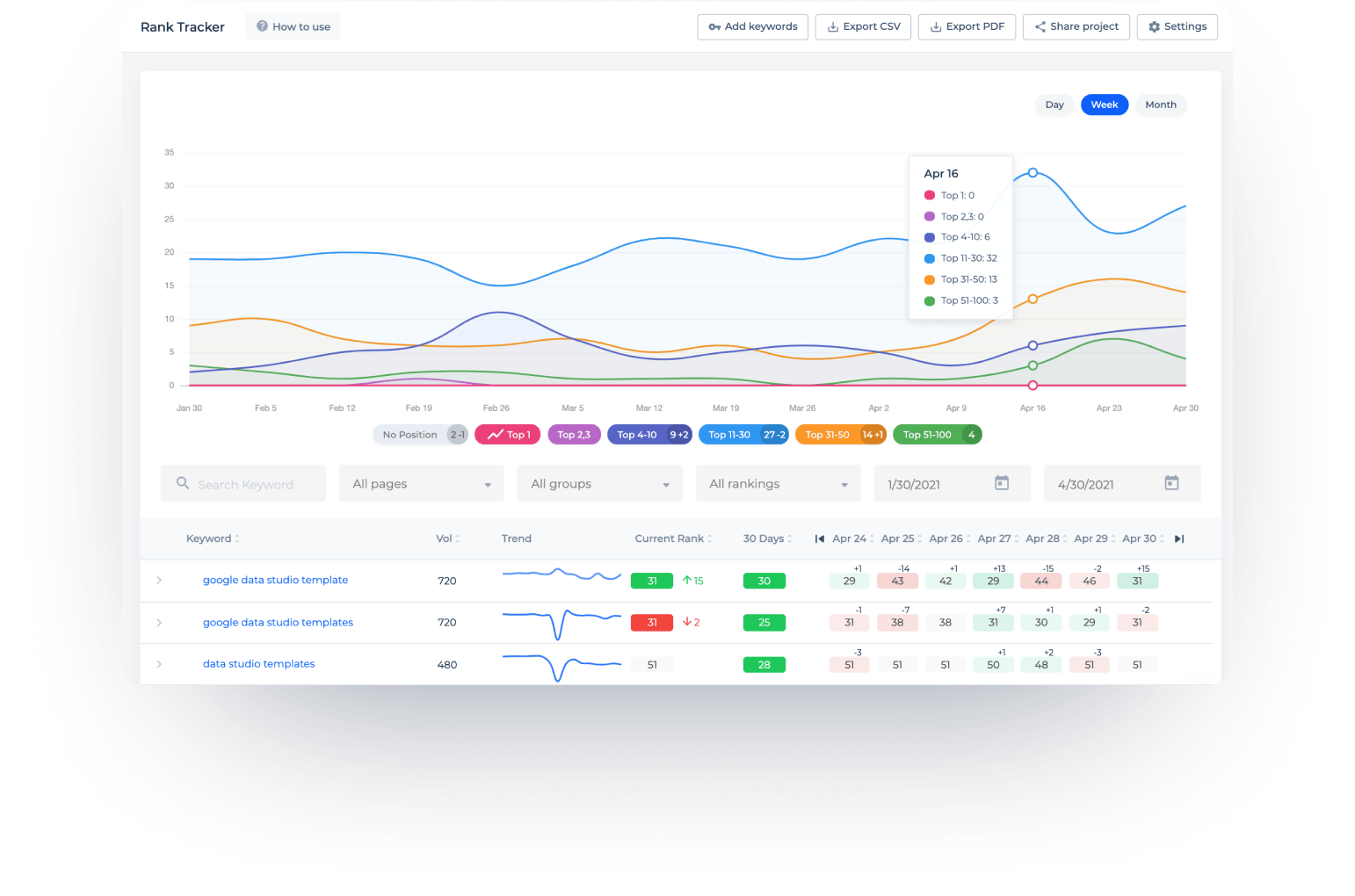 Control all the backlinks you've built
Monitor and analyze all the backlinks you have found or built for your website. Be the first to know when the links get lost and bring them back to life.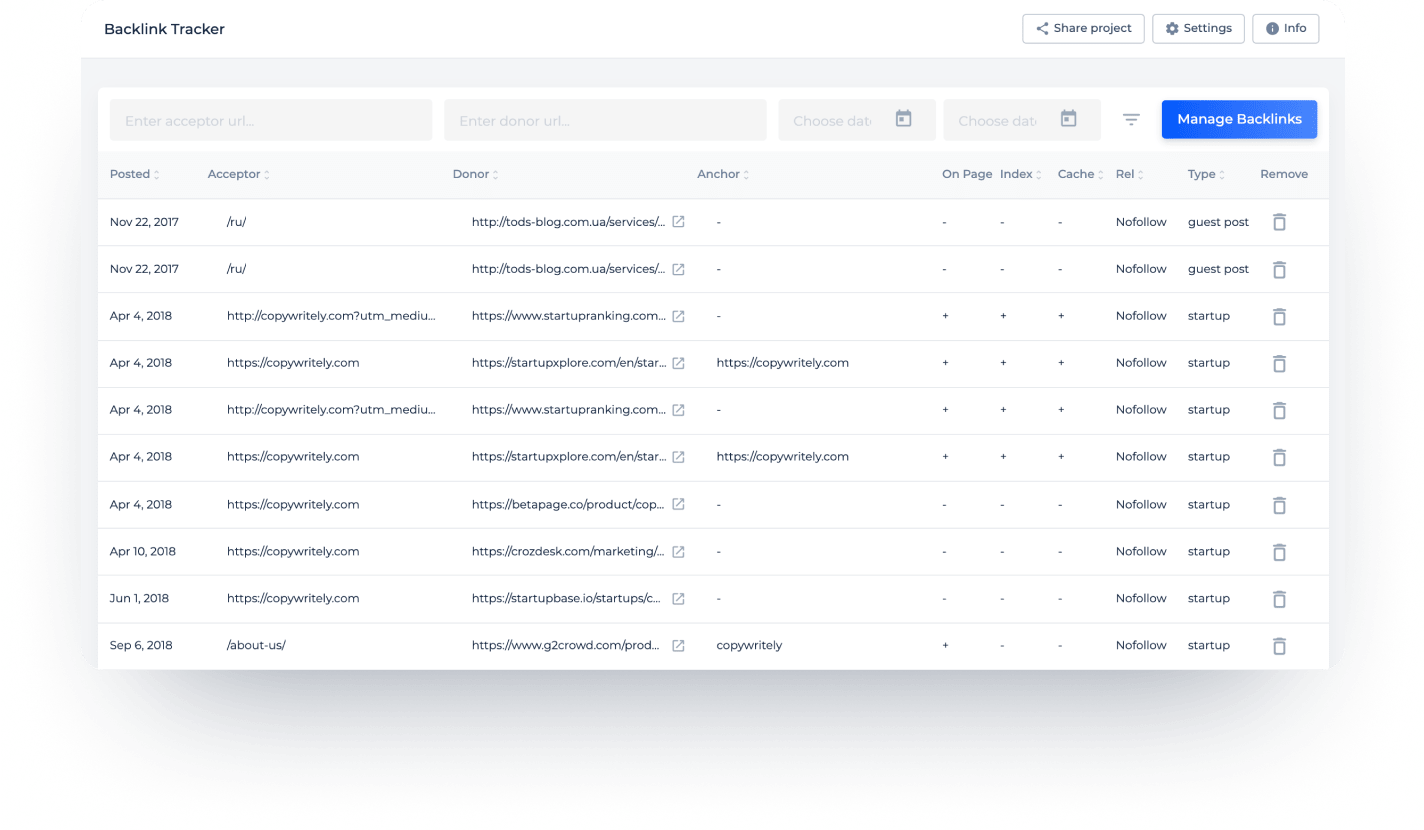 Save time with Chrome Extension
Check on page SEO for any landing page in just one click. Check meta tags, keyword density, images, links, hreflang tags, page speed, and others by the SEO extension.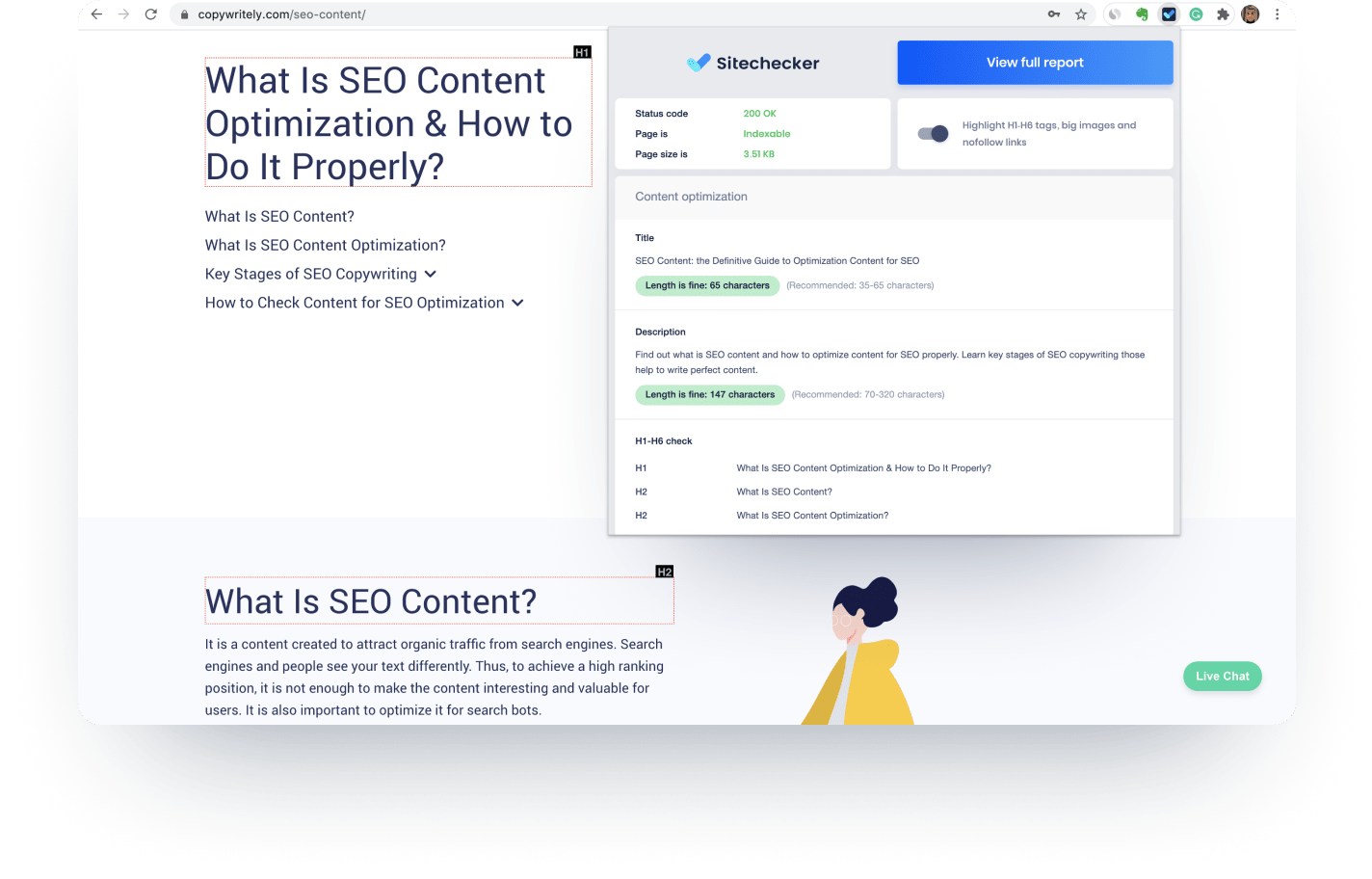 Keep your website safety and protected from hacking
Check your site security and find out issues that can lead to hacking the site by scammers. Use our website safety checker to test partners' sites.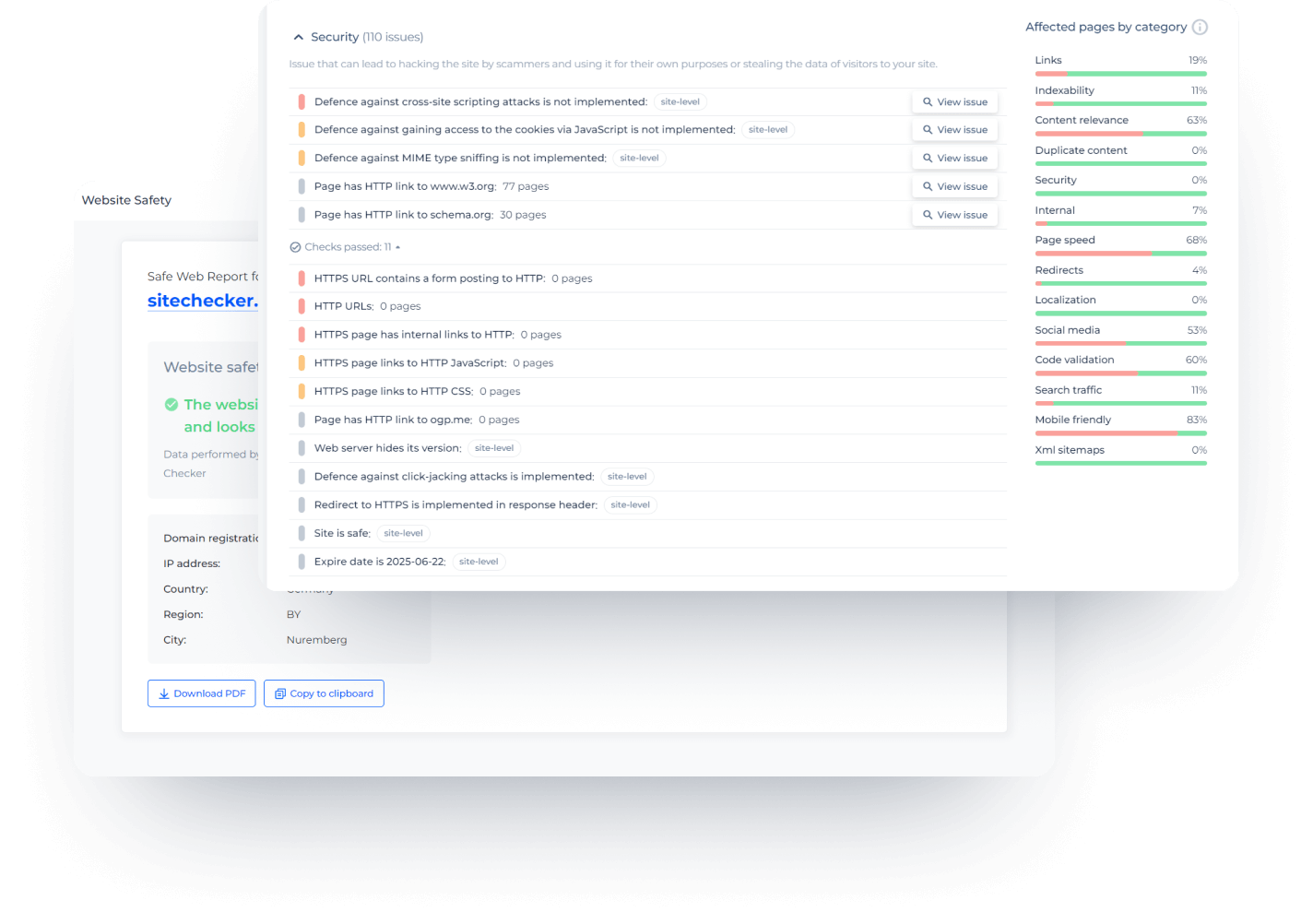 Start monitoring your website for SEO issues and opportunities
Spending a lot of time on SEO is not part of your business?
Sitechecker is a friendly SEO platform tailored to your needs.
Easy to use
Our customers note that Sitechecker's design is one of its main advantages.
How-to guides
Get detailed text and video tips on how to use seo analysis tools and improve your website.
Alerts & reports
Get instant alerts when something critical happens to your site.
All-in-one platform
Monitor website health, track keywords, and backlinks all on one seo software platform.
Join the 1,000+ businesses growing with Sitechecker
All of our clients are growing after we use the platform. For instance, our client Hospital Amazônia had a growth of more than 13.500 impressions from March to September.
After two months there were noticeable improvements in rankings and organic traffic. Backlink and Rank Tracker make it easy to monitor changes, but our website needed also regular SEO audits. We decided to run Sitechecker Audit once a week and it also contributed to the improvement of our results. This audit comes really handy and allows for quick and effective on-site optimization.
Before using Sitechecker our ranking was approx. #4 (mobile SERP) regarding the most important keywords. Now we are #1!
Explore customer stories
What users are saying
Data supplied as of 09/20/2023
Used by top universities and SEO courses
We have special offers for SEO and digital marketing training courses, study centers, and universities
Learn more
Frequently Asked Questions
Sitechecker's SEO checker is a valuable tool that can quickly scan any web page of your site and identify technical errors and SEO issues that may be affecting your website's performance. By generating a comprehensive report of errors found on your web page, Sitechecker allows you to pinpoint areas that require improvement and take steps to optimize your site for maximum visibility and search engine rankings.
How does an SEO checker work?
Sitechecker's SEO analyzer crawls your entire site, identifying over 300 potential issues that could negatively impact your SEO, such as broken links, redirects, HTTP status codes, 404 pages, 5xx server errors, meta titles, and more – all for each URL. The tool generates a comprehensive report with issues grouped by category and SEO importance, along with step-by-step guides to help you address and fix each issue and improve your website's SEO performance.
What is a website SEO score?
Website Score is the internal metric that we use in Site Audit. It helps to measure the technical excellence in terms of SEO of a website. It can be really helpful for tracking the progress you make with Sitechecker and the impact of fixing the errors found. To make a long story short, a site score can be described as a ratio between the issues and the quantity of all the pages on your site. Website Score is an average score across all website pages. By default, each page has 100 points. And we deduct the cost of each error from those 100 points.
How can I improve my SEO score?
To improve your SEO score, it's essential to address any issues that have been identified on your site. In order to maximize the impact of your efforts, it's important to prioritize fixing critical issues first, as they can have a more significant negative impact on your website's SEO health. Additionally, it's important to understand the number of pages affected by each error. In some cases, even if an issue is classified as a warning, if it affects a large number of pages, resolving it can have a significant positive impact on your SEO score.
Can I download or share the results of my website's SEO check?
We offer several options for sharing the results of your SEO scan, including the ability to download a PDF summary or full report of the site audit, export all HTML pages or specific issue types to a spreadsheet, and generate a sitemap of affected pages. You can also share your project via email or a shareable link, and manage permissions for those with whom you share it.
Can you assist me in resolving the issues identified by Sitechecker?
Regrettably, we are currently unable to correct technical errors on clients' websites. However, you can utilize our detailed how-to-fix guides. Alternatively, you may copy the report link and share it with your developer, webmaster, or SEO specialist, or create a task for freelancers on specialized marketplaces.
Why should I fix technical errors if top online business giants, have them, too?
Consider that some websites accent their own efforts on getting traffic from referrals and social, email, and direct sources, but not search engines. In this case, some errors aren't so important for them. Also, for a huge website with different ways of hedging, a couple of errors aren't critical. But for your website, they can be fatal.