Twitter card missing issue means that website has pages without Twitter cards.
The importance of the issue
By generating attractive tweets, you can increase your traffic from this social media and make your tweets more professional and attractive. This is important, if you wish to demonstrate that both your twitter account and your company are serious and solid.
How to check the issue
Using any browser is enough to check the issue. Open the source code of the flawed page To do this, click the right mouse button at any spot of the page and choose "browse the code" option, or apply an online tool https://codebeautify.org/source-code-viewer
The source code must contain microdata for Twitter.
Example: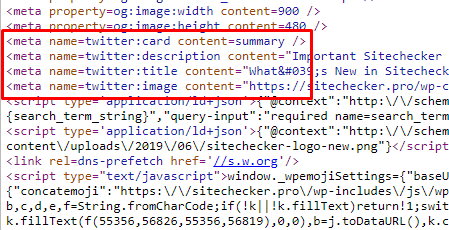 How to fix this issue
It is necessary to add microdata to the page template to have the card displayed. Twitter recommendations https://developer.twitter.com/en/docs/tweets/optimize-with-cards/overview/markup
You can check its correctness afterwards https://cards-dev.twitter.com/validator
Detect pages where Twitter card is missing
Crawl the website to collect all pages that have no Twitter cards