Modern marketing strategies always include SEO components. SEO activity, in its turn, definitely requires constant tracking, monitoring, and summarizing. These are the objectives of SEO reports.
We prepared a comprehensive guide about SEO reporting, its value, and how such reports can influence the rating of sites. Let's start!
What is an SEO Report
SEO reports are comprehensive documents that provide summaries of the website's performance in search engines. Such reports gather information based on monitoring and assessment of all the metrics of the SEO activity. They contain useful information, indicating which SEO marketing efforts are working well and which poorly, identifying specific keywords for organic search, and providing recommendations on how to improve the site optimization.
SEO reports indicate the results of your SEO efforts and the general website health based on accurate web page growth metrics, such as domain KPIs, organic traffic, website rankings, conventional rate, and others.
Such reports, if done properly, bring a huge added value to the activity of SEO professionals, usually accomplishing various goals in several dimensions. These are the following:
Improvement
SEO report often acts as a universal checker and analyzer of SEO activity. It shows what areas are strong and which are weak. These findings show which errors occurred, what exactly specialists can improve, and how it would influence the overall performance.
Monitoring
SEO reports can serve as regular audits. They provide information for several specific, usually equal in duration, periods. This allows specialists to monitor the progress, evaluate the impact and measure the results.
Communication
Various companies often tend to entrust performing SEO activity to specialized digital agencies that focus on testing and checking the performance. In such cases, SEO reports serve as a perfect way of communication. They can easily deliver the right message and present the status of SEO activity to clients. That is why SEO reports usually structure data into visual elements.
With all the above mentioned in view, some may consider that preparing an SEO report takes weeks. That is partially true if the audit is carried out manually. However, special online tools save a lot of time and automatically analyze all the metrics. Special SEO software reviews, analyses, and evaluates the quality of websites and then creates a summarized report.
After the release, a properly prepared SEO report should give clear answers to the following questions:
What is the progress in the estimated period of time?
What insights did the report findings reveal?
What SEO efforts bring the biggest and smallest impacts?
What improvements can be implemented?
What can be recommended for future activity?
This is a brief introduction to the notion of SEO report and how it contributes to the optimization and ranking of websites. Now we will dive deep into the process of creating such a report and what exactly it should include.
SEO Report Tool Usage
Both paid and free online tools for generating SEO reports are quite easy to use and require a simple sequence of actions. Here is an example of what users should do to receive an SEO report.
Step 1: Insert your URL
Enter the URL you want to scan into our free trial below & start experiencing fast and absolutely no cost!


Step 2: Initiating the audit
Your website will be scanned after that by our crawler so we can provide you with relevant information.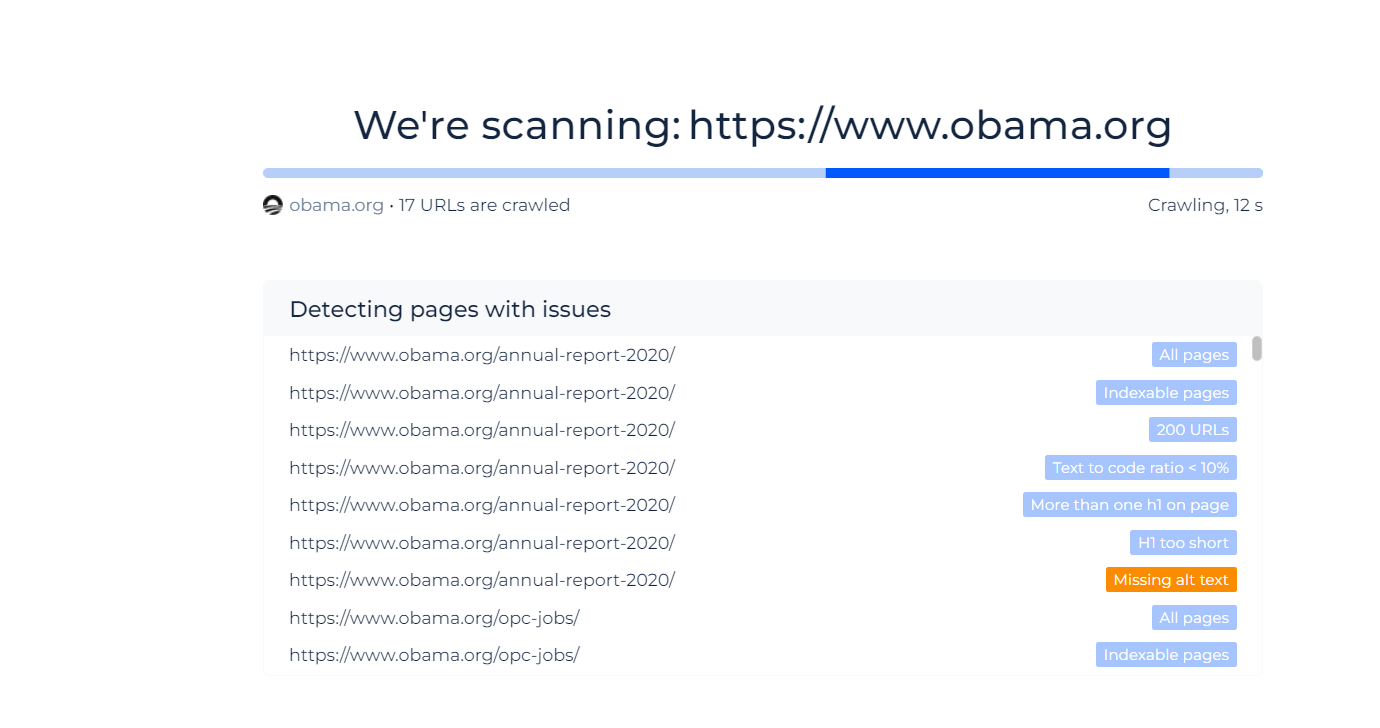 Step 3: Interpreting the SEO Reporting Tool Results
After scanning a page, we receive information regarding technical SEO, onpage optimization, keywords ranking, conversion rate, traffic growth, etc. SEO report will also include a health scoring, ranging from 0 to 100. It shows whether there are any mistakes in content, for instance tags.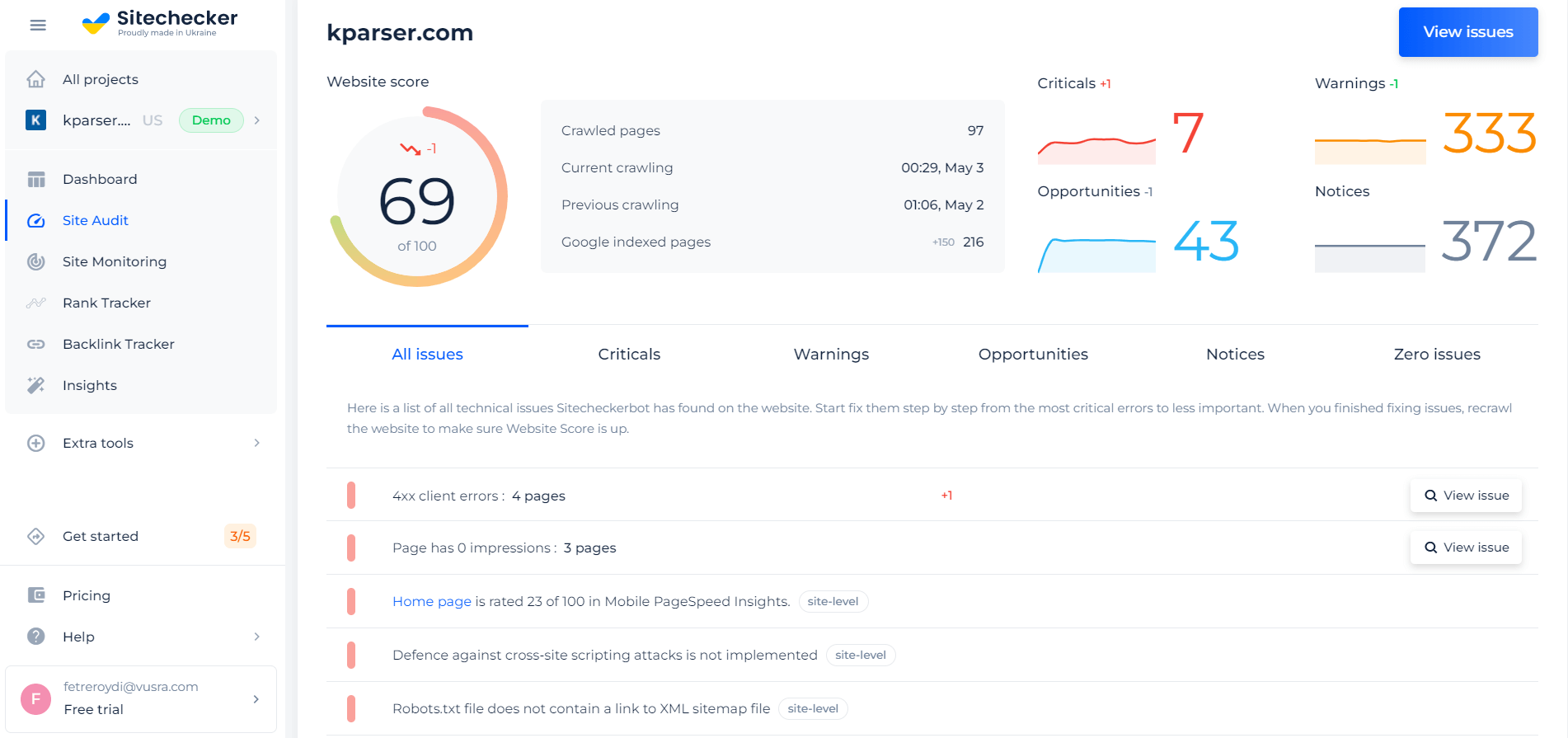 In terms of the site as a whole, we receive information concerning general resource score, overall progress on goals, conversions, backlink profile, broader ranking of keywords, top-performing pages, and the site's position in SERP.
Get Seo Report to optimize your site for search engines!
Conduct a full audit to find out and fix all the site level and page level issues on your website.
Structuring SEO reports
The optimal structure of an SEO report is key to presenting information and, consequently, making the right decisions based on it. There are various ways how specialists can shape an SEO report, depending on a particular case, initial goals, target audience, etc. We advise the following structure.
Executive summary
Brief introduction of findings of your investigation. This part should be brief, concise, and full of numbers. However, it should not be overloaded with stats or technical details. A summary usually presents the achievements and progress.
Detailed SEO analysis review
This is the very heart of the report. It should present what metrics the online tracker was analyzing and what the results are. These usually include:
Website score: it is a general website health score parameter. It indicates whether some technical problems and errors may affect search visibility.
Web page optimization: it shows the SEO progress of certain URLs.
Keyword rankings: show how site rankings have changed within specific periods.
Backlinks overview: it provides information on how backlinks existence impacts the site rank.
White-label: this parameter shows the contribution of your own branding to the optimization strategy.
Tendencies and trends
It is always good to review the findings and figure out some common features. They can be evidence of some new tendencies or recent changes in the work of search engines, be it Google, Bing, or Yahoo, for example.
Recommendations
The final part of the SEO report usually contains some recommendations on how to improve these or that parts of SEO activity. An advanced online tracker provides such pieces of advice automatically.
This is a recommended structure for an SEO report. Depending on a particular case, it may include some additional points or vice versa be shorter.
Cases When SEO Report is Needed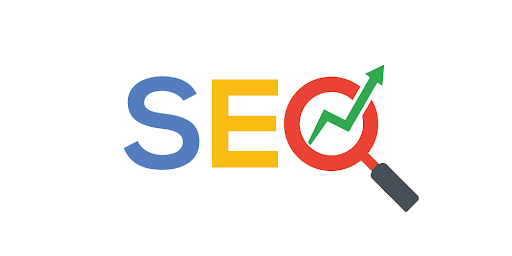 Regular SEO reports are definitely a measure each website needs. They allow to carry out overall analysis, improve the marketing strategy, upgrade the web resource's general structure, and implement new approaches to web page's optimization. However, there are some cases when the necessity for SEO reports is visible.
Something goes wrong
The general performance of a site deteriorates. There are fewer visitors, especially new ones, compared to previous periods; they check out fewer pages and spend less time there, and the number of leads is getting smaller, etc. These factors indicate there is something wrong with the web page. Launching an SEO report might be a great option in this case as a general checkup to test all the metrics, scan all the pages individually and check the main ranking factors.
A new step
You are preparing for a new important step in the development of your business: a new market, new goods or services, rebranding, etc. All these require a detailed marketing strategy. Consequently, you definitely need a comprehensive site crawl to understand your starting point and what can be improved. In this case, an SEO report is your scanner and tester
that helps in checking new approaches and methodologies.
Regular check
Each process, even well organized, needs evaluation and supervision. Regular SEO reports serve as a reliable tool to check the performance, monitor the progress, and compare the results of different periods. Due to the opportunity to receive valuable recommendations, an SEO report serves as an optimizer of regular processes.
Paperwork
All of us sometimes face the necessity to launch an audit and prepare a record review, especially at the end of a year. Preparing an SEO report is definitely an integral part of this process since it depicts the results of marketing activity. In addition, it serves as a reliable source for future planning.
Proof of progress
If a company entrusts SEO activity to a specialized partner, regular SEO reports serve as a trustworthy proof of work and achieved results. Special software carries out automatic tracking and rules out any possible error. Thus, a service provider cannot cheat or manipulate the findings. Consequently, regular SEO reporting fosters trust and strengthens cooperation. Since reports contain various visualized data, they can be used as means of communication or presentation.
FAQ
How many pages can I check at once?
There are no technical limitations. The online tool can check either one page or the whole website without any issues. However, you should pay attention to the number of credits available and whether this number is sufficient to check the number of pages you want to scan.
How do I fix my page's SEO errors?
First of all, you need to receive a detailed SEO report to identify errors and what led to them. Then, based on the recommendations of the online checker, you can fix the problems.
Why does my website rank well but earns a low grade?
There can be many reasons: the content is not relevant, the site loading speed is not at the top, the site lacks on-page optimization, or external links need improvement. The best option is to launch a comprehensive audit and receive an SEO report.