Backlink-tracker voor SEO & Marketing Managers
Bewaak en analyseer alle backlinks die u hebt gevonden of gebouwd voor de website.
Wees de eerste om te weten wanneer de links verloren zijn gegaan en breng ze weer tot leven.
Waarom backlink tracker is een must?
Voeg alle backlinks toe die je hebt gevonden of gebouwd
Voeg backlinks toe die je handmatig hebt gebouwd of die je hebt gevonden in Google Search Console, Ahrefs, Semrush, Majestic, Moz enz. En krijg een real-picture van je backlinkprofiel in realtime.
Breng verloren backlinks terug tot leven
Controleer alle backlinks en ontvang een melding wanneer een van deze verloren gaat. Breng verloren links weer tot leven en houd uw backlink-profiel zo sterk mogelijk.
Verbeter uw linkbuildingstrategie
Gebruik eenvoudige rapporten om te evalueren hoe goed uw linkbuilding-strategie wordt geïmplementeerd en wat u kunt doen om de efficiëntie te vergroten.
Backlink-tracker helpt dit
Verzamel alle backlinks op één plaats
Er zijn veel services die wereldwijd internet doorzoeken en helpen backlinks voor een specifieke website te controleren. Maar geen van hen heeft een volledige basis (zelfs Googlebot heeft tijd nodig om alle backlinks te vinden). En u kunt echt alle backlinks volgen die op uw websites zijn gebouwd.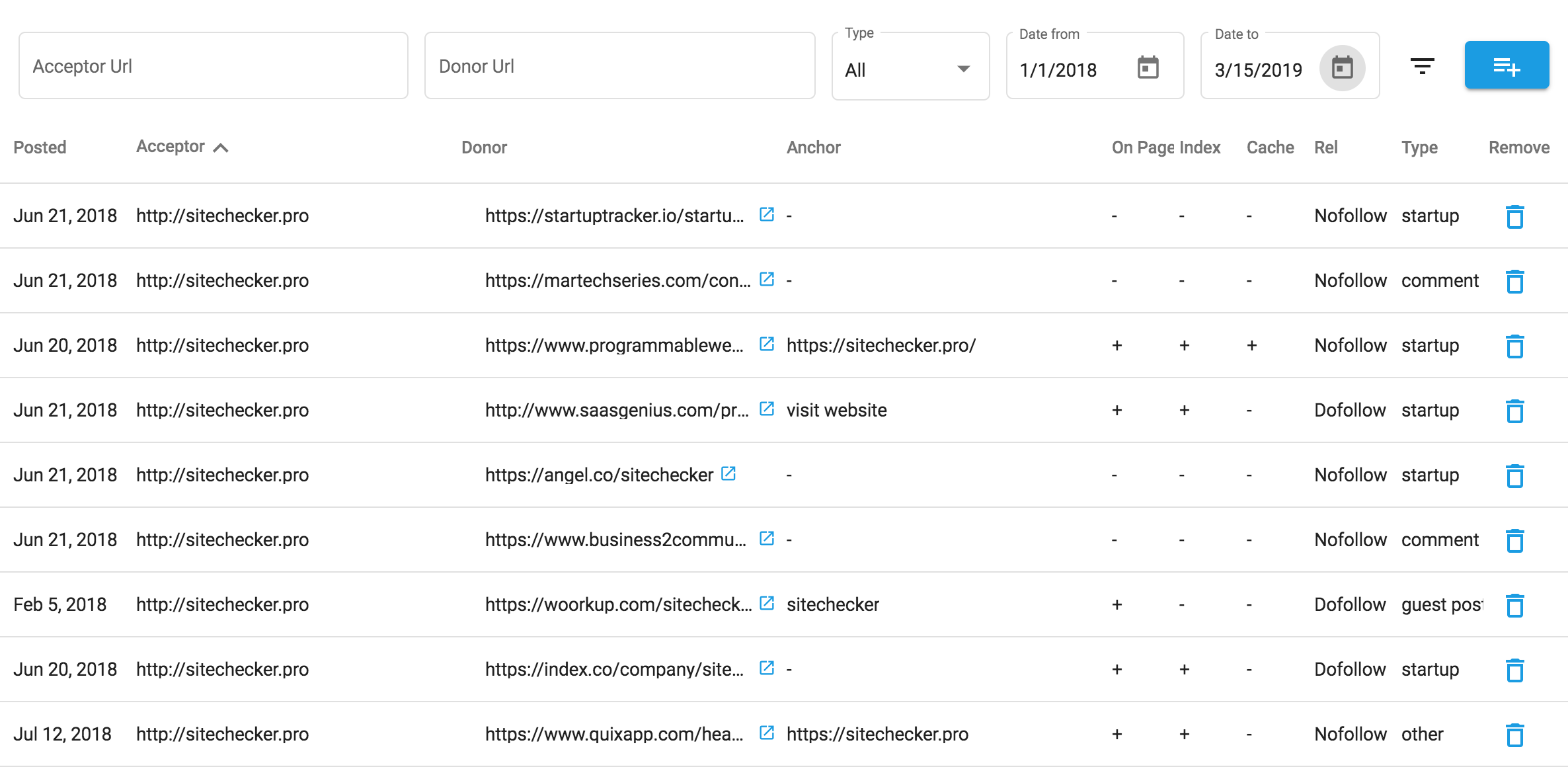 Evalueer hoe goed uw backlinks-profiel groeit
Slechts één scherm helpt om de voortgang in het proces voor linkbuilding te begrijpen. Volg niet alleen het aantal, maar ook soorten backlinks.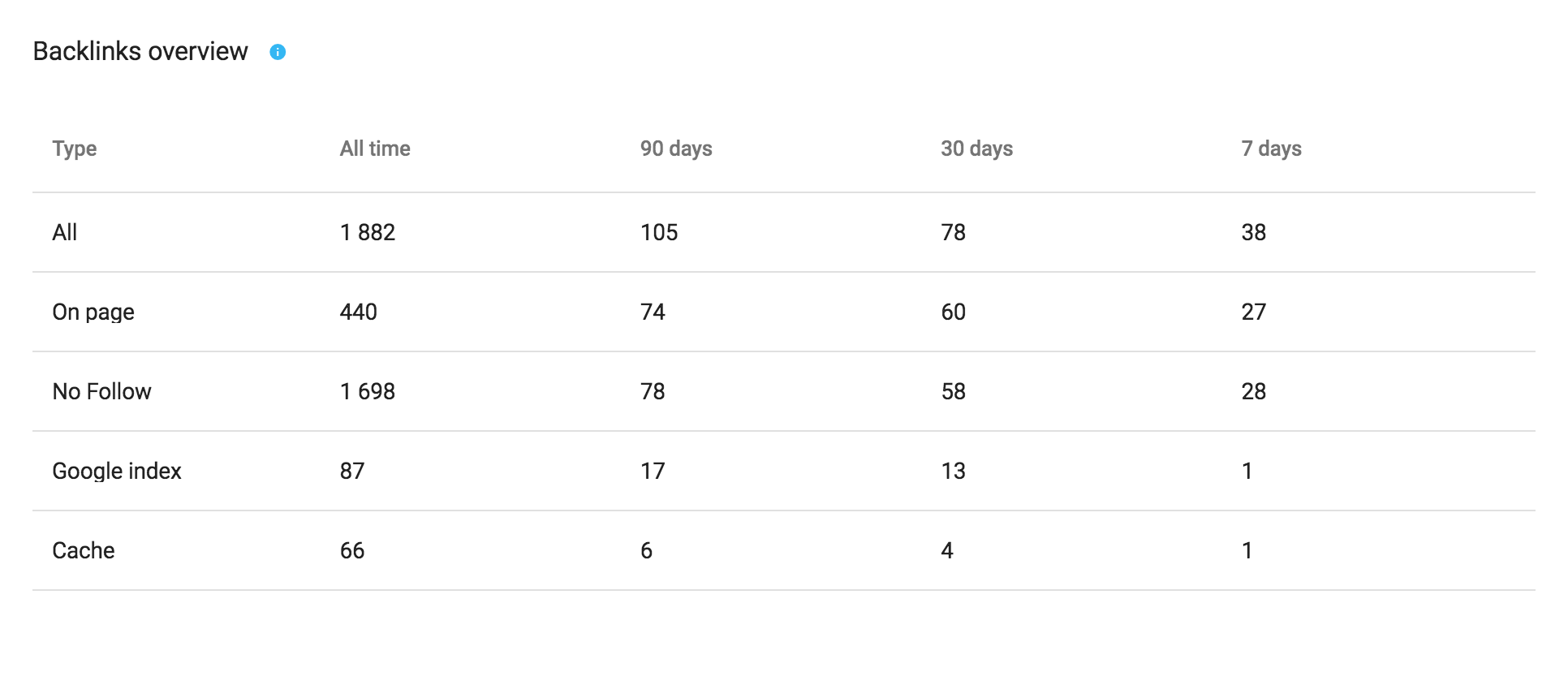 Evalueer hoe goed uw ankerwolk is
Eenvoudig rapport om de meest gebruikte ankers te vinden op websites die naar uw website linken.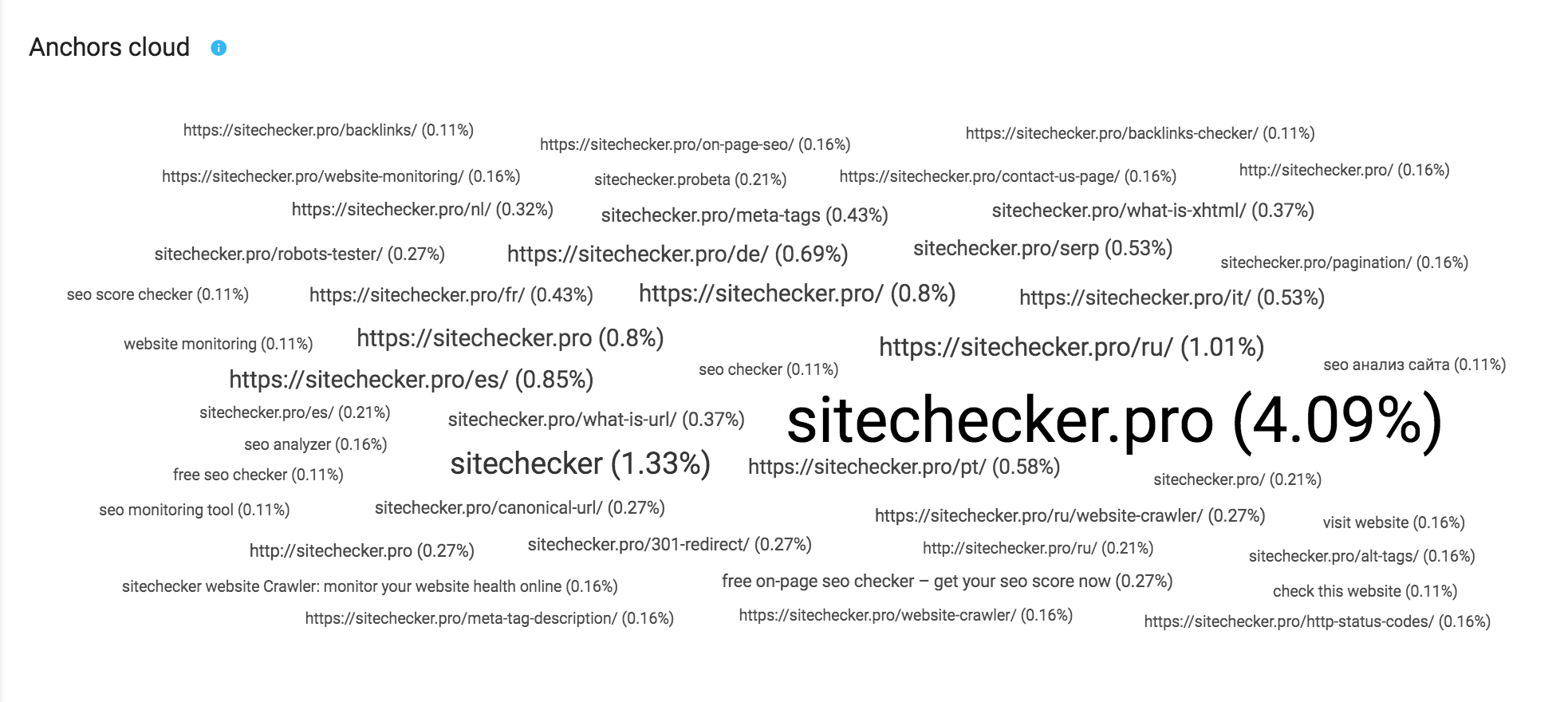 Evalueer welke landingspagina's leiders zijn door backlinks
Controleer welke bestemmingspagina's de meeste links bevatten en schat hoe backlinks hun zoekverkeer hebben beïnvloed.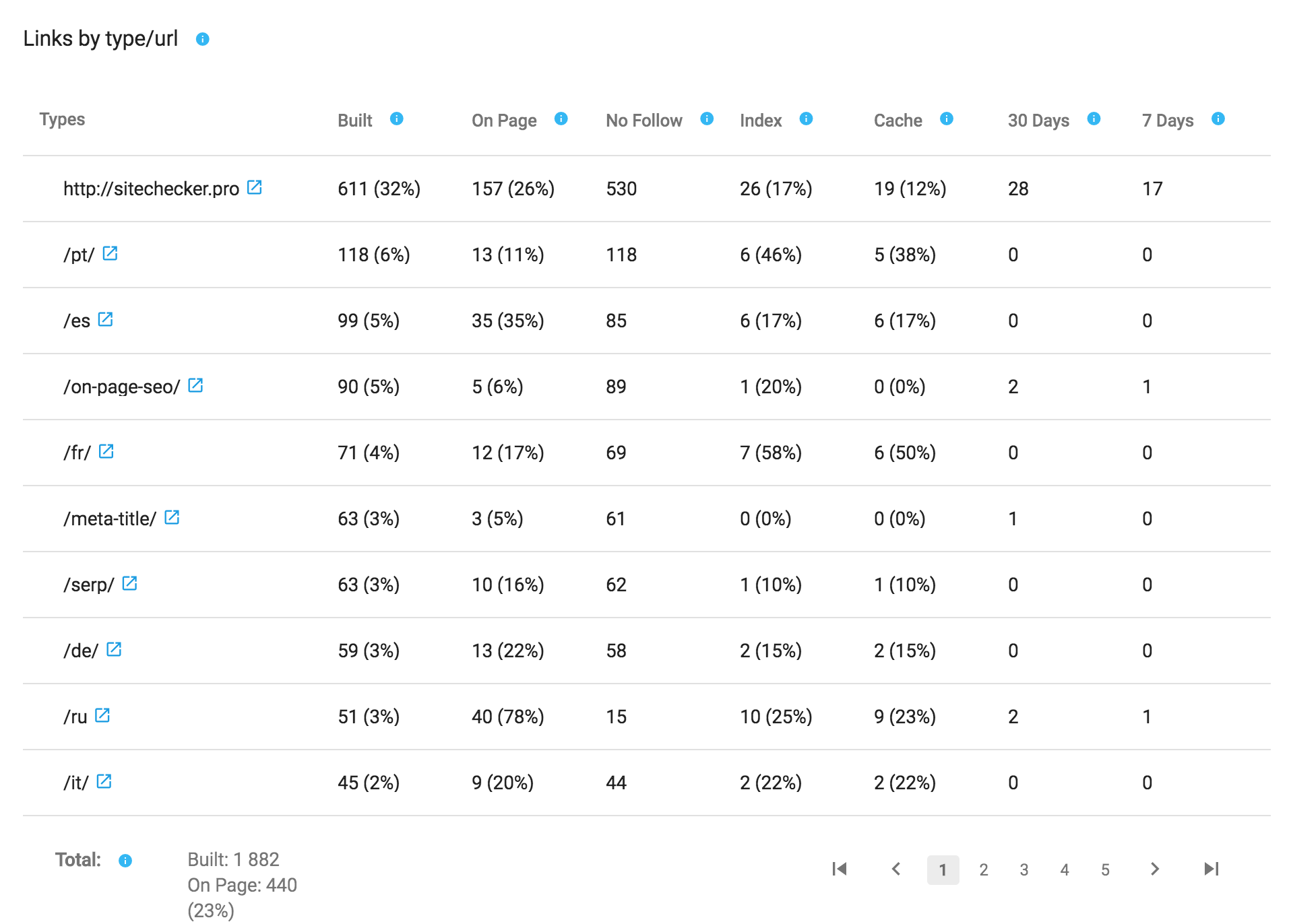 Identificeer pieken in de geschiedenis van linkbuilding
Eenvoudig rapport helpt om pieken in uiterlijk van links te detecteren. Ontdek de redenen en de bronnen van deze pieken (mogelijk is een deel van uw inhoud viral geworden of heeft uw gesponsorde bericht resultaten opgeleverd) en meet u hoe uw websiteposities na hen werden gewijzigd.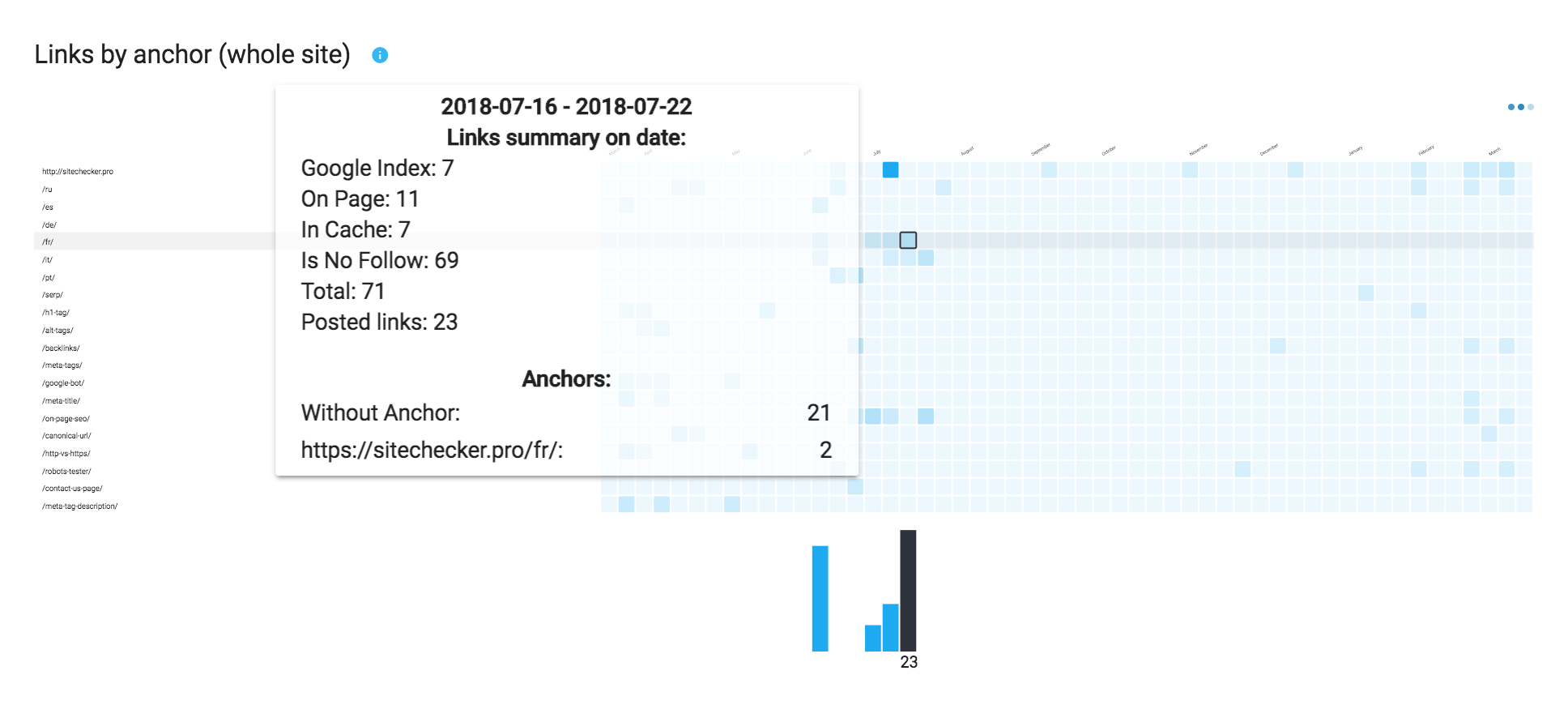 Hoe backlink-tracker te gebruiken?
Importeer alle backlinks van externe services
Gegevens downloaden in .xlsx-bestand om backlinks toe te voegen die externe bronnen hebben gedetecteerd.
Voeg regelmatig alle backlinks toe die je hebt gebouwd
Telkens wanneer u een backlink heeft gebouwd, voegt u deze toe aan Backlink Tracker om uw rapporten actueel te houden.
Open de toegang voor uw ondergeschikten
Delegeer linkbuilding aan ondergeschikten van freelancers en bepaal hoe goed hun uitvoering is.
Houd de prestaties van de linkbuilding bij
Vergelijk hoe toegevoegd / verloren backlinks zijn beïnvloed op organisch verkeer. Detecteer de meest waardevolle backlinks en breng verloren backlinks tot leven.