Description is empty issue means that website has pages where meta tag is left blank with no content (e.g. <meta name="description" content=""/>).
The Importance of the Issue
Writing good meta descriptions is an essential element of good SEO practices. Regardless of how well-ranking your page is, if the meta tag is deficient, this will divert users from your website and then the entire site optimization routine could be in vain.
Meta descriptions are like advertisements – they compete for user attention and try to convince them that that the web pages they accompany hold the desired information. If the keywords contained in the meta description match the user query, they appear in bold font – signaling to the user that the page is likely highly relevant.
In case meta descriptions are missing, search engines create them from scratch. While sometimes, this produces great results, more often than not, the opposite is true. For instance, search engines might simply extract the first 160 symbols from your page and use them as a meta description. Since this text could be anything, including the navigation menu, delegating this crucial task to search engines is not an option.
<…>Google will sometimes use the <meta> description tag from a page to generate a search results snippet if we think it gives users a more accurate description than would be possible purely from the on-page content. A meta description tag should generally inform and interest users with a short, relevant summary of what a particular page is about.<…>
How to Check the Issue
You need to look at the source code. This could be done by using the capabilities of you browser – in Chrome, one could simply right click on the corresponding page and select the option "View page source" from the context menu. Alternatively, feel free to use this online tool https://codebeautify.org/source-code-viewer. Next, find the sequence <meta name=description in the source code – this designates the meta description.
For a more effortless experience, utilize Sitechecker. It will scan your website and identify all pages with empty descriptions.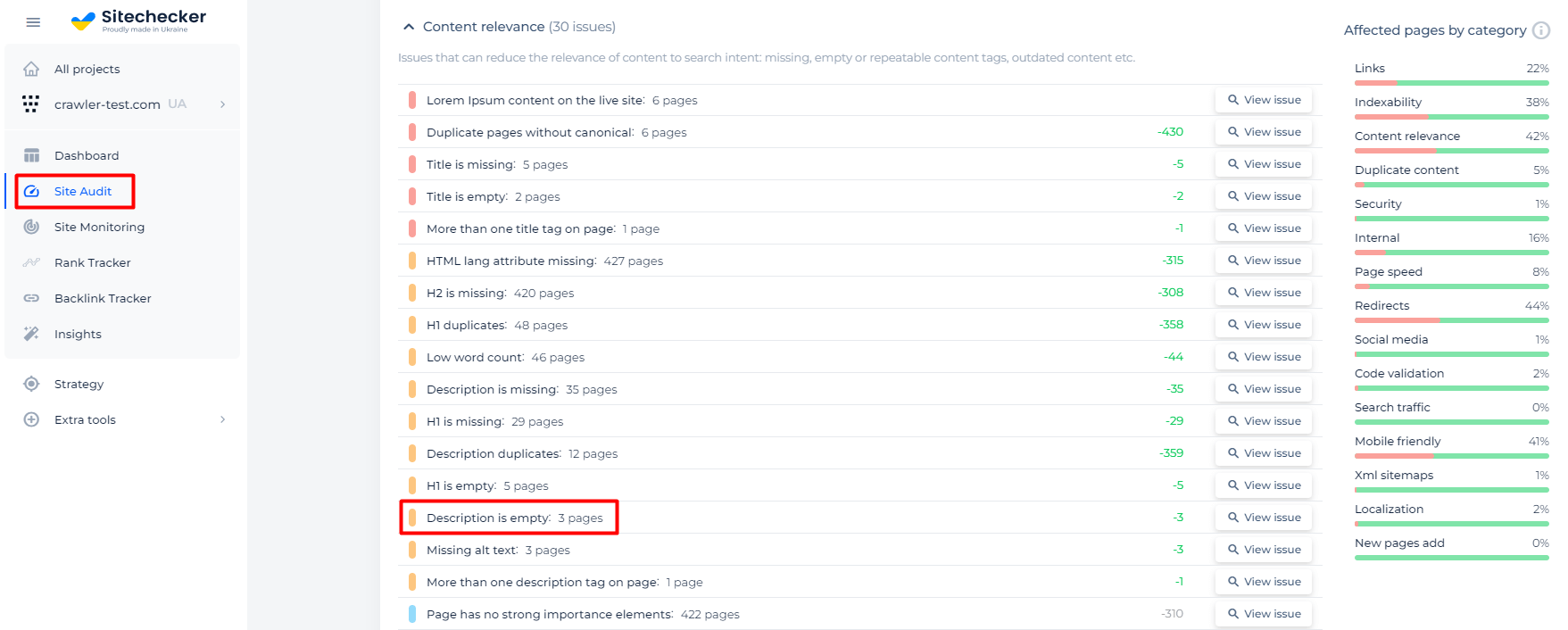 This allows you to view a complete list of affected pages and even examine their source code.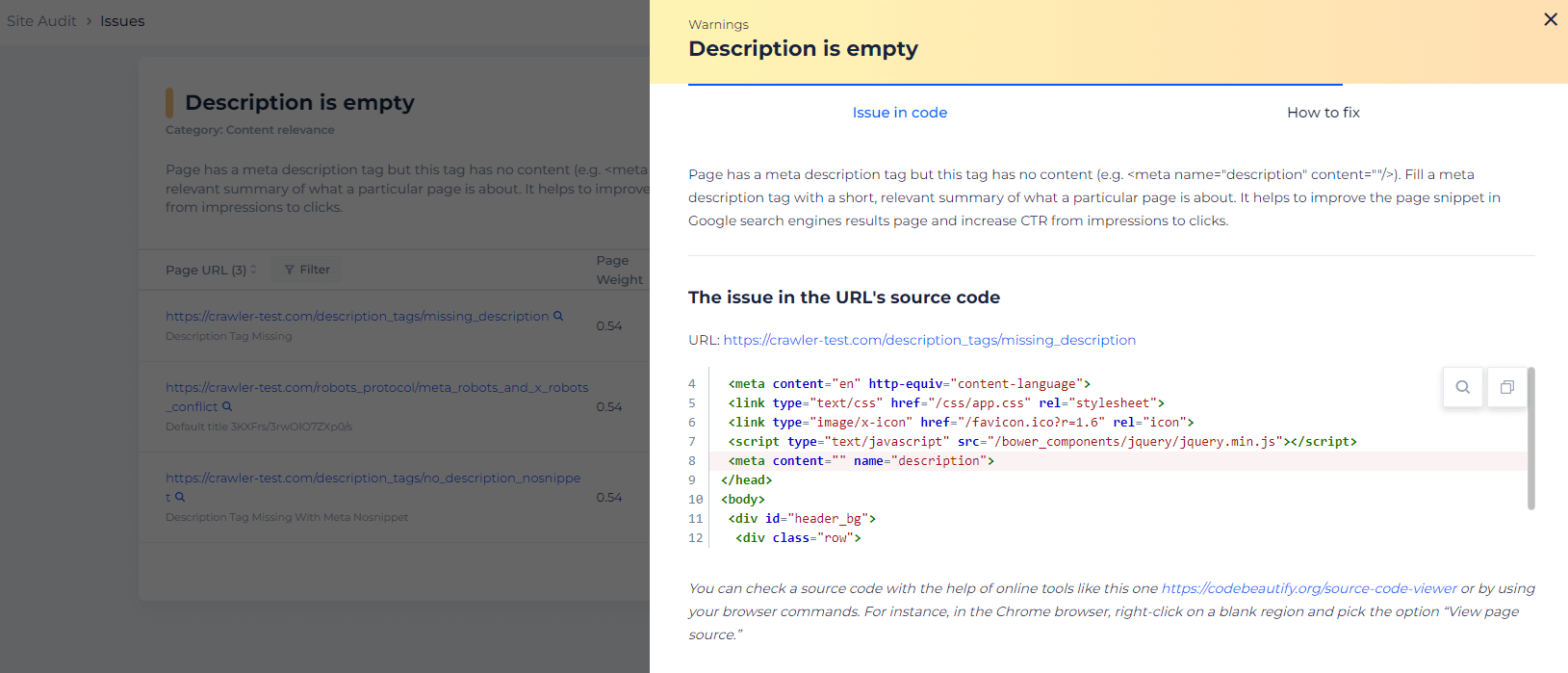 How to Fix This Issue
Create a unique meta description by following the corresponding rules (detailed below).
Here's an example of meta description from Sitechecker.pro: 
<meta name=description content="Get FREE SEO report by 100+ parameters with the best website checker. Detailed SEO analysis for a website will help to find technical issues and calculate SEO score."/>
Use the guidelines below to produce a high-quality meta description:
Regard your meta description as a short advertisement for the corresponding page – lure users through a well-written, attractive piece of text that efficiently announces or describes the page's content.
Make the text highly readable and natural-sounding. One key way to achieve this is by using complete sentences.
Make the description relevant to the specific page rather than to the entire website.
Anticipate user expectations in terms of content and make reference to this content in your meta description.
Include targeted keywords that most relevantly describe your page content, as these keywords get highlighted in the SERP snippet when user queries happen to match them.
Avoid overstuffing the meta description with keywords.
Make each description unique.
Don't exceed 160 characters in length, otherwise, the text will be truncated.
Similarly, avoid all characters except alphanumeric ones. For instance, using double quotes can result in the truncation of all the text that follows.
Detect pages where description is empty
Crawl the website to collect all pages where meta tag description is empty