Evaluate competitors' link building strategies
Make comprehensive backlinks analysis divided by time periods. Analyze competitor's backlinks creating process to improve your link building strategy.
Go to App
Try it now
How to find insight in a competitors' backlink profiles?
We can estimate the anchor strategy of your competitor
You should explore your competitor's anchor list from the last 6-12 months. Most likely, the anchors are built after the initial stages of link building that bring the most value to your competitors. Usually, after getting initial feedback from the search engines, SEO specialists try to improve positions with some exact keywords and use them as anchors. It is important to improve SEO linking strategy for your own website.
Our backlink analysis tool can estimate the influence of some backlinks on the competitor's positions in SERP
Researching traffic and link building dynamics, we can find the most valuable backlinks for your own websites. Backlinks historical data for the last year will help to create accurate link building plan. Analysis of the backlink profile in the context of different periods - 1,3,6,12 months.
As a rule, first backlinks are built from your own resources
You can easily conduct free competitor backlink analysis and explore link building strategies for each of them. Analyze competitors' backlinks deeply from the very start. We can also find strong and weak solutions, repeated tactics, and backlinks each website has.
What are the benefits of our Backlink Analysis Tool?
Data from which service should be better analyzed?
Each of these tools like Ahrefs, Majestic, Semrush, or Serpstat give different data for backlink profiles. Those links that will be in one may be absent in the other. Ideal, when you will analyze link building strategies of competitors based on data from several services.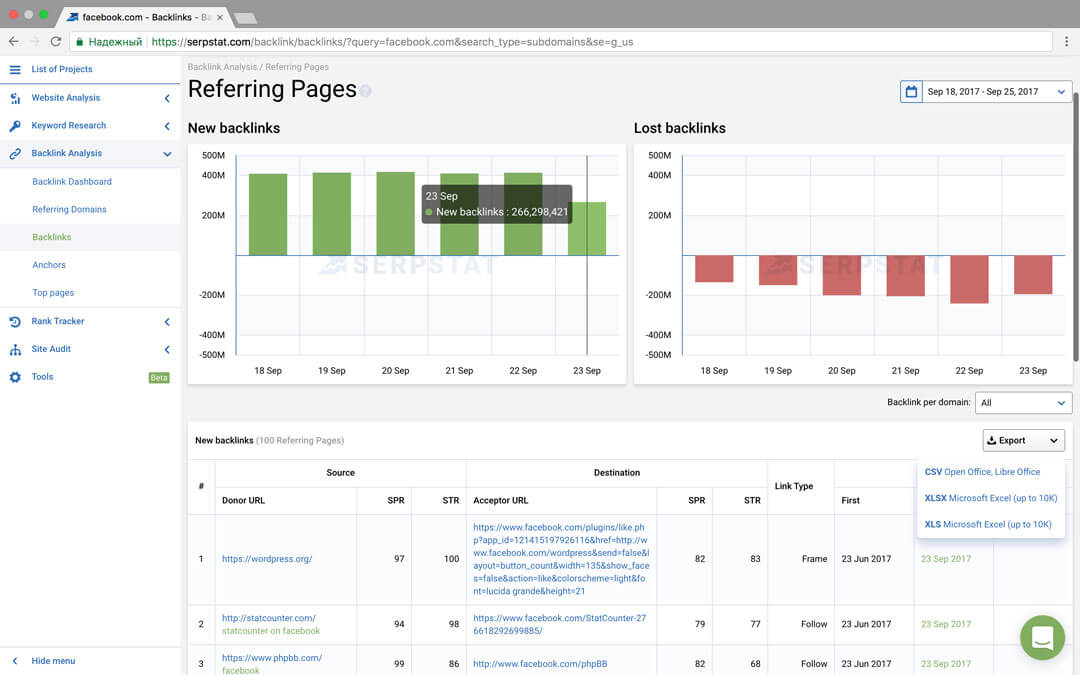 Why should I analyze competitors using LinkStrategy?
The listed services collect a huge amount of data. But the reports that can be built into them do not reveal all the possibilities for a full analysis of the competitor's linkbuilding strategy.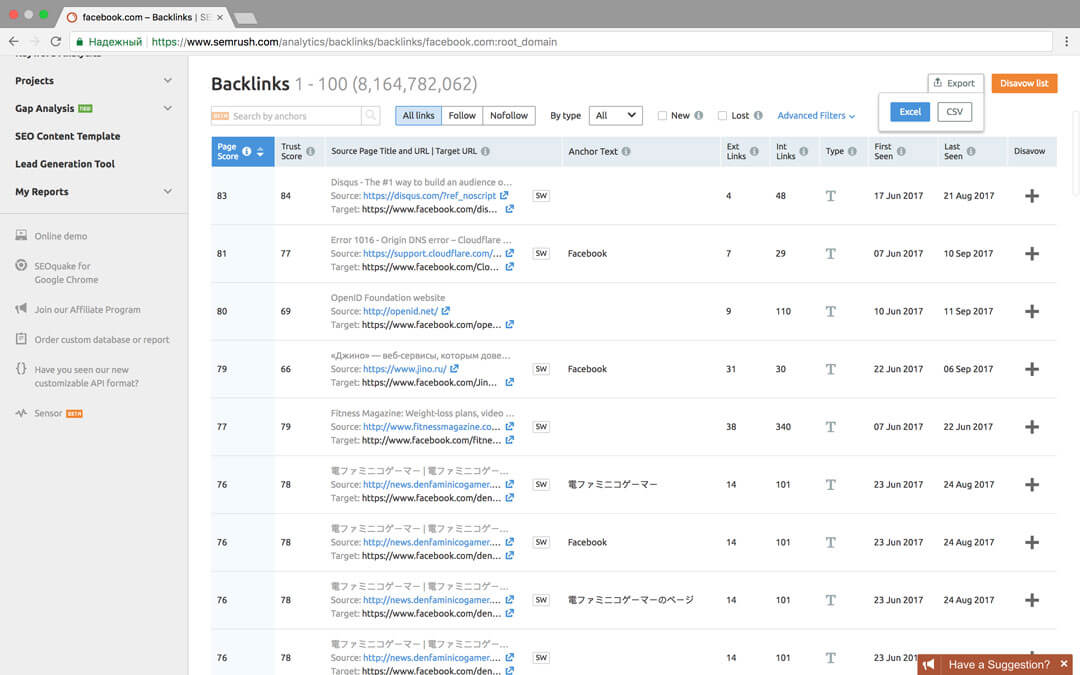 For whom is the tool created?
LinkStrategy by Sitechecker is developed under the guidance of SEO professionals for SEO professionals, internet marketers and entrepreneurs.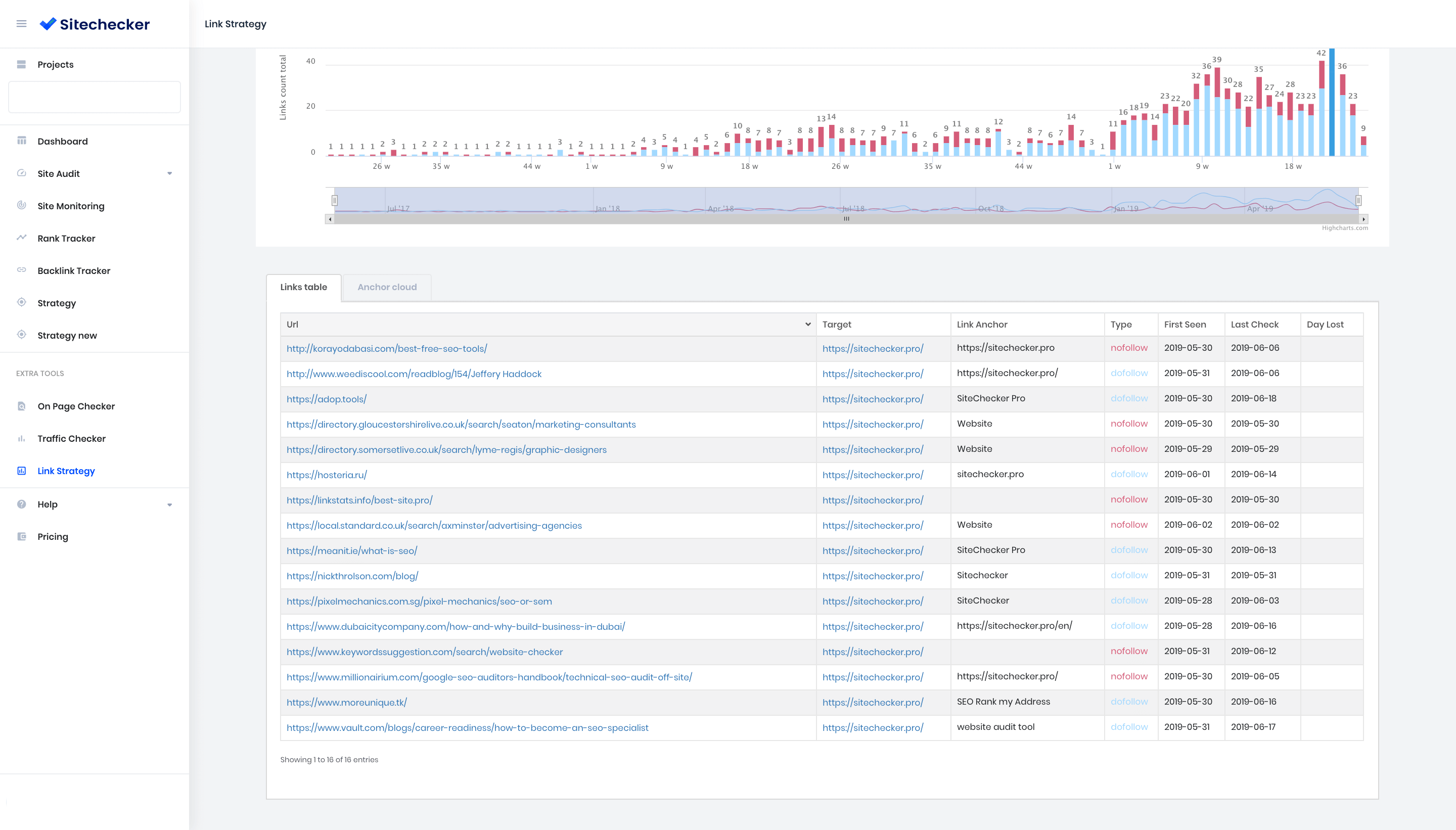 How can I analyze backlinks efficiently?
Backlink research by Linkstrategy includes analysis of website backlink by periods, nofollow / dofollow parameters, and anchors cloud. All this data is useful when you are going to create your own link strategy based on the winner sites in SERP. Conduct the analysis of the anchor strategy and export charts in jpg, png, svg, pdf.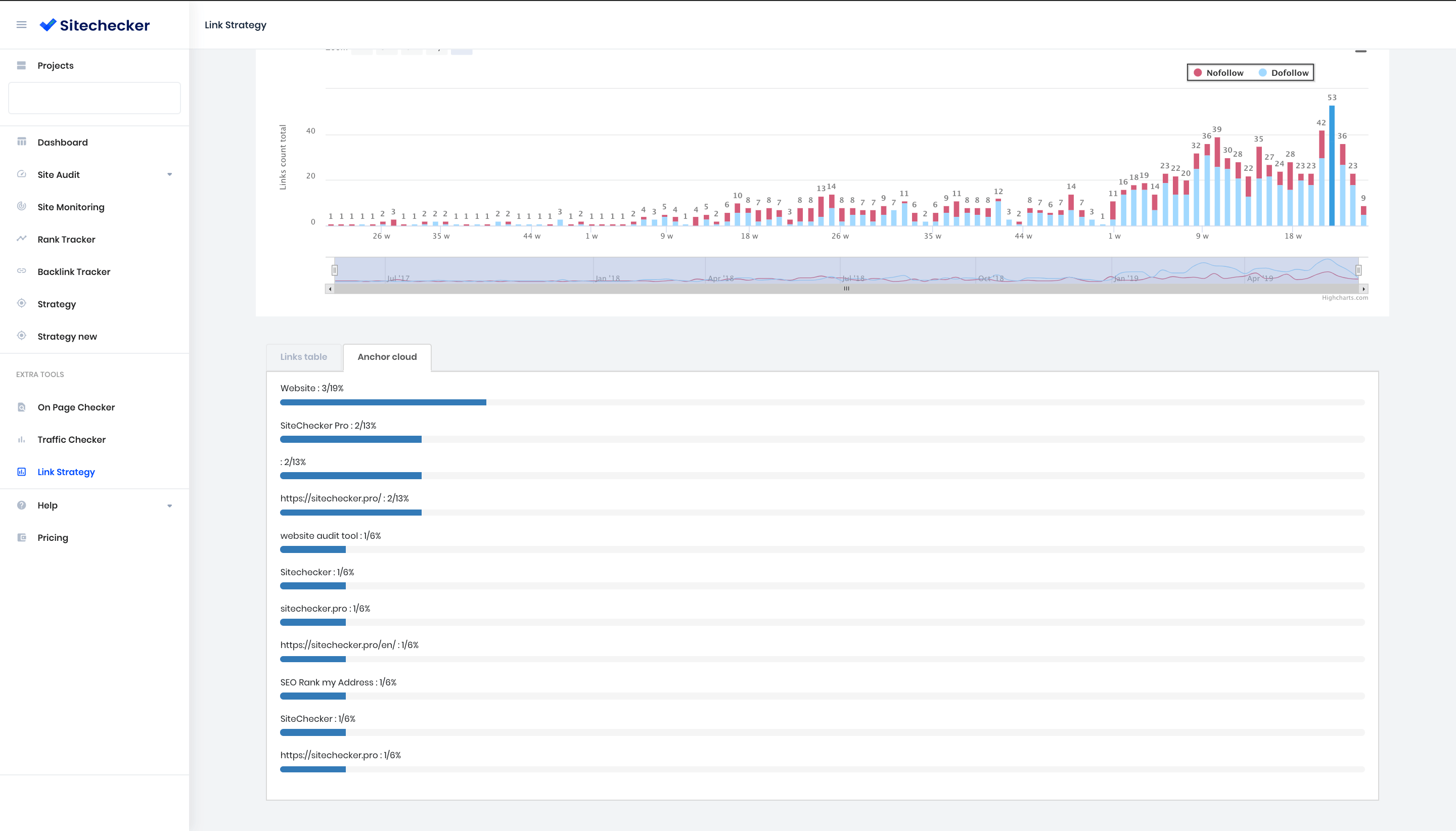 How to track backlinks I found?
All found backlinks can be added to the
Backlink Tracker tool
for further deep analysis. You will get backlink report on parameters each link has and can monitor them daily.
How it works
Export competitors' backlinks from Ahrefs, Semrush, Majestic, Serpstat.
Export all backlinks found at any service above you have access to.
Upload this file in its original format.
Upload this file into Linkstrategy tool in one click.
Make a backlink analysis on a scale of different periods.
Get the backlink report by time periods.
Build your own link building strategy to grow your business
According to competitor backlink analysis build your own one link building strategy or improve the existing one.