Web Hosting Hub provides everything you need to create a website and get it online at an affordable price. No advanced technical skills are required for users. It is a great option to create and host your first website on a reliable, trusted hosting service. For first-time users, you can hardly find a cheaper option with the same useful functionality.
There is only Web type. However, if your site is on WordPress, you should still look for additional alternatives for placement, as Web Hosting Hub's functionality for this platform is limited.
Web Hosting Hub Pros & Cons
Stable and reliable service is excellent for beginners. But even despite this fact, we should still take a closer look at this provider.
Let's quickly go over the key pros and cons.
Pros
Cons

90-day FULL money-back guarantee

Unlimited disk space

Free SSL

1-Click Installs

24/7 US Based Support

SPAM Safe Protection

Pre-Installed WordPress

Charges for website backups

No dedicated or VPS

Not good for developers

No monthly payment
Web Hosting Hub in Brief
| Characteristic | Information |
| --- | --- |
| Uptime guarantee | 99.99% |
| Support options | available 24/7/365 by phone, chat, and email |
| Hosting plans | Web |
| CMSs | WordPress, Joomla, Drupal |
| Features | Free SSL, Free Website Transfer, Auto-Installed Shopping Cart, Onboarding Process, Unlimited Hosting, Temporary URL Provided, Advanced Policy Firewall Protection |
| Starting price | $5.99 a month |
Go to Webhostinghub hosting
When to Use Web Hosting Hub
If you are launching your first website, you have no serious plans to expand your business shortly, and you need an affordable but reliable web provider, then Web Hosting Hub is for you. It has enough power to operate small websites, blogs, or landing pages.
When Not to Use Web Hosting Hub
If your site needs solutions that will require increased capacity thanks to VPS or dedicated servers, you need to look elsewhere. Web Hosting Hub offers exclusive web hosting and an option for WordPress. If you want to run a large online store, you should consider choosing other more robust solutions that provide appropriate e-commerce functionality.
Web Hosting Hub Performance Facts
Solid-State Drives (SSDs) improve read/write speeds and will help your website perform up to 20x faster than it would on standard spinning drives. Web Hosting Hub uses top-of-the-line, enterprise-level Dell Servers optimized for speed for all of our hosting clients.
Here are some facts about performance:
Faster Hosting with FREE SSDs

MySQL &PostgreSQL Database

cPanel + SSH Access

Zero-downtime Website Transfer
Web Hosting Hub Speed Test Results
To make our webhostinghub review more exhaustive for users, we decided to check how good its performance is. To do that, we used popular services to check the loading speed of websites and provided the results in the table below.
| Test | Average Loading Time |
| --- | --- |
| GTmetrix test | 3.1 s |
| Pingdom test | 3.02 s |
| PageSpeed Insights (Google) | 4.4 s |
The results are not great, because they are below the average results of the leading companies in this industry. However, it is quite acceptable and enough to cover the needs of a small site for this cost.
Web Hosting Hub Site Migration
Well, you can easily switch to using this provider if you already have a website. To do this, all you have to do is leave an email ticket.


After that, support operators will contact you and give you instructions on switching to Web Hosting Hub. It is fast, free and very useful.
Webhostinghub Uptime Guarantees
Uptime is probably the most critical factor when choosing a hosting provider. This one is especially crucial for e-commerce sites. Every second that your site is unavailable to customers, you could be losing profits. It is not good. Therefore, pay special attention to the Uptime Guarantees provided by this service.
This information is not posted on the website, so we contacted the support service.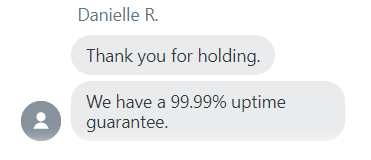 As you can see, the rate is excellent. Industry leaders provide the same high quality, so we have a significant advantage at this point! You do not have to worry that your site suddenly becomes unavailable for your users. Many
webhostinghub
hosting reviews also confirm the high availability time.
Web Hosting Hub Server Response Time
We have already covered the availability, performance, and content download speed. With the help of the Bitcatcha service, we were able to check the first byte's loading time. Let's evaluate the results and make conclusions.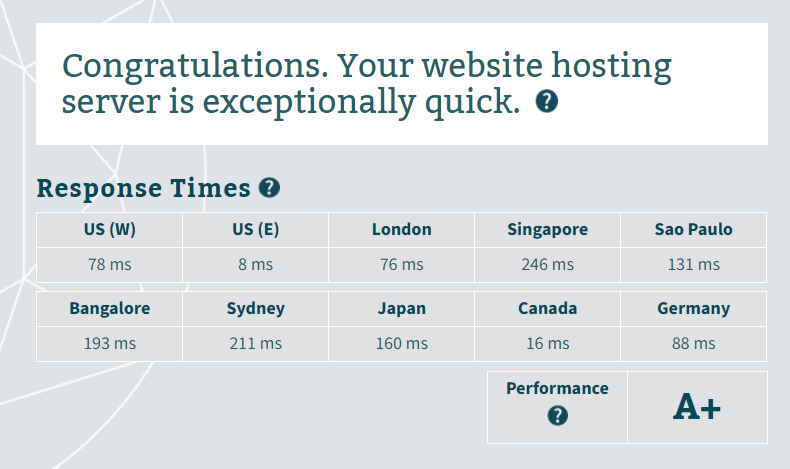 Bitcatcha compares the results with the performance of thousands of other sites. According to Google's recommendations, sites with load times of less than 200 ms are considered to be fast. As you can see, Web Hosting Hub received
the highest score A+
.
It means that you can be sure that sites on this hosting will load very quickly anywhere in the world. Even though the company's servers are in the US only. By the way, you can use Bitcatcha to check this or an alternative provider's performance to make the final choice.
Web Hosting Hub Types and Pricing
Unfortunately or fortunately, Web Hosting Hub provides its users with only one type of hosting. There are three pricing plans for different types of businesses. On the one hand, such simplicity can be considered a plus because since there is only one type of hosting, all the provider's efforts aim to ensure its maximum quality.
On the other hand, if you want to host a large WordPress blog or an e-commerce site, you are better off looking for another service. Web Hosting Hub is good for beginners, but there will be too little functionality for more advanced users.
Web hosting
Web hosting prices start at $5.99 per month. For this money users of the provider will be able to place two websites, get a free domain, Free SSL, Free SSD (20x Faster), unlimited Storage, and Bandwidth and SSH Access.

Webhostinghub web hosting
prices
Keep in mind that the prices are for new users. The longer the subscription term you sign up for, the bigger your discount will be. But we recommend that you sign up for the cheapest plan to test if all the service features suit you.
You can always take advantage of the 90-day money-back guarantee if the provider is not right for you. Or you can upgrade to a more expensive plan. It's simple!

Security Features
Site security is also an essential factor when choosing a provider. Let's take a look at how this provider ensures security. Here are a few features:
Secure POP3/IMAP Email

Free Private SSL

Regular attack monitoring
As you can see, there is no protection against DDoS attacks. It is a disadvantage, but one should not expect such an advanced feature from the provider for such a price. If this is important to you, take a look at the alternative services we will provide at the end of this webhostinghub review.
Support Team
The care of the company's customers lies with the specialists, who will help you solve the problem quickly. You can contact support by phone, write an e-mail, or use the online chat on the company's official website. In the chat, you will have two ways of communication:
if you are a registered customer, then the technical experts will communicate with you;

if you are not yet a user of the provider, you will contact a sales specialist.
An employee will provide you with detailed information about the functions of the hosting and help you decide whether this provider is suitable for your business.
We contacted the support team with simple questions and received an answer very quickly, even though we wrote on a day off. This is a great result, which not even all the more expensive web hosting companies can boast about. Way to go!
Webhostinghub Quick Facts
| Fact | Information |
| --- | --- |
| Backups | $1 a month |
| Storage and Bandwidth | unlimited |
| Free Website Transfer | 3 for each plan |
| 100% Money-Back Guarantee | included in each plan |
| Free SSD (20x Faster) | included in each plan |
| Free Domain | included in each plan |
Go to Webhostinghub hosting
Web Hosting Hub Review: Do We Recommend It?
If you have a small website and are just starting out on the web, then Web Hosting Hub is an excellent option for you. We certainly recommend this provider to beginners who want a reliable service. Be sure of the quality of services you receive.
However, if you have a large business, a large online store, then it is worth looking at other services. There are tools here for WordPress or e-commerce, but according to webhostinghub reviews, these features do not work very well.

Web Hosting Hub Alternatives
We understand that you are looking for good service for a small price. That's why we've prepared some alternatives for you. Consider them as well before you make your final choice!
We hope that thanks to our review webhostinghub you will be able to find a provider for all your business goals. That is why we tried to tell you about all the advantages and disadvantages.

FAQs on Web Hosting Hub
How Will My Site And Data Be Protected?
The security measures here are typical for shared web hosting companies. Everything is standard, with no additional security certificates.
Can I use Web Hosting Hub for my Blog?
Only if your blog is small and you have few readers. Otherwise, look for alternatives.
Will Web Hosting Hub create a website for my business?
Yes, of course. The provider offers a web development service, which you can purchase for an additional fee. You can request a free consultation on their website. Also, Web Hosting Hub along with InMotion Hosting has launched a free web development tool called BoldGrid. According to webhostinghub.com reviews, users like this tool!
What Are The Starting Prices For This Provider's Plans?
The cheapest Spark plan will cost you $5.99 if you buy 3 years of hosting. If you subscribe for one year, then the cost per month is $7.99. Of course, it's much better to buy three years of hosting at once!