iWeb is a Montreal-based Canadian service for hosting websites. It's a well-established company, with a history dating back to 1996. iWeb claims to have clients in more than 150 countries around the world.
Its data centers in six different locations host 25 000 servers. In this iWeb review, we will describe its main advantages and disadvantages of this service.
iWeb Pros & Cons
If you do not have much time to read the whole review, we have prepared for you a brief list of advantages and disadvantages. And here it is!
Pros
Cons

100% power and network uptime guarantee

4-hour hardware replacement

30-day money-back guarantee

Linux and Windows hosting

Green hosting (data centers in Canada are 98% powered by hydroelectricity)

No shared and no iweb vps hosting

High Prices
iWeb in Brief
| Characteristic | Information |
| --- | --- |
| Uptime guarantee | 100% |
| Support options | phone, ticket |
| Hosting plans | Dedicated, Cloud |
| Server locations | Canada (Montreal), Netherlands (Amsterdam), USA (Dallas, New York, Santa Clara), Singapore |
| Features | Hardware / Software RAID available, NAS, SAN, dedicated block storage available, Dedicated load balancer and firewall available, Dual processor up to 24 cores, MySQL / SQL Server, Selected CMS |
| Starting price | $105 a month |
When to Use iWeb
Well, if you're wondering if you should use iWeb, take a look at the price. It's not just expensive hosting. It's an incredibly powerful provider for big businesses. You get great functionality, performance, and speed that can cover large companies' needs for that cost.
It's an all-embracing solution for giant sites. Don't think that there is anything behind the high cost. You get to put your site on a reliable platform for that money, according to many iweb reviews.
So who should use this service? Sites with a lot of content, databases, large online stores.
When Not to Use iWeb
Obviously, this provider presents good performance, which small sites simply do not need. If you have a small or medium-sized business, there is no reason to use this service. You can look for cheaper alternatives to cover your site's particular needs.
It does not mean that we do not recommend this provider. A small website placement requires less power, while this hosting has a different audience.
iWeb Performance Features
Performance is a key metric when choosing a provider. The bigger your business, the more resources you need, the more functionality the provider should offer. Large sites should expect that they will always be available to users, that there will be enough resources to cover the performance, and that there will not be a sudden failure.
Hosting performance is responsible for all of this. Let's take a look in our iweb hosting review at what the benefits of iWeb performance are.
Here are the key facts about performance that apply to all types of hosting:
Secure data with redundant copies

Burstable IOPS for workload spikes

High CPU/RAM & Fast SSD Storage

Deploy and scale VMs in minutes

The Latest generation Intel® CPU

Single processor up to 6 cores

Dual processor up to 24 cores
As you can see, iweb hosting is a really powerful provider that offers its customers excellent performance. It's very cool that this hosting provider is so much concerned with the issue of power.
The developers of iWeb regularly ensure that the latest technologies are incorporated into the provider's work to ensure maximum performance for client sites. That is why you can be sure of the quality of services provided by the provider.
iWeb Speed Test Results
Content loading speed is a critical factor for your site's ranking in search engines. It is recommended to improve this ranking factor constantly so that your site will be in the top search engine results. Hosting should give you every opportunity to make this factor as good as possible.
To make sure that iWeb's performance is high, we decided to check the Average Loading Time using free services to check the loading speed in our iweb com hosting review.
| Test | Average Loading Time |
| --- | --- |
| GTmetrix test | 7.7 s |
| Pingdom test | 820 ms |
| PageSpeed Insights (Google) | 4.8 s |
Pretty good results!
iWeb Uptime Guarantees
The constant availability of the site is what your visitors care most about. Your resource should be accessible to users all the time. Otherwise, you will lose not only the users but also the money. This indicator is especially important for the target audience of iWeb, i.e., large sites.
Including cloud servers with guaranteed Quality of Service, managed to host with guaranteed service levels, and dedicated hosting with a 100% network and power uptime guarantee.
iWeb Server Response Time
Another important factor of hosting speed and reliability is the time to download the first byte of content. We decided to check this indicator with the help of the Bitcatcha service.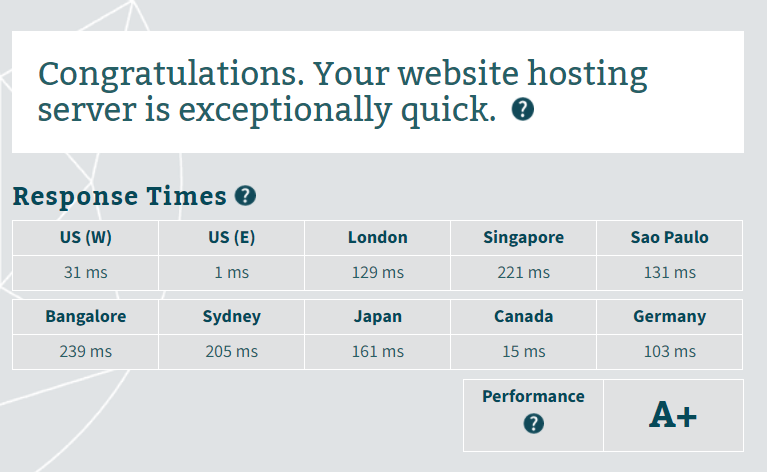 Let's start by defining which sites are fast. According to Google's guidelines, sites that load faster than 200ms are fast and gain an advantage in the ranking process.
Bitcatcha compares the performance of hundreds of sites against each other and gives them a score based on the result.
iWeb web hosting received the highest score of A+, indicating that sites on this platform will load very quickly. Great result, keep up the good work!
iWeb Site Migration
If your site is already hosted on another platform, you're probably wondering if you can port it to iWeb. Of course, like all services of such a high level, they will provide you with such a possibility. You should contact the support team to get detailed advice about migrating your site to this hosting.
The process is free for the provider's clients and takes up to one business day. Some fees may apply, or you can use some support time from a server management plan.
iWeb Hosting Types, Features, and Hosting Pricing
As a big-business web hosting service, iWeb provides truly powerful types of hosting services for its customers. Here you can take advantage of Cloud and Dedicated Hosting. We'll talk about the features of these types of hosting, as well as the pricing policies below.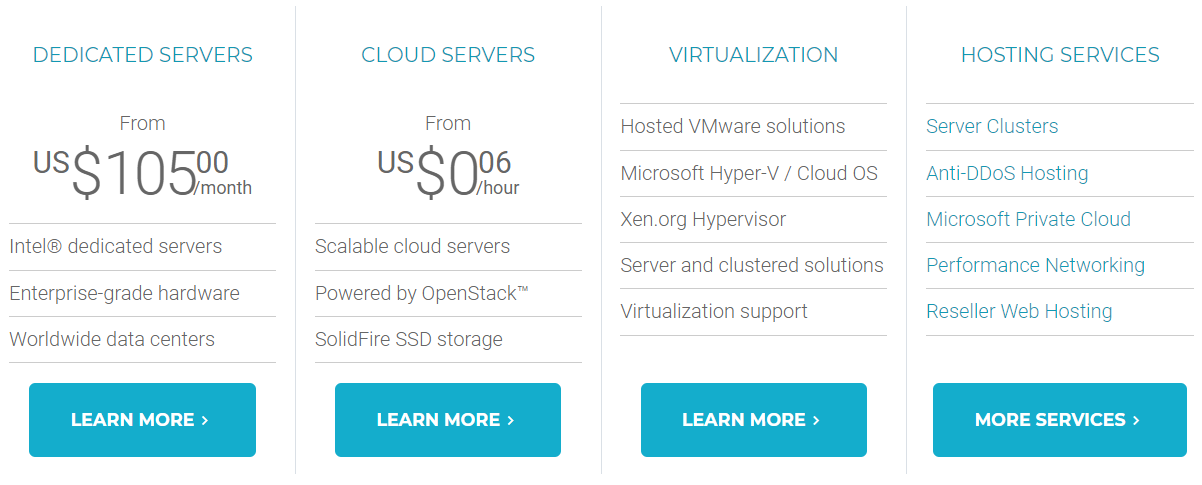 Choose between iWeb's original data centers in Montreal, Canada, or a selection of data centers from INAP's global network. The main advantages of the company apply to all types of hosting. By buying even the most affordable option, you can be sure of the provider's excellent service quality.
Cloud Hosting
iWeb Cloud Servers are powered by OpenStack cloud computing and fuelled by SolidFire SSD Storage with guaranteed QoS and burstable IOPS for consistent performance, whatever the workload. Perfect for web hosting, applications, and development.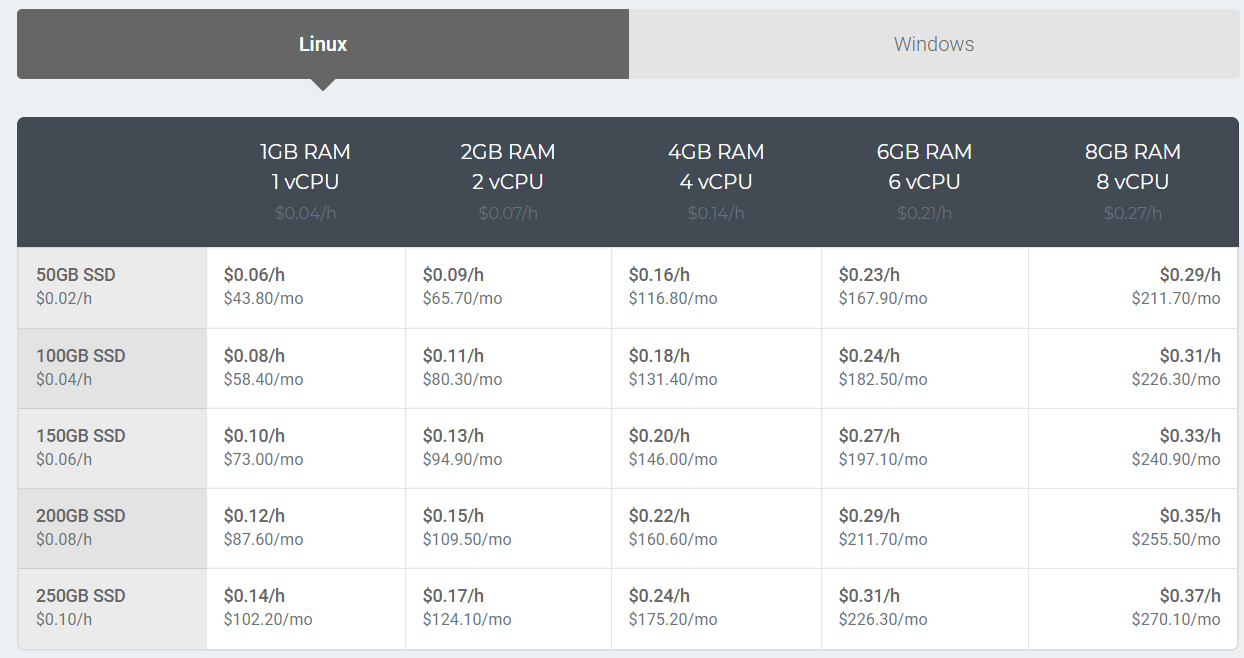 As for Cloud Hosting, there is functionality for different RAM and different operating systems.
By default, for any selected tariff, you will be given these options:
Unlimited inbound and outbound traffic

100Mbps public bandwidth

1 × public (WAN) IP address

1 × private (LAN) IP address
And this is what the plans for the Windows platform look like. As you can see, the price difference is not significant, but for Windows, services are slightly more expensive.
Dedicated Server Hosting
A powerful option for those who need maximum resources for business tasks. Dedicated service allows your company to use the server's full power and not to share it with other users. Below we have attached screenshots of the plans so that you can study the functionality and choose the set of features that best suits your website.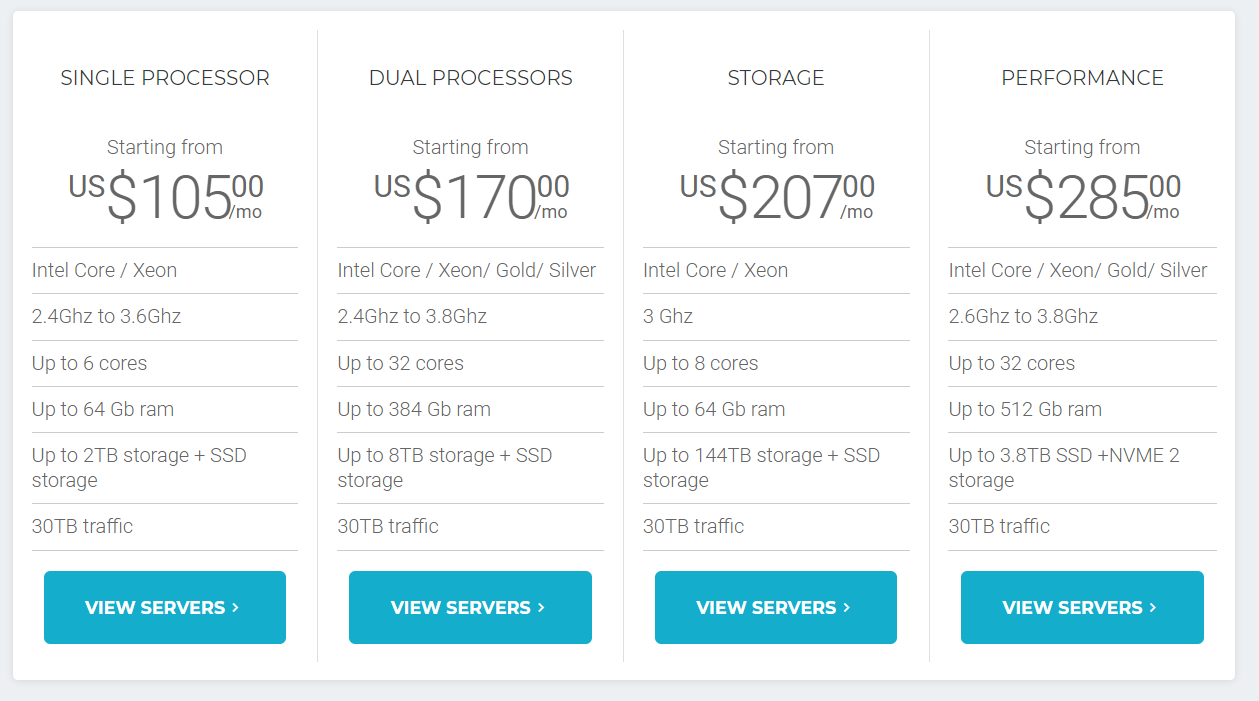 Prices for the dedicated hosting start at $105 a month. It is a reasonable price for such a feature set at a competitive level.
Security
For large sites, the issue of security and protection is even more key. Let's take a look at what security measures iWeb has implemented to give users maximum protection:
CDN & Optimizer

Bot Protection

Login Protect

Website Analytics

SSL Support

Access Control

Web Application Firewall 

Level 1 PCI-Certified Web Application Firewall

Backdoor Protection
As you can see, there's nothing wrong with security! It is another competitive advantage of the provider over other services, according to iweb hosting reviews.
Support
Canada-based customer service can help you in English, French, and Spanish. If you would like us to address a specific problem, you can open and track support tickets in the Control Center. There is an opportunity to communicate with the company's specialists, both by phone and via live chat on the website.
The site states that help with product functionality is available all the time. However, when we contacted the support service on a day off, we received a message in response that a company specialist will contact us during working hours.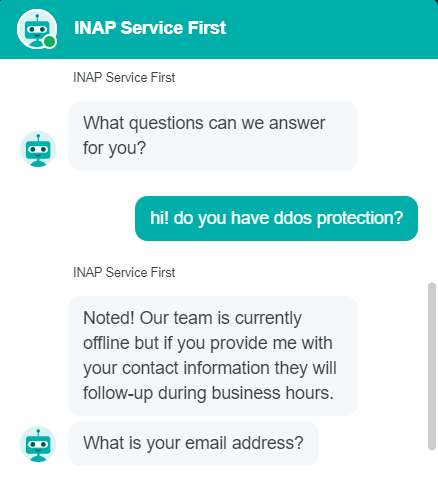 It can be that this refusal to give timely consultation was caused by the fact that we are not a client. Who knows?
iWeb Quick Facts
| Fact | Information |
| --- | --- |
| Bandwidth | 30 TB |
| Speed | 100 Mbps |
| Advanced Features | Cloud Backup, Rapid-Response Monitoring. Website Security & CDN, Software Installation, Dedicated load balancer, and firewall available |
| Operating Systems | Windows Server, CentOS, Debian, Ubuntu |
| Control Options | cPanel & WHM, Plesk |
| Virtualization | Hyper-V, VMware ESXi, Xen.org Hypervisor |
iWeb Review: Do We Recommend It?
We can confidently recommend this provider to you in this review of iweb! We hope you will find the right solution for your business here.
If you think that the service is unreasonably expensive, just take a look at the number of performance benefits it provides to its customers. It's impressive!
iWeb Alternatives
If you want to consider a few more hostings, we have prepared alternatives for you. Check them out, so you have something to choose from.
WP Engine – provides great prices on managed hosting plans.
Hostgator – a good-known web hosting with low prices.
BlueHost – good for WordPress and Dedicated hosting.
FAQs on iWeb
Are Software Licences Included In The Price Of Iweb?
The software license costs are included in the total price of your server. When you click to configure a server, you will see all available software options and prices.
What About Iweb Green Hosting?
iWeb flagship Montreal data centers are 98% powered by hydroelectricity produced at just 4 grams of CO2 per Kwh, 56% less CO2 than wind energy and less than 1% than that of gas and coal. Free Cooling in iWeb data centers uses ambient temperatures below freezing for around a quarter of the year.
What Software Does Iweb Support?
Besides the software available when you click to configure a server, iWeb can install many other software types, including databases and popular CMS software like Joomla, WordPress, or Drupal. Options depend on your server configuration.